Sick Trailer: The Pandemic Slasher Movie From The Creator Of Scream Heads To Peacock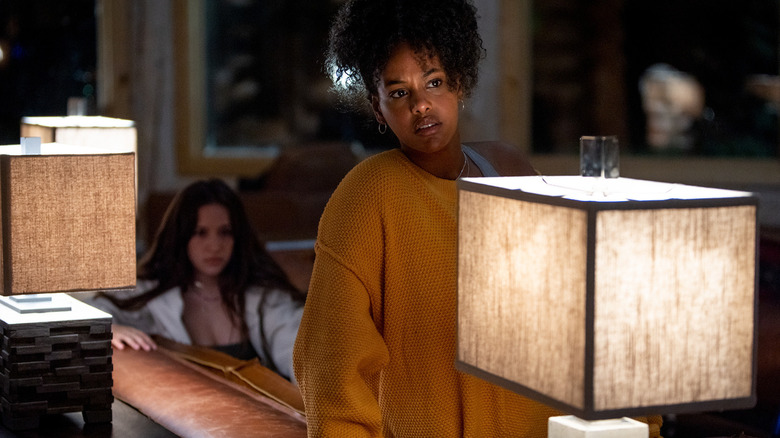 Peacock
Movies set during the COVID-19 pandemic have been pretty hit or miss. For every "Glass Onion: A Knives Out Mystery," there has been a "Bubble." Perhaps it's just too early to make a truly great pandemic movie, at least if you're trying to make a regular comedy or drama. If you're "Universal Soldier: Day of Reckoning" director John Hyams and "Scream" screenwriter Kevin Williamson, however, you're probably not looking to make a straightforward movie. No, you're more likely to make a twisted mash-up of genres that makes reliving the worst days of the pandemic as fun as possible.
And that is exactly what "Sick," the duo's TIFF and Fantastic Fest hit, looks like. Peacock has been announced as the film's distributor, marking the occasion with a trailer that gives viewers a taste of the fast-paced madness that lies ahead. In April 2020, best friends Parker (Gideon Adlon) and Miri (Bethlehem Million) have found themselves needing to quarantine, and what better place to do so than at the lake house owned by Parker's parents? Unfortunately, it looks like someone else had the same idea, as the two find themselves fighting against a mysterious killer.
Check out the Sick trailer below
Needless to say, "Sick" looks pretty intense and darkly humorous, but why take my word for it? Take the word of /Film's Rafael Motamayor, who called it "a well-made, well-executed, and smarty-written pandemic home invasion slasher" out of Fantastic Fest. From the sounds of it, if you thought you knew where it was going from the recently-released Peacock trailer, you'll be in for a big surprise.
Joining Adlon and Million for this wild ride are Marc Menchaca, Jane Adams, Dylan Sprayberry, and Duane Stephens. Williamson wrote the film's story, then adapted it into a screenplay with Katelyn Crabb. He also serves as a producer on the film alongside longtime producing partner Ben Fast. Miramax also serves as a producing partner, represented by Thomas Zadra and Michael J. Zampino, alongside Andrew Golov and Blumhouse.
"Sick" premieres on Friday, January 13, 2023, on Peacock. Check out its official plot synopsis below:
"As the pandemic steadily brings the world to a halt, Parker and her best friend Miri decide to quarantine at the family lake house alone—or so they think."