Gran Turismo Sneak Peak: Orlando Bloom And David Harbour Feel The Need For Speed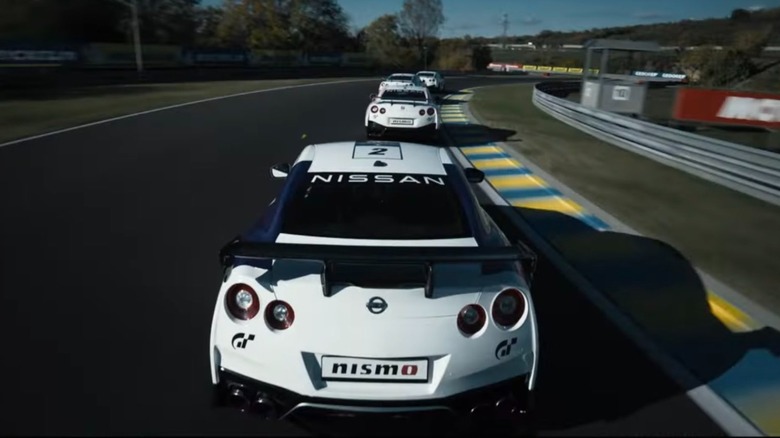 Sony Pictures
With franchises all the rage in Hollywood and comic book properties harder and harder to come by, Hollywood is having to turn elsewhere. As such, video game movies (and shows) have become an increasingly popular option. The good news is, we're moving past the days of old when all video game movies were terrible. As such, Sony has made a bigger push to bring its PlayStation titles to the big screen. To that end, we're getting a "Gran Turismo" movie this summer. Though it may not be what you think, as this isn't going to just be a straight-up adaptation of the games. After all, they're just racing games, what actual story is there to tell?
Well, Sony Pictures offered a little peek at what they've got coming down the pipeline later this year during CES. Though not quite a trailer, the footage gives us a taste of what to expect. If nothing else, it is promised to be very cinematic and worth the trip to the theater. Let's have a look, shall we?
Check out the first Gran Turismo footage
We get a glimpse at the principal players in the cast here, including David Harbour ("Stranger Things") and Orlando Bloom ("The Lord of the Rings"). We also get a healthy dose of Archie Madekwe, who is playing our main character, Jann Mardenborough. It turns out, this is a real person who, though the game "Gran Turismo," accomplished a pretty impressive dream. The logline for the film reads as follows:
Based on the true story of Jann Mardenborough, the film is the ultimate wish fulfillment tale of a teenage 'Gran Turismo' player whose gaming skills won a series of Nissan competitions to become an actual professional racecar driver.
The rest of the footage is focused on the intense racing visuals, with the cast hyping up the theatrical nature of it all, claiming we will actually feel the vibrations of the 200 mph racing in the seats. There are also some glimpses at how director Neill Blomkamp ("District 9") managed to capture the intensity of the races. For a one minute preview, it's encouraging. The fact that it's not a straight-up adaptation and is, instead, a real-life story adds to the compelling nature of it all.
The cast also includes Darren Barnet ("Never Have I Ever"), Geri Halliwell Horner ("Crank: High Voltage"), and Djimon Hounsou ("Shazam!"). Jason Hall ("American Sniper") and Zach Baylin ("King Richard") penned the screenplay.
"Gran Turismo" is set to hit theaters on August 11, 2023.