How Gary Cooper Indirectly Gave John Wayne His First Big Hollywood Break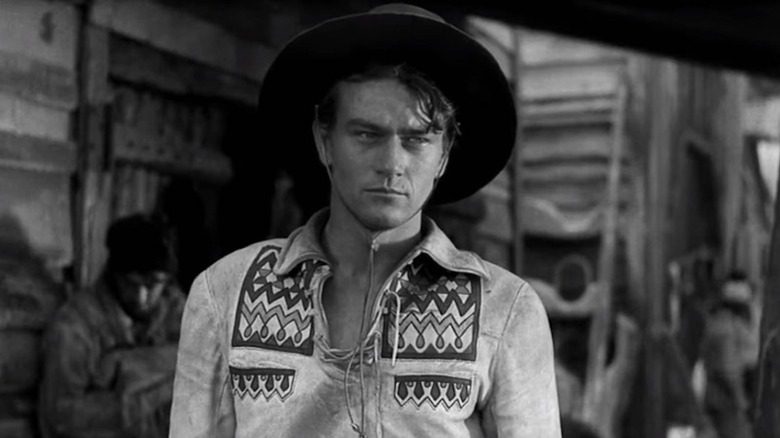 20th Century Fox
As the motion picture industry lurched into the sound era, John Wayne's career was languishing. He wasn't getting many decent roles. He wasn't impressing people when he did. He wasn't even John Wayne.
He was Marion Robert Morrison, a strapping, 6'3", Iowa-born washout from the USC football team. Wayne found his way into Hollywood via his coach, Howard Jones, who frequently procured tickets for the silent movie star Tom Mix. The actor, along with director John Ford, took on the young Wayne as a favor to Jones, giving him steady, if unspectacular work as a prop man and extra.
Given his athletic stature and boyish good looks, Wayne had the physical makings of a future star. After plugging away throughout the second half of the 1920s in bit parts (occasionally as a member of the USC football team), he finally received his first official credit Duke Morrison in James Tinling's musical comedy "Words and Music" (one of many pre-'30s films that has been lost forever). The part was hugely unsatisfying for Wayne, but it was a much-needed foot in the door. Still, he had plenty of competition from other aspiring hunks. He had to prove he was more than just a fresh-faced ingénue, and the only way to do that was to land a lead in a quality motion picture — which was akin to winning the lottery.
Unbeknownst to Wayne, Gary Cooper held his winning ticket.
The Big Trail not taken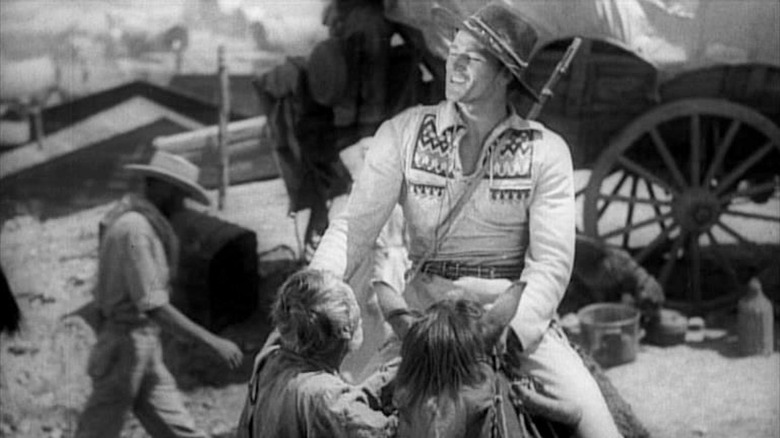 20th Century Fox
Cooper had rocketed to stardom at the end of the silent era, and broken through in a big way thanks to Victor Fleming's sound Western "The Virginian." Everyone wanted a piece of Cooper in 1930, including Raoul Walsh, who was about to helm a frontier Western called "The Big Trail." The filmmaker was keen to cast Cooper as Breck Coleman, a young fur trader seeking revenge for the murder of his friend.
Cooper was everything Wayne wanted to be: a larger-than-life hero whose chiseled visage adorned posters in movie houses all over the United States. Cooper had his pick of projects, and decided "The Big Trail" was not for him. According to Allen Eyles' biography "John Wayne," once Walsh lost Cooper, he set his sights on unknowns as a means of lowering the film's budget. He recalled a prop boy from a previous production, a towering figure with all of the physical attributes of a Western leading man. When his colleague Ford praised the struggling actor's work ethic, Walsh brought Duke Morrison in.
Per Eyles, all it took was one screen test for Walsh to cast the youngster, at which point "The Big Trail" was fast-tracked into production:
"Wayne pretended to be the wagon train leader and fielded questions about the journey improvised by other members of the cast. He lost his temper while doing this and Walsh was delighted. He soon had the part and was put into training. He took lessons in knife-throwing and handling tomahawks. He suffered at the hands of a dramatic coach from the East, assigned by the studio to improve his elocution, and hated the fancy delivery that was forced on him. With Walsh's approval, he went back to his normal manner of speech."
The birth of John Wayne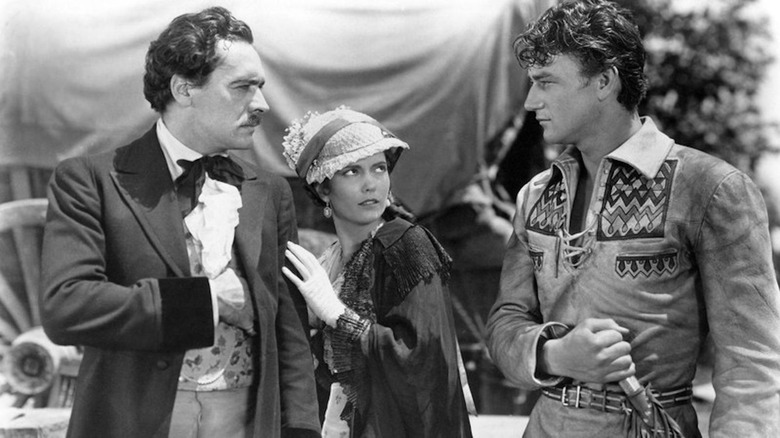 20th Century Fox
When it came time to figure out the billing for "The Big Trail," everyone agreed that Morrison was in dire need of a new moniker. The director suggested Anthony Wayne, after the "Mad" Revolutionary War general (largely because he'd been reading a biography of the military legend at the time). Fox deemed this "too Italian" (Wayne was incredibly Irish), at which point they settled on a compromise: John Wayne.
Despite Walsh's casting thrift, "The Big Trail" wound up being a disastrously big movie. Shot in the early 70mm format Fox Grandeur, Walsh's Western flopped because most movie houses at the time weren't equipped to project the film. Wayne could hardly be blamed for this, but it wouldn't be until 1939's "Stagecoach" that he fully captivated moviegoers in a lead performance. Still, it's unlikely he would've become a Poverty Row star in the '30s without landing "The Big Trail." Ford might've been Wayne's biggest advocate, but it was a simple "no" from Cooper that made his legendary career possible.