Tombstone's Chaotic Production Had Kurt Russell Pulling Triple Duty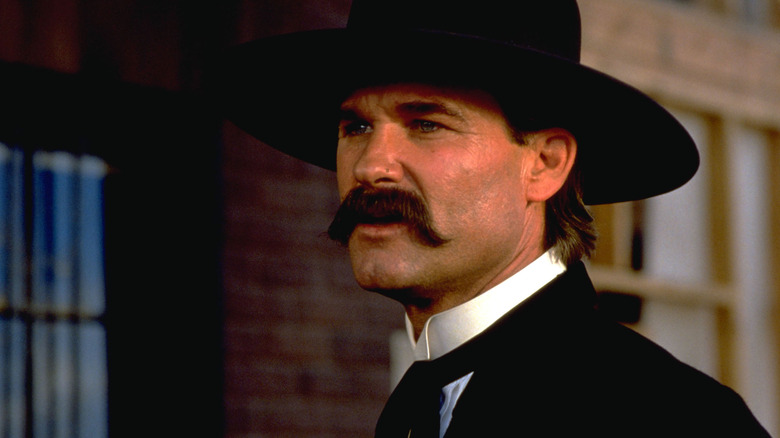 Buena Vista Pictures
John Ford may forever be considered the king of the Western genre. However, mimicking his style in the 1990s proved to be costly for writer and first-time director Kevin Jarre. After penning the screenplay for "Tombstone" Jarre was also hired to direct the 1993 Western. But soon after production started, trouble rode into town.
At the time, Entertainment Weekly noted several issues plaguing the film, including a bloated script that didn't match the production time allotted by the studio. Producer James Jacks opined that the novice director was shooting the film like a John Ford Western, outdated for the era. Actor Sam Elliot, who played Virgil Earp, had harsher words for Jarre. "I knew from the third day Kevin couldn't direct," Elliott said. "He wasn't getting the shots he needed."
The film about Western anti-heroes needed a hero, and Kurt Russell stepped up. Val Kilmer might have uttered the iconic line "I'm your Huckleberry" as Doc Holliday in the movie, but on set it might as well have been Kurt Russell. The actor was already starring in the film as Wyatt Earp. When it came time to save the film, Russell would take on multiple roles that helped turn the doomed film into a peach of a hand.
Russell and Kilmer had to save the film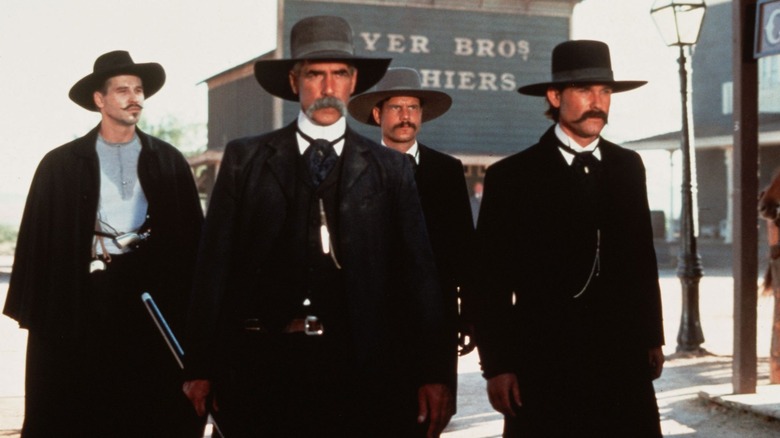 Buena Vista Pictures
The film's production, taking place in the Arizona heat, quickly turned into chaos. Cinematographer William Fraker claims he was being ingnored and quit three times. The cast and crew were losing faith, and producers were unhappy. Four weeks into production, Jarre was fired as the "Tombstone" director. George Cosmatos ("Rambo: First Blood, Part II") was brought in as a replacement. At that point, the trio of Russell, Kilmer, and Cosmatos formulated a plan to save the film.
Russell, already serving as a principal actor, also assumed the unofficial role as cast spokesman and was tabbed with re-focusing the script. "Wyatt [Earp] and Doc [Holliday] is one of the great love affairs of all time between two men," Russell said. "It's a strange, tough, violent, deep relationship." Their relationship became the focus of the tightened script.
Val Kilmer believed that Russell should have received a producer's credit on the film for all the hats he wore beyond Earp's iconic gambler-style cowboy hat. He said:
"He's very good about structure and a character's function. He'll discuss and anticipate things. We had so many powerful actors, it could easily have become a feeding frenzy of sharks going for their own."
While "Tombstone" was clearly a group effort, Kilmer believes that without Russell there would be no movie.
'Kurt is solely responsible for Tombstone's success'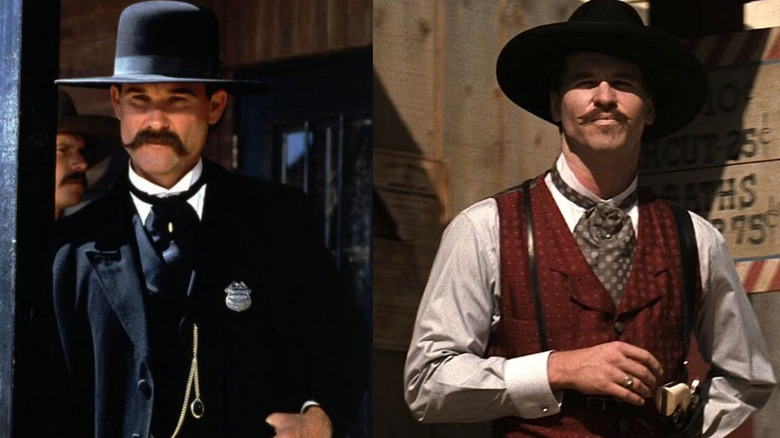 Buena Vista Pictures
In 2017 Val Kilmer wrote a lengthy blog post that credited Kurt Rusell for the work he put in to make "Tombstone" happen. Beyond acting, writing, and producing, Russell also worked closely with the replacement director. "Kurt is solely responsible for 'Tombstone's' success, no question." Kilmer wrote. The actor added:
"I was there every minute and although Kurt's version differs slightly from mine, the one thing he's totally correct about is how hard he worked the day before, for the next day's shot list, and the tremendous effort he and I both put into editing, as the studio wouldn't give us any extra time to make up for the whole month we lost with the first director. I watched Kurt sacrifice his own role and energy to devote himself as a storyteller, even going so far as to draw up shot lists to help our replacement director, George Cosmatos, who came in with only two days prep."
Rusell, who didn't want to be credited as a director on the film, may have been robbed of his proper credit. But like Doc Holliday surely would have done for Wyatt Earp, Kilmer has made sure his friend received credit where credit is due. When it came to ensuring the success of "Tombstone," Kurt Russell lived Wyatt Earp's words: "We'll make our fortune, boys."