Carrie Fisher Was Never Happy About Princess Leia's Star Wars Hairstyle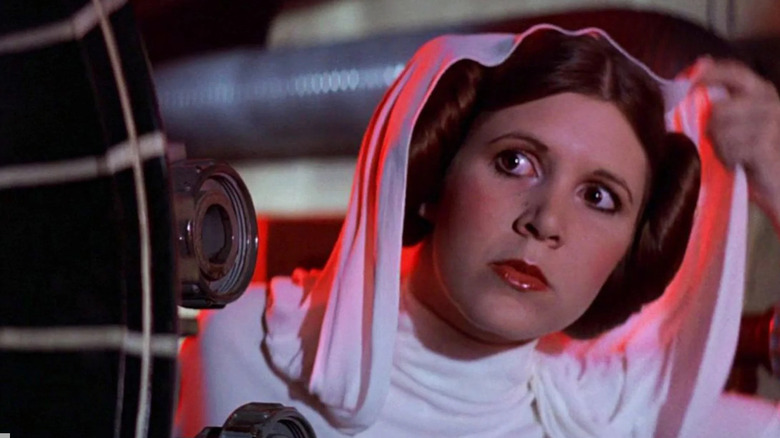 Lucasfilm
One of the coolest things about "Star Wars" is just how recognizable it is, even to people who were never big fans of the series. You don't need to know who Princess Leia is to know she's a "Star Wars" character, with her iconic hair wrapped into buns on either side of her head. Even though Leia's hairstyle changes constantly throughout the original trilogy, it's this specific look in the first film that the character — and "Star Wars" women as a whole — is often associated with in pop culture. When other shows do parodies of "Star Wars," it's usually taken for granted that the female characters involved will be given that hairstyle.
While filming the first movie, however, Carrie Fisher was not a fan of the style. "The horrible hair," she described it in a 2016 NPR interview. "I just looked like — I don't know, like this really fat-faced, cute in-a-not-a-good way, girl."
George Lucas and the hairdressers experimented a lot with Fisher's hair for the film. "There were some worse ones if you can imagine," Fisher said about all the different looks. "I don't know, they — somehow they chose that one. And to put more hair on either side of a round face is going to make it even wider. So that was my problem with that."
Leia's many looks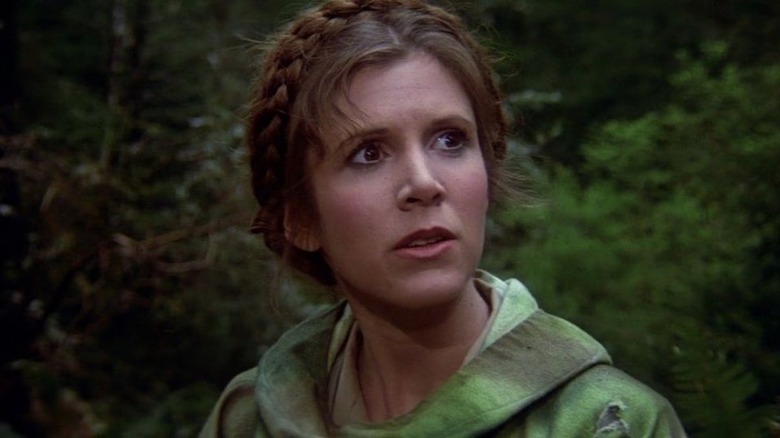 Lucasfilm
Luckily for Fisher, pretty much everyone agrees that she fully pulled it off. Either way, her hair gets switched up in "Empire Strikes Back," where she's regularly seen wearing a more Earth-like hairstyle. She maintains the crown braid throughout the series, but the earmuffs are gone after that first film and they never return, not even in the sequels. 
The treatment of Leia throughout the original movies has always been a source of debate among fans, particularly in regard to the slave Leia scenes in "Return of the Jedi." It's a sequence that gives us another cool variation on Leia's hair, one that's overshadowed by the ridiculous outfit she's forced to wear. But even then, it's Leia's personality that makes the sequence bearable. "What redeems it is that I get to kill [Jabba]," Fisher explained. "I sawed his neck off with that chain that I killed him with."
After all, Fisher had always maintained her love for the character of Leia, regardless of her questionable style. "I like how she handles things. I like how she treats people," Fisher explained on NPR. "She tells the truth. She, you know, gets what she wants done." Leia may have had some iconic looks throughout the original trilogy, but it's her consistently-written, defiant-yet-kindhearted nature that really sticks with us, even nearly forty years after "Return of the Jedi" hit theaters. Earmuffs or no earmuffs, Leia was always great.