A Connection From Clint Eastwood's 'Starving Days' Led To Him Direct Play Misty For Me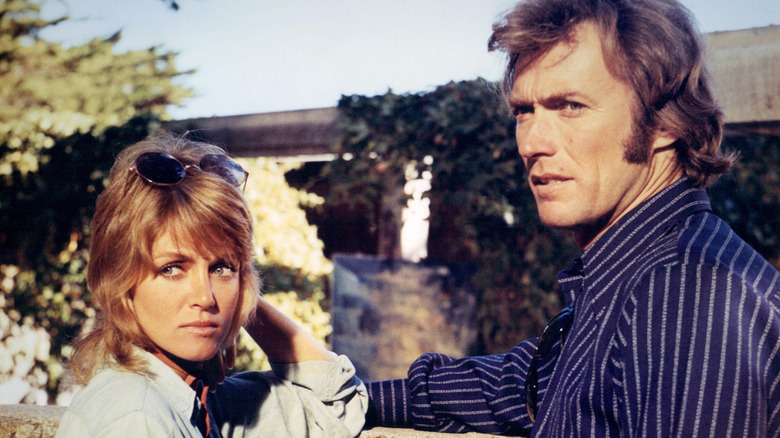 Universal Pictures
Clint Eastwood's impulse for directing goes back to his early days working on the 1959 TV series "Rawhide." As he described in an interview with Patrick McGilligam printed in the 1999 book "Clint Eastwood: Interviews," edited by Robert E. Kapsis and Kathie Coblentz, he stated that working among cattle while on horseback — "Rawhide" is about cattle ranchers who fend off bad guys in the Old West — gave him ideas as to how shots could look better. The story goes that he wanted to take a camera onto a horse with him and film POV shots in the middle of the bovine action. He was denied on "Rawhide," and was not permitted to direct any episodes. It seems that, in the late '50s and early '60s, actors directing their own TV shows had yet to prove lucrative for CBS.
Eastwood wouldn't direct a feature film until 1973, making his debut with the thriller "Play Misty for Me." His film, written by Jo Heims and Dean Riesner, is about a charming radio DJ (Eastwood) who meets a fan named Evelyn (Jessica Walter) in a bar. Evelyn has been a longtime listener, and often requests the Johnny Mathis song "Misty" on Dean's radio show. Over the course of the film, Evelyn transforms into an increasingly dangerous stalker, leading to a deadly confrontation. 
Eastwood wasn't necessarily waiting for a film like "Misty" to come along, but he was certainly waiting for something to come along. As Eastwood described in "Interviews," he has been watching good and bad directors for decades, and — after having accumulated a massive litany of mental notes — was all too ready to sit in the director's chair himself. 
Wish, fulfilled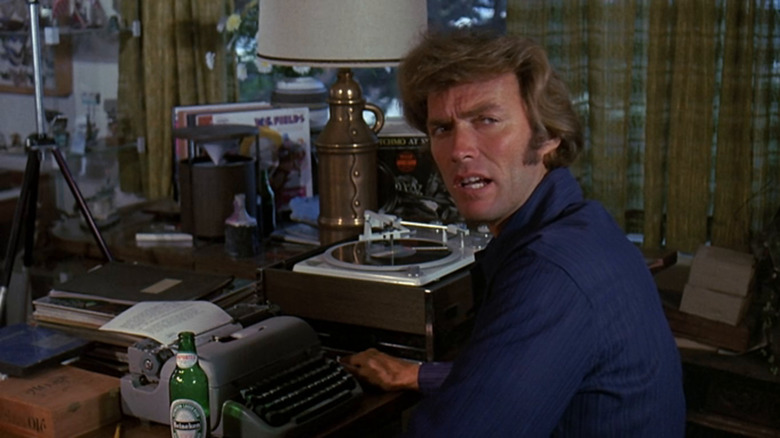 Universal Pictures
Eastwood recalls the sense of relief he felt when he finally was able to control every aspect of production himself. As the director, he was able to communicate more directly to his co-stars, as well oversee editing, something he had never been permitted to do before. By the early 1980s, Eastwood would also begin producing his own movies, and would also eventually come to write songs for them as well. For "Misty," Eastwood was too happy to be in control, saying:
"After 17 years of bouncing my head against the wall, hanging around sets, maybe influencing certain camera setups with my own opinions, watching actors go through all kinds of hell without any help and working with both good directors and bad ones, I'm at the point where I'm ready to make my own pictures. I stored away all the mistakes I made and saved up all the good things I learned and now I know enough to control my own projects and get what I want out of actors. So I directed this picture and I'm editing it myself and I think it's damn good."
Eastwood also eventually came to hire trusted teams of artists and crew people, working with editors Joel Cox and, later Gary Roach on the bulk of his films. He initially worked largely with cinematographer Bruce Surtees, with Jack N. Green and Tom Stern becoming the director's regular photographers when Surtees passed away in 2012. He no longer wanted to be a member of the team. He wanted to be its leader. Luckily, 20 years of experience as an actor allowed him to develop the habits he needed to handle a production with competence. 
Where to start, where to start?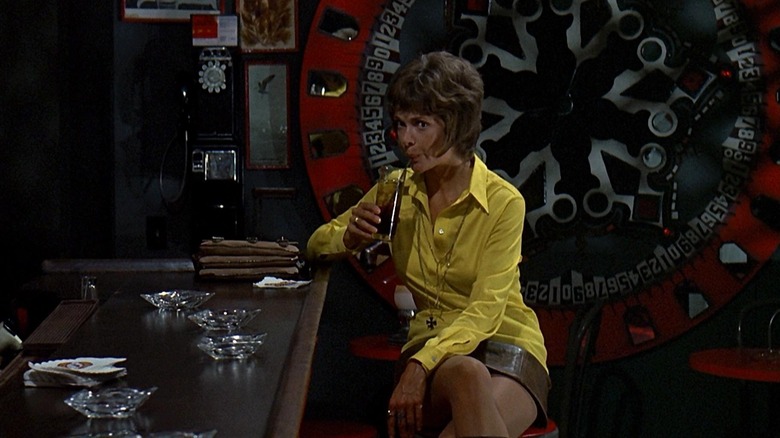 Universal Pictures
When it came to "Play Misty for Me" specifically, Eastwood recalled that co-screenwriter Jo Heims had been shopping her screenplay around for many years. It seems that both he and Heims were struggling up through the Hollywood ranks at about the same time, and they both had modest ambitions. Eastwood felt that her script could easily be made on a budget, he had a good idea as to how he would shoot it ... all the pieces easily fell into place. While the film's subject matter may be hard and violent, the project itself was smooth, easy and affable. As Eastwood tells it: 
"In my starving days, I knew [Heims] went around knocking on doors trying to get a job as a writer while she worked as a secretary. She wrote a 60-page treatment about a small town disc jockey who meets a girl in a saloon one night and even after he goes back to his real girl, this chick turns psychotic, starts haunting him, murders his maid and turns his life into a nightmare. [...] It's got a lot of action and suspense and I used a small crew and a low budget of only $800,000, but I think I got more than $800,000 on the screen."
It may have helped Eastwood's reputation as a director that he was willing to keep an eye on his budgets. Indeed, that form of thrifty thinking allowed Eastwood to be weirdly cavalier in his style. If production ever went pear-shaped, he could take the heat. He explained: 
"At least I know that if it's a failure it's my own fault and not somebody else's. I've been in enough bombs that were somebody else's fault."
To date, Eastwood has directed 40 features. They have won 13 Oscars.