Margot Robbie Brought The Energy Of Two Different Animals To Her Babylon Role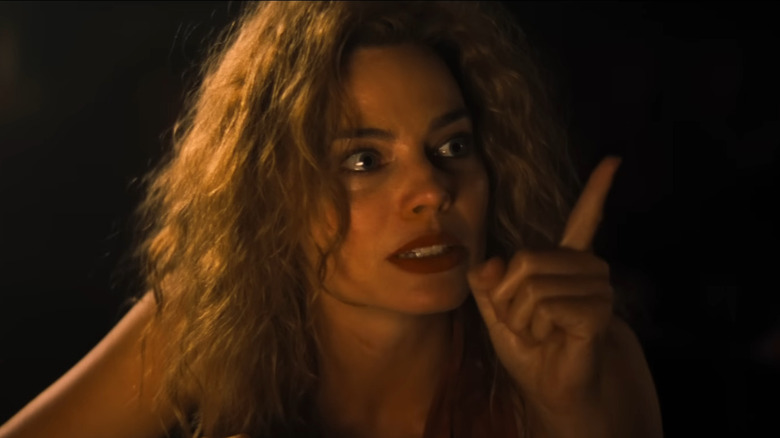 Paramount Pictures
In acting classes, you are often asked to choose an animal that embodies the characteristics you want to bring to the character you're playing. It can help find the right movements, the correct way to react to something like, say, being cornered, or bring an extra layer of depth to a portrayal. Not every actor uses this technique, but it can be very useful in fleshing out a role. 
Margot Robbie, who stars as aspiring actress Nellie LaRoy in the Damien Chazelle-directed film "Babylon" recently visited "The Kelly Clarkson Show" where she told Clarkson that she uses this exercise herself. However, her choice of animals for the character might surprise you. 
In the film, Robbie's Nellie is a young woman who knows she was born to be a star. She's a party girl with no inhibitions, a pretty terrible cocaine problem, a need to show off, and a no holds barred approach to life. She breaks into the world of silent film inhabited by Brad Pitt's Jack Conroy, a Rudolph Valentino sort, and has to navigate her way through the transition to talkies. Robbie's character is based on real-life silent film actress Clara Bow, complete with a problematic family and an unstructured upbringing. She is headed for destruction, but she's not going without a fight. 
Snarling at the competition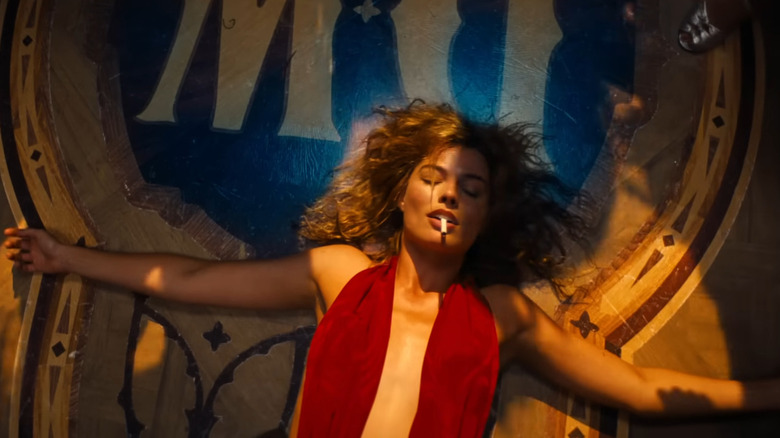 Paramount Pictures
Clarkson asked Robbie about her use of a movement coach and whether or not she used animals to help create the character. Robbie said that she did, and though she didn't go to drama school, she learned about it while working. In fact, she says that she used the characteristics of a pitbull (a pet she actually has) when she played Tonya Harding in "I, Tonya." She says of channeling that animal:
"Yeah, because they're very misunderstood, you know? At first glance you're kind of like, 'Oh, should I be scared?' I have a pitbull, too, so I love pitbulls. But yeah, so I wanted – like, with her ice skates on I wanted to be heavy on the feet, I wanted her to feel like, I wanted the character to feel like the world was just bearing down on her all the time. But on the ice she's a mustang, like a wild horse,like when she's out ice skating. So she's two animals really. And then yeah, every character I've had animals."
If you've seen the film, that makes sense. It makes even more sense if you followed the story of the attack on her rival Nancy Kerrigan during the Olympics and the subsequent performances at the competition. Harding was a great skater, but not in an ethereal way as some performers are. You felt every landing from a jump, and the heaviness of her presence, even while she leaps through the air. The two animals Robbie picked for "Babylon," however, were odd, but once you've seen the film, they seem right on the nose. 
Honey badger don't care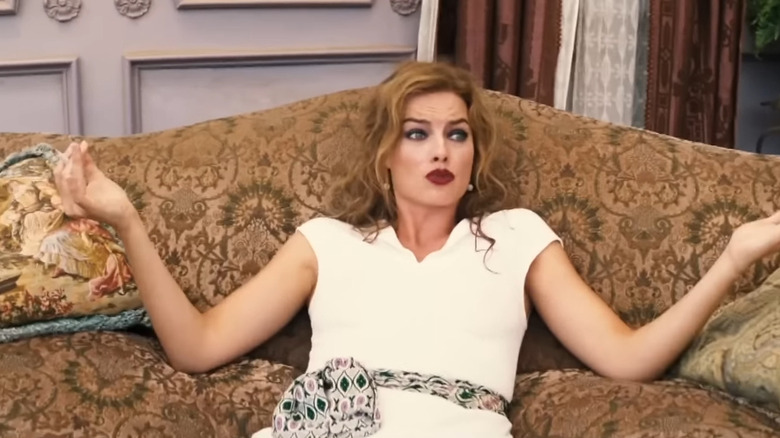 Paramount Pictures
Robbie says that she used the characteristics of both an octopus and a honey badger for Nellie LaRoy. She doesn't explain the octopus, but considering how many things Nellie is juggling and calculating at the same time, it does seem like she's working with more than two arms. She did speak about the grumpy honey badger, though, something Clarkson says she has on her ranch. 
They both described the honey badger as "mean" and "insane" and brought up the scene where Nellie gathers her fellow partiers to watch her fight a rattlesnake, something Robbie says honey badgers do. They also fight lions and "have really thick skin." She said she definitely used this animal for the big party scene where she acts out in front of some very stuck-up rich people. Her explanation after that is the best one I've heard for the animal drama school technique, though. Robbie explains: 
"Yeah, it's helpful because you do all this research – you know, there's tons of research, you're gonna read all these books and watch these films and get all the facts about the real-life people at this time, and sometimes your head gets so clouded with, you know, statistics and facts and the history ... That if you just revert back to the animal, then you can just be really really instinctual."
It's a big help if you're stuck on how to react to something in the script or an improv line from another actor. If you want to watch Robbie put this into practice, you can still check out "Babylon," which is currently in theaters.