The Daily Stream: Sex Workers Deserve Respect In The Lavish And Affecting Gangubai Kathiawadi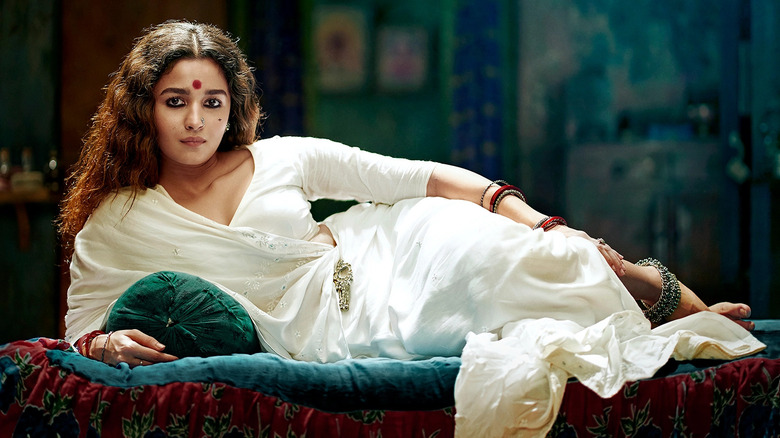 Netflix
(Welcome to The Daily Stream, an ongoing series in which the /Film team shares what they've been watching, why it's worth checking out, and where you can stream it.)
The Movie: "Gangubai Kathiawadi"
Where You Can Stream It: Netflix
The Pitch: Inspired by the life of Gangubai Kothewali, "Gangubai Kathiawadi" tells the story of a young woman named Ganga (Alia Bhatt) who dreams of becoming a Bollywood star. The man she plans to marry claims to want to help her with this dream, but when they leave their town for Mumbai, his actual intention is to sell her to a brothel to make a quick buck. Forced into a life of sex work, Ganga does not let the circumstances erode her dignity. After one of her solicitors is particularly abusive, she seeks out the aid of a local mobster (Ajay Devgn), and her power within the community begins to rise, renaming herself Gangubai Kathiawadi. With her newfound sense of confidence and connection with her fellow sex workers, she makes it her mission to secure rights, respect, and education for those in her orbit when the world around them only wants to use and discard them.
Sex work is just work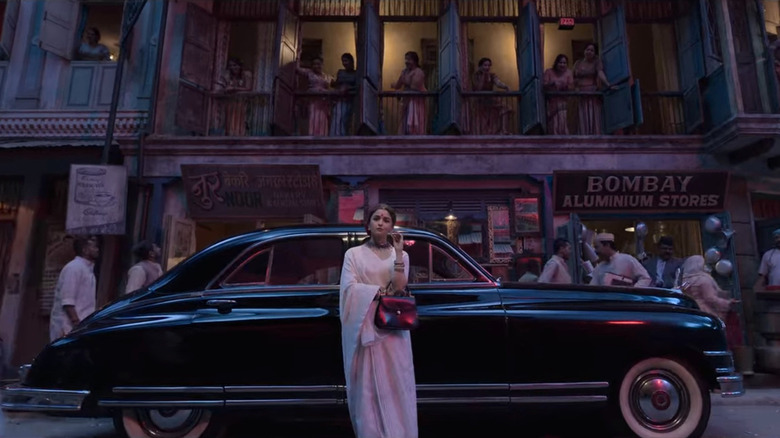 Netflix
Stories about sex workers are almost always sensationalized. They are far too often presented as prowlers on the street, looking to lure in men to their den of immorality. Or they are the story of someone's fall from grace, resorting to selling sex to show their low point. "Gangubai Kathiawadi" does begin with a woman being sold to a brothel, but it does not wallow in her misery. After all, this is a multi-dimensional person with her own needs, desires, and convictions, and she doesn't let her situation define her. This film is a rallying cry to legitimize sex work as a proper occupation and let those who provide these services be in control of their own lives.
Admittedly, the film does not try to subtly weave its politics into the story whatsoever. Alia Bhatt is often tasked with giving big speeches and declarations about the rights of sex workers, and for some, its on-the-nose nature may be a tad irritating. For me, Bhatt's performance is completely grounded in the reality of the world and the rather didactic nature of the drama almost always connects emotionally.
Even with all that, the film still finds plenty of time to dig into its titular character's other facets, particularly in romance, and it doesn't shy away from how her work and station in society impact how she thinks she can operate as a romantic partner in life. Alia Bhatt has become one of the biggest Bollywood stars in recent years. A film like this demonstrates that she is a magnetic screen presence and a fully committed actor who always puts character first. It's one of the best lead performances of 2022 in my book.
Character pieces don't have to be small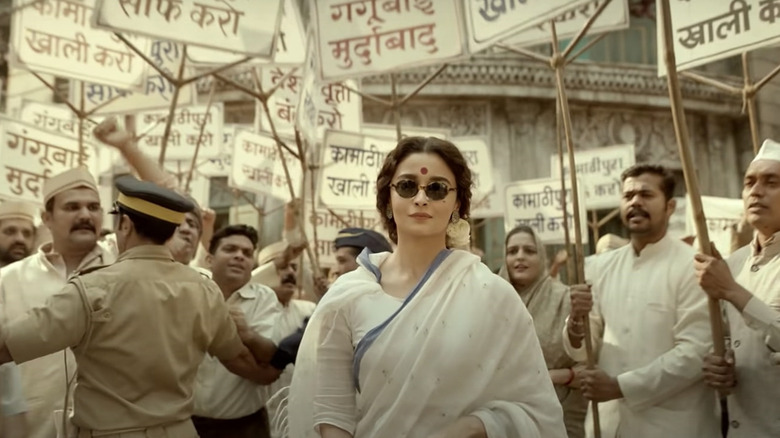 Netflix
In Hollywood, the age of studio-backed character dramas is basically over. They no longer are big box office draws; therefore, if a character-based film gets made today, it has to happen on a small scale. "Gangubai Kathiawadi" understands that someone with the grand personality of its lead character deserves a canvas that meets her grandness. Director Sanjay Leela Bhansali crafts a rendering of mid-20th Century Mumbai that feels expansive and straddles this rather beautiful line between the real and the constructed, featuring large-scale street sets that harken back to a more classical style of moviemaking.
The film also features several truly astounding musical sequences. The two standouts are the young Ganga in her hometown joyously dancing in the streets, and that sequence is mirrored later in the film after she has risen to her true height of power but features a desperation that the initial scene doesn't have. We see long takes of a swirling camera weaving through dancers in constant motion on the streets that sets off dopamine receptors in your brain you didn't know you had. We so rarely see well-choreographed, well-shot dancing on film anymore, and scenes like this remind you why they used to be a cornerstone of cinema.
"Gangubai Kathiawadi" hit Netflix in early 2022, and as we look back at the year that was, I see so little mention of this film. Granted, I see little in the way of Indian cinema outside of "RRR" or "Darlings" (which both feature Alia Bhatt) on any lists. If you want to dive a little deeper into what India's wide-ranging, multi-faceted cinematic landscape provides, just hop onto Netflix and give this film a chance.