A Studio Break-In Cost The World A Live-Action King Of The Hill Spin-Off Special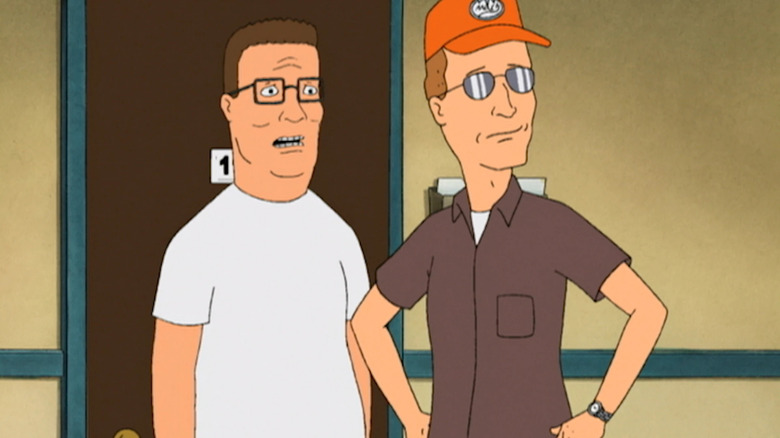 Fox
Anecdotally, when Mike Judge's animated sitcom "King of the Hill" debuted in 1997, many said it couldn't possibly last. Judge's previous animated project "Beavis and Butt-Head," many felt, was able to achieve a certain degree of cultural traction thanks to its ability to tap into a specific brand of MTV-inflected Gen-X self-mockery. In comparison, all "King of the Hill" had going for it was a gentle and affectionate ribbing of Texans. Those anecdotal naysayers were proven wrong, however, as "King of the Hill" became a smashing success, lasting for 15 seasons, and finally ending its run in September of 2009 ... and then again in 2010 when four additional new episodes aired after the finale. 
"King of the Hill" followed the very, very Texan adventures of the Hill family who lived in the fictional city of Arlen (said by Judge to be modeled after Richardson, a suburb of Dallas). The family patriarch Hank (Judge) was uptight and square and sold propane accessories for a living. His wife Peggy (Kathy Najimy) was a substitute teacher and was open-minded in that "embarrassing mom" sort of way. Their son Bobby (Pamela Adlon) was a passionate, artistic soul who never seemed to fit in, but was generally assertive and blissful regardless. Hank often spent time drinking beer with his three buddies and wrestling with the fineries of a changing 1990s world. 
The show was such a success that in 2000, around the show's fifth season, a mythic spinoff show was commissioned by Fox. The spinoff, "Monsignor Martinez" was to be a live-action actualization of a show within "King of the Hill" that the Hill family occasionally watches. Monsignor Martinez was a priest who was also a vigilante, and his action adventures were colorful and over-the-top. 
Judge shot a pilot. It was stolen.
Monsignor Martinez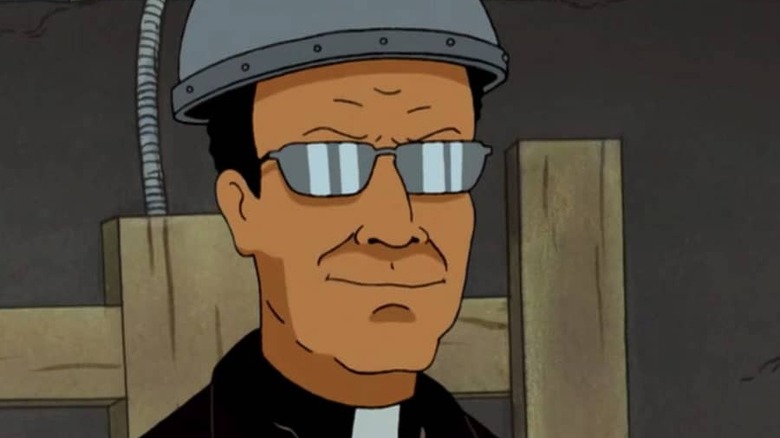 Fox
In a 2018 interview with Vulture, Mike Judge was sure that "Monsignor Martinez" was lost forever. Because the pilot for the show wasn't quite finished, Judge was merely storing it on one of his editing systems in Texas. By random happenstance, however, some ruffians broke into the editing bay and smashed up the place. While this may lead the casual reader to imagine a colorful, action movie espionage plot, Judge clarifies that it was just bad luck, saying:
"I had it on my editing system in Austin, but my studio got broken into and all of that got destroyed. The only place that may even exist is on some VHS tapes that some people have, and they're probably not even a good final cut or final mix. But that's another one that we thought about bringing back, actually, so maybe a new version of it could appear. See, I think the script was one of the funniest scripts I've ever been involved with." 
On "King of the Hill," the "Monsignor Martinez" cutaways were merely throwaway jokes along the line of the "McBain" movies on "The Simpsons." They exist to communicate a few quick, slapstick gags. When expanding the show to an actual series, Judge was able to be sillier than "King of the Hill" would have allowed him to be. He said:
"The script for that pilot is funnier than any of the bits we did for 'King of the Hill' with [Monsignor Martinez], although those were just, like, short little pops. I co-wrote that script with Jim Dauterive and Greg Daniels — Jim had created the character in one of the scripts he wrote for 'King of the Hill' — and it's something that every few years we talk about again as something that maybe we should try to do something with."
Monsignor lives again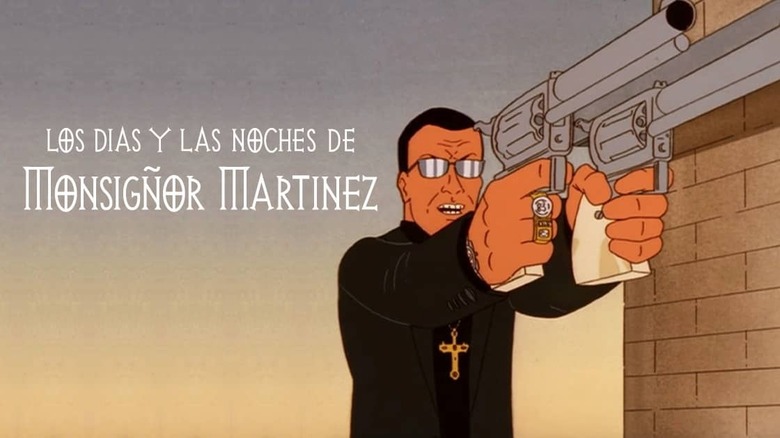 Fox
In the lost pilot, Monsignor Martinez was to be played by Ivo Cutzarida, although Mike Judge voiced the animated version of the character. The show was to be just as over-the-top as the animated segments from which it was derived but would have an actual plot. 
For many years, rumors swirled around the internet as to the content and location of "Monsignor Martinez," with many claiming to have seen the pilot, or who perhaps possessed a long-lost VHS cassette that somehow escaped the fateful break-in. Some deep searching reveals a few fans on Reddit claiming to have seen it, but nothing on Reddit can be trusted. When Judge gave his interview with Vulture in 2018, he mused that he might want to pick up the project again. 
Thanks to the gods of YouTube, however, "Monsignor Martinez" has surfaced. 
The extant 18-minute pilot now seems to have been posted online, and, dear readers, you may watch it in its entirety above. The pilot is of very low quality — it looks to be a dub of a dub of an old VHS tape — and the music doesn't seem to have been inserted yet, but that is indeed the "Monsignor Martinez" TV show as Judge made it. One can see the germ of something brilliant. The premise may have been a little too arch and high-concept, and the idea of a live-action "King of the Hill" spin-off seems like a tough sell, but the experiment was in the midst of being made. 
"King of the Hill" surprised us. Perhaps "Monsignor Martinez" would have as well.