Kurt Russell Was Key To Making Quentin Tarantino's Once Upon A Time In Hollywood Feel Real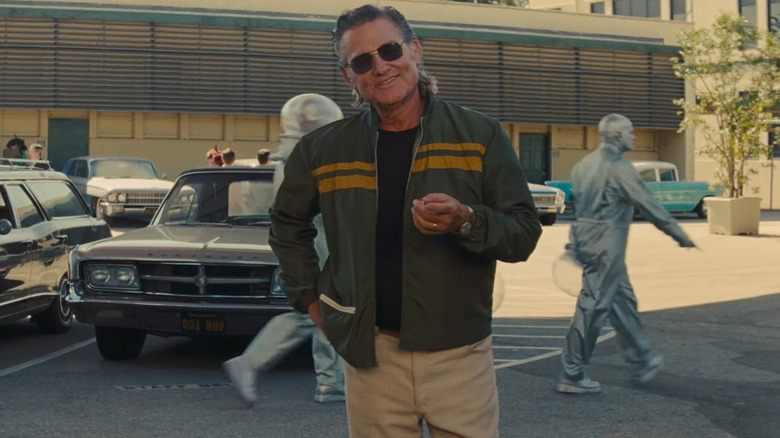 Sony
"Once Upon a Time in Hollywood" feels like a time capsule taking audiences back to 1960s Hollywood. Excellent production design, costumes, and a soundtrack curated by director Quentin Tarantino himself all ensure that the movie openly declares a love and nostalgia for that era of filmmaking. However, the director's love for 1960s Hollywood could only take the accuracy of his ninth film so far. Historical revisionism aside, Tarantino focused on several aspects of the film industry, and the environment surrounding industry workers. The film takes place over 50 years ago, so getting firsthand insight into what it was like in those days is something of a rarity.
Luckily, Quentin Tarantino collaborated with various creatives over the span of his career, providing him with perspectives from those who had actually experienced life in Hollywood around that time. One such actor that was key in keeping the movie authentic was Kurt Russell, who had a starring role in Tarantino's film "Death Proof" and, more recently, was one of the main characters in "The Hateful Eight." For "Once Upon a Time in Hollywood," Russell narrated the film and also portrayed a stunt coordinator named Randy Lloyd. Russell's contributions to the film were just as fruitful behind-the-scenes as they were in front of the camera, all because the actor was just the right age to seamlessly recall 1960s Hollywood.
'He really knows how authentic I am or not'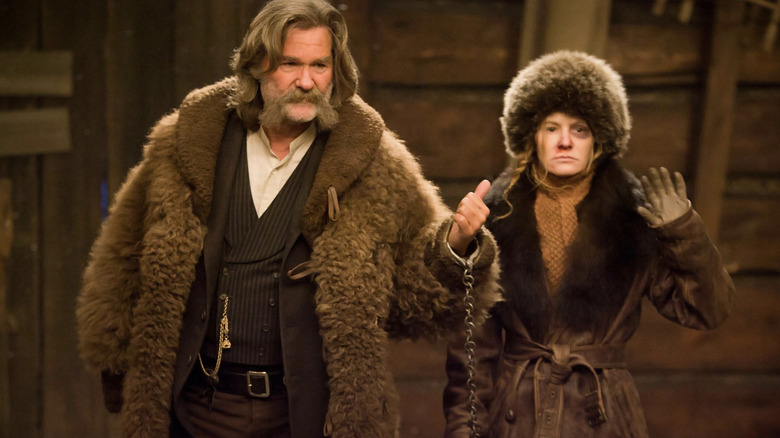 The Weinstein Company
In a 2019 interview with Entertainment Weekly, Quentin Tarantino discussed the perfect opportunity he had with Kurt Russell, who he calls "the youngest guy that [he] can work with, who lived that life." Born in 1951, Russell would have been around 18 when "Once Upon a Time in Hollywood" takes place. It's within that age range that Tarantino discovered Russell had already played some interesting roles in his younger years that aligned with the intended period of the project:
"He did 'The Virginian,' he did 'High Chaparral,' he did these shows. He was doing them when he was a boy. There's a very famous 'Lost in Space' episode that he did. He starts in, like, '64 or '65 at 12 and is about 17 or 18 around the time we're talking about." 
Even without Russell, Tarantino had relationships with other older actors whose insight could've proven vital to making the movie feel more real. Still, the director believes it was only Russell who could let him know how accurate it was, given that "Once Upon a Time in Hollywood" is set during the actor's formative younger years:
"Before he passed on, I could talk to Burt Reynolds about it; I can talk to Bruce Dern about it. They're older men. Kurt had a similar situation that they had, except it happened when he was younger. So, he really knows how authentic I am or not in the course of this piece."
Bringing critical insight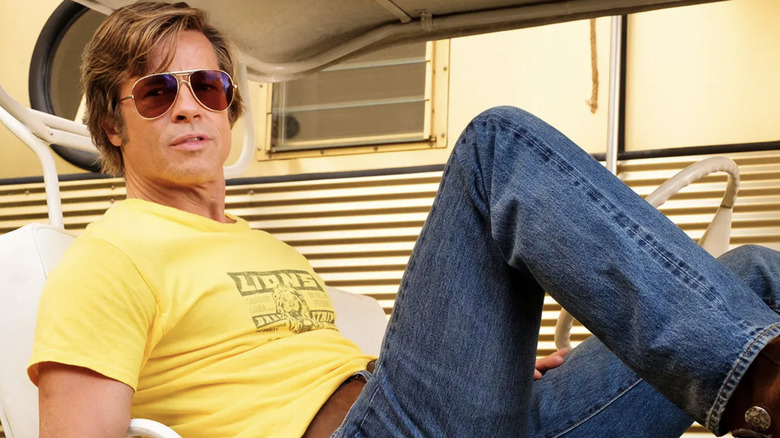 Sony
While Quentin Tarantino valued Kurt Russell's input the most, he also gained valuable insight and ideas from other older actors. A fun example is the late and great Burt Reynolds, as once he found out that Brad Pitt would be playing stunt man Cliff Booth, he gave Tarantino the idea to have Bruce Lee call Cliff Booth "pretty for a stunt guy," which would lead into the controversial fight scene. Reynolds was supposed to be in the film before his passing, but the role intended for him would go to Bruce Dern, playing the owner of Spahn Ranch. 
With all the input from Reynolds and Dern, Russell would continue to surprise the director. As Tarantino told EW, the actor worked with countless people in his career:
"There's almost nobody that Kurt didn't work with at one point or other in his career. And just when I think I've talked to Kurt about everybody I can talk [to him about], I find some interesting actor on some show that did something interesting. I wasn't quite familiar with the guy, and I looked him up, and it turns out that, like, he and Kurt had a TV show together!"
"Once Upon a Time in Hollywood" stands tall as Quentin Tarantino's most personal film — a portrait of Hollywood that was formative to him in his younger years. He did the era justice, making the film more feel genuine thanks to the firsthand accounts of several collaborators and friends. For all that Tarantino had to say about Russell's memory of 1960s Hollywood, his film would end up earning the actor's seal of approval, as Russell would tell Cigar Aficionado in 2019:
"It reminded me of me and my dad and my friends in the late '60s and early '70s. I grew up in that world."