A Small Favor From Paul Newman Landed Clint Eastwood His Dirty Harry Role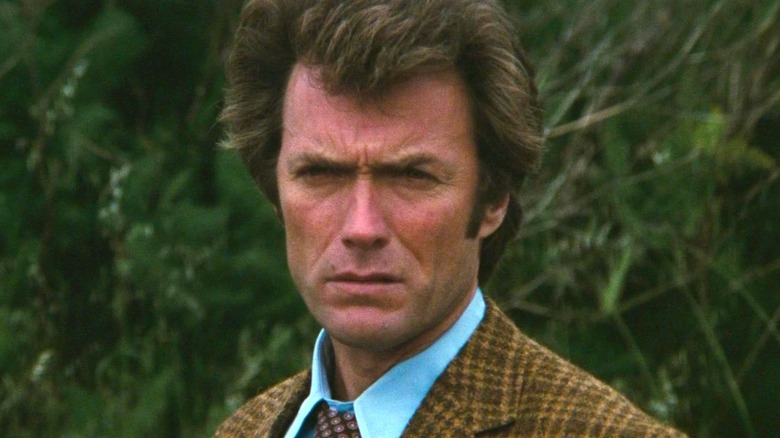 Warner Bros.
By the time "Dirty Harry" came along, Clint Eastwood was already a movie star. So, it's fair to say that this film not only solidified his place in the Hollywood firmament but also crystallized his star persona. The role of Harry Callahan took someone who was already the embodiment of traditional toxic masculinity, and cranked that up to 11, captivating enough people to make it the sixth-highest-grossing film of 1971. "Dirty Harry" features so many things I find objectionable, yet I cannot say that the film isn't an entertaining watch. That is due in large part to Eastwood's performance, clearly enjoying playing a hard-ass cop who doesn't play by the rules.
While Eastwood and "Dirty Harry" are now inextricably linked thanks to the five-film franchise that it spawned (six if you count the unofficial spiritual sequel "Gran Torino"), he was not the first actor the studio looked to star in the film. He may have been a star, but there were still plenty of names above him on the A-list. The script had been in development at Warner Bros. where they courted everyone from Steve McQueen to Robert Mitchum for the part. Frank Sinatra was even cast in the role before dropping out. Then, another pair of hands got ahold of the script: Paul Newman's. Without him, there's a chance Clint Eastwood wouldn't have wound up with one of his signature roles.
An A-list recommendation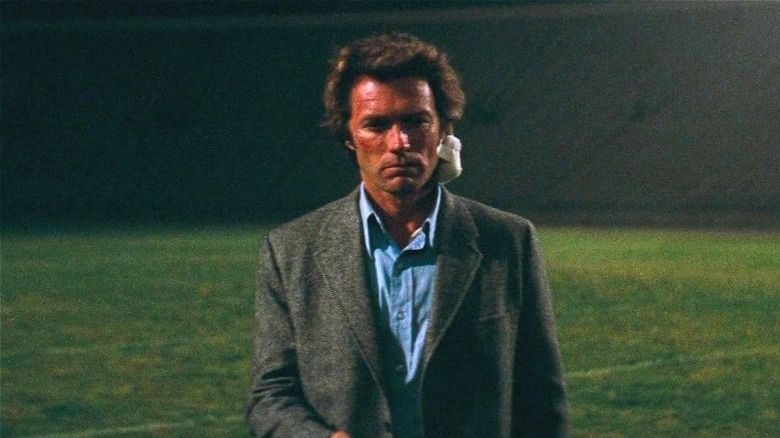 Warner Bros.
Back when "Dirty Harry" was being developed, Paul Newman was coming off of the rousing success of "Butch Cassidy and the Sundance Kid," the number-one film at the box office in 1969. By that point, Newman was already a massive star, but this was him at the top of his game for the first time; he could do whatever he wanted. So, the original script by Harry Julien Fink came across his desk, and while he liked it, he didn't feel he could take the part. He did, however, find the perfect person for the role. Speaking with Terry Gross on Fresh Air, Clint Eastwood recalls how it was Newman who got his name into the running:
"Paul Newman had led me onto it. He told Jennings Lang, who is an executive at Universal at that time, that 'there is a script that I read this exciting detective story, might be great for Clint,' and, of course, when Jennings told me that, I said, 'Well, how come Paul didn't want to do it?' He says, 'Well, he had some questions about the political ramifications of what have you, but he thinks it's an exciting story, and you might want to do it.'"
Not only did Clint Eastwood take on the role of Harry Callahan, but the Malpaso Company, Eastwood's production company, came aboard to produce the film. Don Siegel had just directed Eastwood in back-to-back pictures, "Two Mules for Sister Sara" and "The Beguiled," and came on as director for "Dirty Harry". This wasn't just a movie Eastwood was starring in. This was an Eastwood production through and through.
The problematic politics of Dirty Harry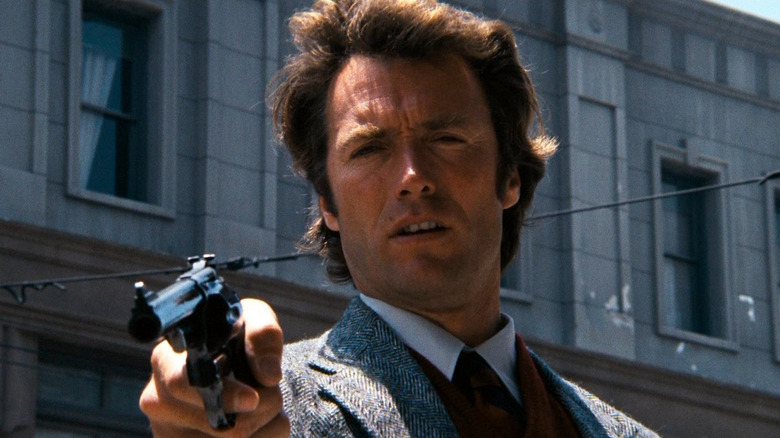 Warner Bros.
Whenever you hear about why any of these major actors turned down "Dirty Harry" over the years, you are bound to see one of two reasons: either they thought it was too violent or thought it was too right-wing. A very understandable read. I would say a correct one. You watch "Dirty Harry" now, and it is a celebration of guns, violence, and eschewing due process for vigilante justice. In the eyes of this movie, the coolest thing you can be is a cop with a big gun who answers to no one. In the eyes of the general public, that is extremely terrifying. While playing someone like that was a turn-off for the liberal Paul Newman, that wasn't much of an issue for the future Republican mayor of Carmel, California. Eastwood said of the film's politics:
"I don't care much about political ramifications of one way or the other, you know. You have to tell some points of view in different movies. So, why not?"
That disinterest in how a film will play politically runs through Eastwood's entire filmography, up through his recent directorial efforts like "Richard Jewell" and "The Mule." However, I think his perceived disinterest in politics is more so a tacit acceptance of them. Considering he has a fairly consistent Libertarian streak through over half a century of films, I lean more toward the latter. For those who agree with the politics, that is what makes Clint Eastwood such an icon to them and why those who don't tend to wince when his name comes up. I know I can't deny his screen presence, especially in a film like "Dirty Harry," but it makes sense why he's there. Had it been Paul Newman, we would've been dealing with some serious cognitive dissonance.