Adam West Was Cast As A Conspiracy Theorist In Emperor's New Groove, But Was Cut From The Final Film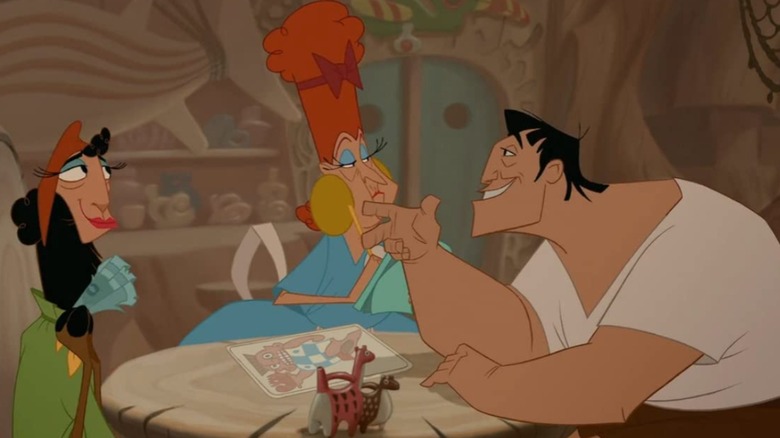 Walt Disney Studios Motion Pictures
"The Emperor's New Groove" is a famously weird Disney movie that was almost even weirder. The delightfully offbeat David Spade comedy has endured several reassessments since its 2000 release, going from a notoriously troubled production (as documented by Vulture in that outlet's great oral history) to a middling box office performer to an enduring cult favorite.
In the years since the saga about an emperor-turned-llama on a quest to regain his human form hit theaters, a seemingly endless number of behind-the-scenes anecdotes have come to light about the movie that almost was. At one point, Vulture notes, the film was meant as a more straightforward adventure saga called "Empire of the Sun," which would've been led by Owen Wilson with a full soundtrack from Sting. That version of the flick never happened, and the movie continued to evolve drastically until it became the irreverent, kooky comedy audiences ended up with. One of those evolutions included the removal of a character voiced by "Batman" star Adam West.
Adam West almost played a local named Mochi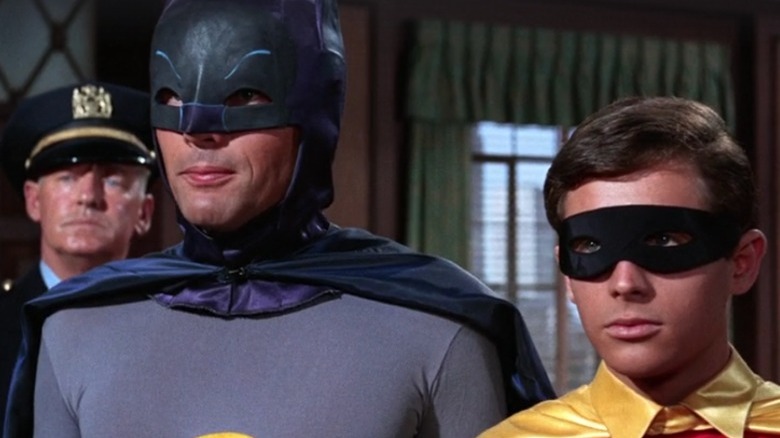 ABC
/Film's Shania Russell recently spoke with Stephen J. Anderson, who is credited as a story supervisor on "The Emperor's New Groove," as part of her extensive oral history of a totally different Disney film — "Meet the Robinsons," which he wrote and co-directed. But we should know by now that the legend of Kuzco and co. never stops growing, so it shouldn't be a surprise that Anderson shared yet another little-known anecdote from the making of that movie. Namely, the filmmaker says that a scrapped version of it had a role for none other than former "Batman" TV show star Adam West and that he hired the actor for "Meet the Robinsons" after witnessing his hysterical voice acting firsthand on the earlier project.
"When I was working on 'Emperor's New Groove,' one of the iterations of the movie that didn't obviously didn't make it was that Kuzco spent a lot of time in the second act of that movie in Pacha's village," Anderson revealed. "And he met weird characters and one of them was this crazy conspiracy theorist whose name was Mochi." In the version of the film we see, pompous emperor Kuzco, turned into a llama, spends time with Pacha's (John Goodman) family and traverses the hillside he lives on, but we don't get to meet too many of the locals from his village.
The cut part landed West a role in Meet the Robinsons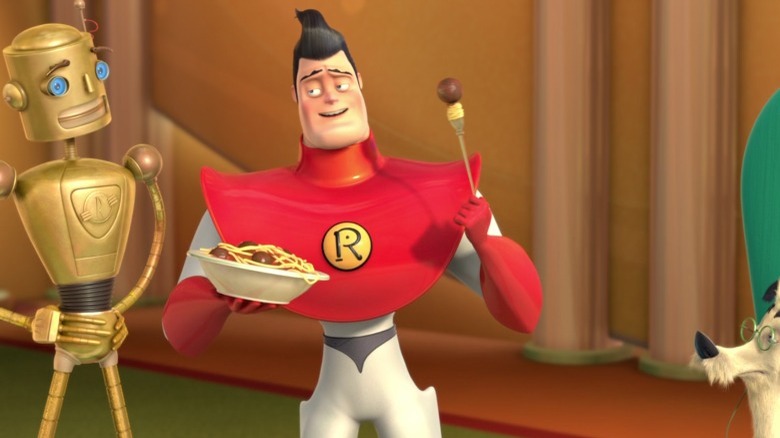 Walt Disney Studios Motion Pictures
Adam West's scene deletion obviously wasn't always the plan. "It was storyboarded, it was written, and they actually cast Adam West as this character and recorded him," Stephen J. Anderson shares. "The Emperor's New Groove" is already chock-full of weird and memorable side characters, like the world-weary waitress who serves Kuzco and Pacha boiled pill bugs or the elderly man who goes around warning "beware of the groove!" after being thrown out of the emperor's palace. Apparently, West, who was by then transitioning into voice roles on shows like "Family Guy" and "The Fairly OddParents," was almost one of those wacky side characters.
"He was hilarious as this character," Anderson says. Sadly, we'll have to take his word for it, as there doesn't seem to be any publicly available footage of West as Mochi. Anderson isn't the first person to mention West's cut scene, though: he doesn't mention Mochi by name, but screenwriter David Reynolds previously told Vulture that West came on board to play a "crazy" man with a scarecrow army, who calls out "Whip-poor-will!" to get Kuzco's attention. Anderson was so impressed with the performance, he tells /Film, "I thought, 'Okay, he's going to be that same kind of performer that we really need [in 'Meet the Robinsons'].'"
West went on to play the superhero pizza delivery man Uncle Art in the 2007 film. You can read Shania Russell's complete oral history of "Meet the Robinsons" here.