Flash Gordon Originally Had Much Grander Ambitions For Its Big Finale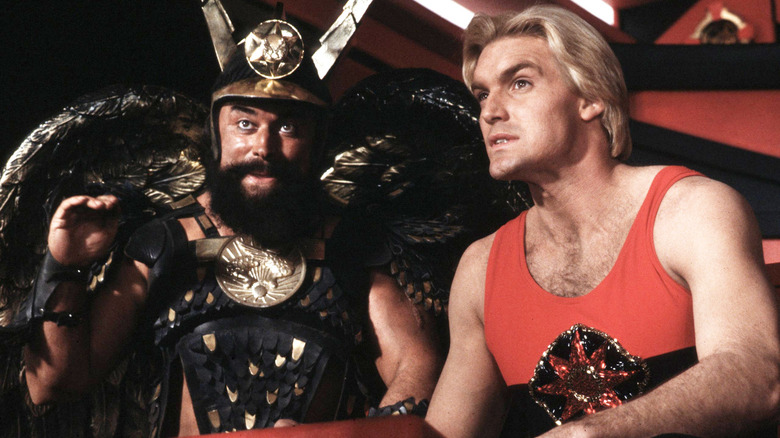 Universal Pictures
There seem to be two distinct trains of thought when it comes to 1980's "Flash Gordon." Either viewers think it's a flawed yet lovable pulp romp, or they hate its absurd cheesiness. No matter what side you're on, you have to admit that the late Mike Hodge's adaptation of the popular comic strip series was visually distinct and impressive at times. The film's ending, in particular, was arguably on par with the "Star Wars" films at the time, just with a distinct campy tone.
As it turns out, the ending we got wasn't exactly the ending we got. According to author and filmmaker John Walsh, the original and much more, ahem, flashy ending was trimmed down due to its over-ambition. When speaking to Den of Geek about his book "Flash Gordon: The Official Story of the Film" in 2021, Walsh revealed some major details about this scrapped ending, which included a shapeshifting Ming the Merciless (Max von Sydow) and an even more awkward and violent wedding.
"Where the film ends now, at the wedding crashing, that was the start of a new major sequence that was going to involve Ming turning into fabulous creatures and fighting Flash, the Hawkmen, and the Arboria Tree Men," said Walsh.
It wasn't just the movie's ending that saw significant changes. Walsh revealed that several other ideas for "Flash Gordon" were cut, ranging from scrapped scenes to characters poised to be major players in the plot. Thankfully, these were all preserved so that copies could be included in the "Official Story" book.
A scaled-back scope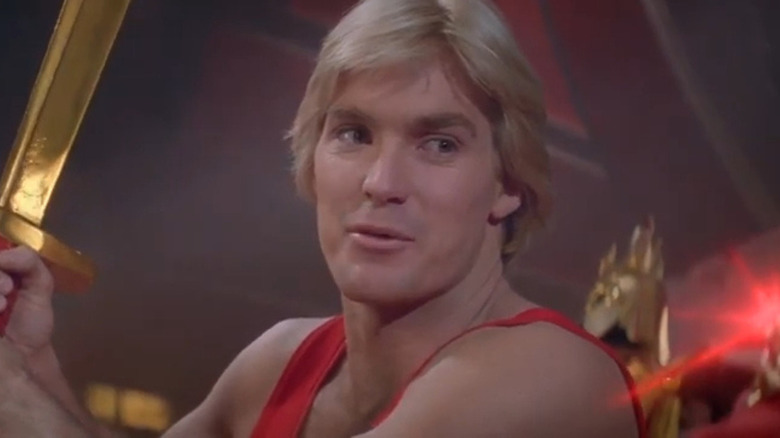 Universal Pictures
Perhaps the most interesting thing about these cuts is why they were made in the first place. According to a Variety review published in 1979, "Flash Gordon" cost around $20 million to produce. Adjusted for inflation, this would be the equivalent of approximately $72 million in 2022 — a minor price tag for modern blockbusters, but a ton of money to invest in a film back in 1980. One would probably assume that the film's budget was a factor in certain elements being scrapped, as has typically been the case in similar situations from the past.
Surprisingly, however, that actually wasn't the case. According to John Walsh, the climatic wedding battle and other aspects of the original treatment could have been shot on the film's budget. The "Flash Gordon" production team just didn't have the time to do so.
"Literally, the pages were pulled," he explained. "They were like 'No time for that, haven't got time for that.' They had the money for it, but no time."
It's fair to say that "Flash Gordon" has been given a new lease on life as a cult favorite, so much so that it could even get a Taika Waititi-helmed re-imagining in the near future. While the original plan for the gonzo ending might have fallen through, what we got was a fun and extravagant space romp, and can you really hate that? I don't think so.