Steven Spielberg Almost Had Tim Burton Direct The Twisted Holiday Classic Gremlins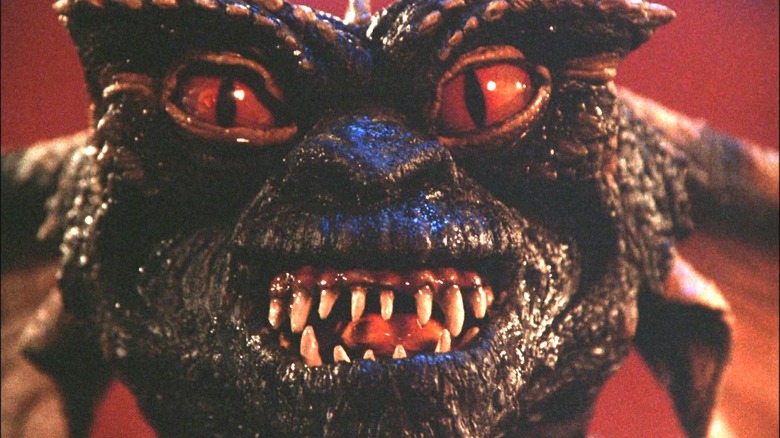 Warner Bros.
Fans of Joe Dante's 1984 Christmas horror comedy film "Gremlins" may know that screenwriter Chris Columbus initially wrote the script as a mere writing sample. The script was so elaborate — and so horrifying — that it wasn't meant to be even possible. An oral history of "Gremlins" previously published by CutPrintFilms in 2016 (and which has since been taken down) revisited a lot of the film's behind-the-scenes details. The story goes that Columbus wrote a straight-up horror movie that had a lot more violence and had Gizmo — the adorable central mogwai — transformed into the murderous gremlin, Stripe. 
A behind-the-scenes feature on the 2002 DVD special edition of "Gremlins" revealed that Steven Spielberg had somehow got his hands on the script, and had expressed interest in actually making it. Spielberg changed a few things about it, however, to make it less horror-forward. Notably, Gizmo was to stay cuddly and marketable throughout, and the character of Lynn Peltzer (Frances Lee McCain) would not have her head removed by monsters. It was also explicit in the first draft that the gremlins ate other living beings, having devoured the Peltzer family dog as well as a crowd of human customers in a McDonald's. Spielberg also wanted to cut a monologue from Kate (Phoebe Cates) where she describes a dark chapter in her life involving Santa Claus, but he ultimately allowed Dante to leave it in.
Keeping that Santa Claus scene in wasn't the only thing that strayed from Spielberg's initial vision. It turns out that while Dante brought an indelible style to "Gremlins" and had already proven his monster movie chops in the 1981 film, "The Howling," he wasn't Spielberg's first choice.
The guy who did Frankenweenie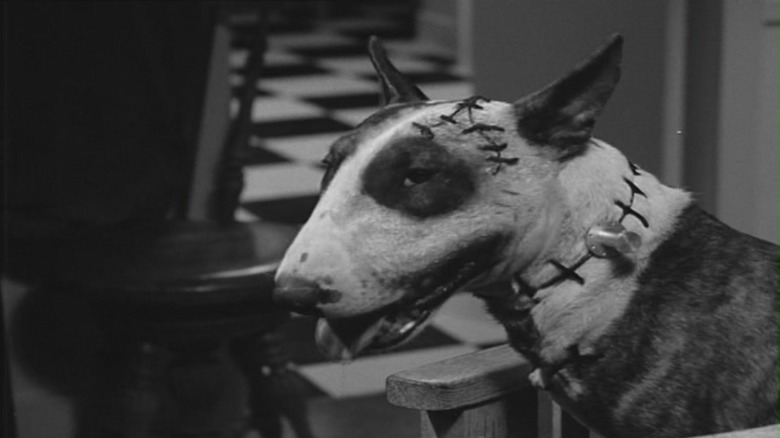 Disney
According to CutPrintFilm, in early 1984, Steven Spielberg had already seen a short film from a 25-year-old aspiring director named Tim Burton. Burton had been working for Disney throughout the early 1980s, serving as a concept artist on films like "The Fox and the Hound" and "The Black Cauldron." During his tenure there, Burton made a stop-motion animated short called "Vincent," narrated by Vincent Price, and directed a live-action TV version of "Hansel and Gretel" for the Disney channel. It was Burton's live-action short film "Frankenweenie," however, that caught Spielberg's eye. 
"Frankenweenie" is a comedic and grim story of a young boy who uses "Frankenstein"-like tools to resurrect his beloved pet dog after it dies in a car wreck. The odd and whimsical treatment of horror and death was exactly what Spielberg envisioned for "Gremlins." The only point of trepidation was that Burton hadn't yet directed a feature film, and Spielberg wasn't sure if the young upstart could handle it. Joe Dante seemed like the wiser choice — in addition to "The Howling," he had already made the low-budget exploitation movies "Piranha" and "Hollywood Boulevard." Plus, Dante had a deep affection for B-movies and cartoon violence, eventually lending "Gremlins" his macabre sense of humor. 
Burton was eventually hired by Warner Bros. to direct "Pee-Wee's Big Adventure" in 1985, launching a career that included both odd cult classics, Goth-beloved quirk-fests, and some of the most successful superhero movies of all time. 
It seems everyone came out on top.