What Wednesday's Thing Really Looks Like Without Special Effects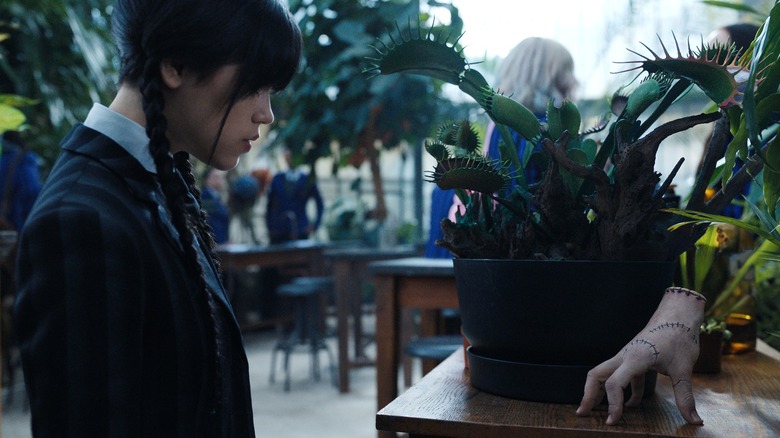 Netflix
In Netflix's new series "Wednesday," teen goth girl detective Wednesday Addams has few friends — by choice. For much of the first season, the dark storm cloud of a character revels in her ability to scare off potential suitors and companions, instead appreciating the value of her own macabre company. But even before Wednesday Addams (Jenna Ortega) opens up and learns to accept help once in a while, she still has a trusty sidekick who she can always rely on the help her out in a pinch: Thing, the Addams family's disembodied hand sidekick.
Thing has a long history in "The Addams Family." In cartoonist Charles Addams' original "Addams Family" artwork, Thing appeared not as a creepy-crawly hand, but as a largely unseen warning: a sign on a tree outside the monstrous family's home read "Beware of the Thing." In the popular 1964 television series, Thing appeared in more corporeal form, as a large hand and forearm that made its home in a decorative box. This version of Thing never left its box, but it still communicated and was an integral part of the series' dark comedy thanks to its expressive gestures.
A bluescreen magic trick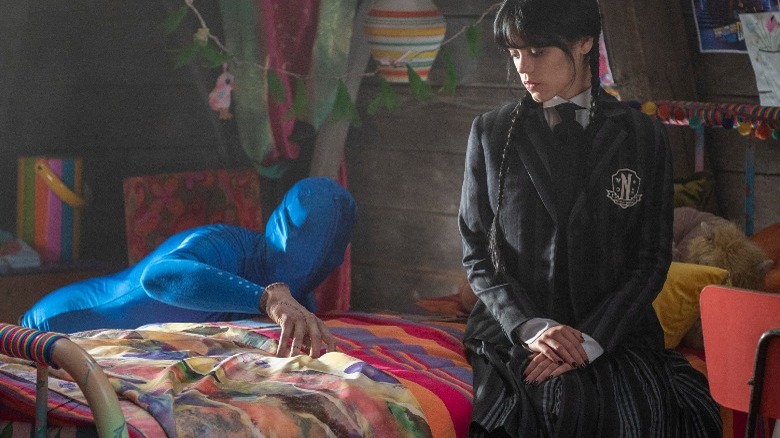 Vlad Cioplia/Netflix
In the '90s, Thing morphed into the pet-like helping hand we know and love today, using his fingers as feet in Barry Sonnenfeld's hit movies (with Christopher Hart playing the hand). Continuing with Addams family tradition, Tim Burton's "Wednesday" doesn't bother to explain Thing's origins, but simply treats him as a member of the family whose gestures translate into hilariously complex language. This version of Thing features some stylish Frankenstein's monster-like stitches that show he's had a rough-and-tumble past. He's also played by an actor, Victor Dorobantu, who it turns out has to put in a pretty unique performance to get Thing just right.
Dorobantu, who works as a magician when he's not acting as Thing, spoke with Vanity Fair about the unorthodox experience of filming his hand-centric role. Dorobantu wore a blue lycra suit in shots alongside actors like Ortega and Fred Armisen so that his body could be erased in post-production, leaving just his hand behind. "It's like a ninja suit," the actor says of the bluescreen suit. "We had to use that for the VFX stuff. It has been my uniform, let's say."
The final product is a work of movie magic that combines Dorobantu's performance with visual effects that help the severed hand stand alone. But on set, the actor had to position his body in the most minimally visible ways possible, leading to some inadvertently hilarious behind-the-scenes photos. "I was under beds, I was in holes, I was in trap doors, I was in bank safes," Dorobantu told Vanity Fair. "I had to find ways to put my body under people, behind objects."
A heroic Thing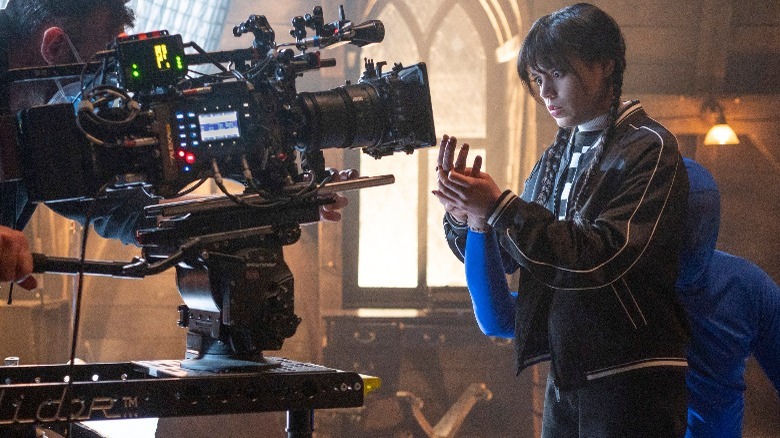 Vlad Cioplia/Netflix
The actor also studied Hart's performance from the 1990s films, and eventually connected with the man who played Thing before him. Dorobantu says that his on-set contortionism is nothing compared to Hart's, explaining, "Back then without VFX, it was a lot harder. He had to endure many more positions than I did." Still, photos of the actor tensing his hand in a face-and-body obscuring blue suit show that his on-set experience was a far cry from that of his co-stars. According to the actor, he and director and executive producer Tim Burton came up with a game plan to "make small gestures be seen," incorporating American Sign Language, morse code, and even military hand signals into Thing's unspoken vocabulary.
In the end, the version of Thing that stands by Wednesday's side might be the most integral iteration of the character yet. In the season finale, he helps save Wednesday by contacting her roommate Enid (Emma Myers) and freeing Wednesday's friend Xavier (Percy Hynes White) so both can come to her rescue. It's not the first time Thing lends Wednesday a hand, either: throughout the season he helps Wednesday by investigating and assisting in ways only a small, nimble thing can.
For Dorobantu, who tells Vanity Fair he sees Thing as more of a hero than a pet, there's a clear reason why the disembodied hand has long since been so loveable. "I loved the character so much because it's a big personality in a small hand," he says. Seeing what Thing looks like in real life, attached to the body of a full-grown man in a bluescreen suit trying to make himself look small, only adds an endearing layer to the delightfully weird character.
All episodes of "Wednesday" season 1 are available on Netflix.