Filming The Macy's Thanksgiving Day Parade Was A 'Frantic Scramble' For The Miracle On 34th Street Crew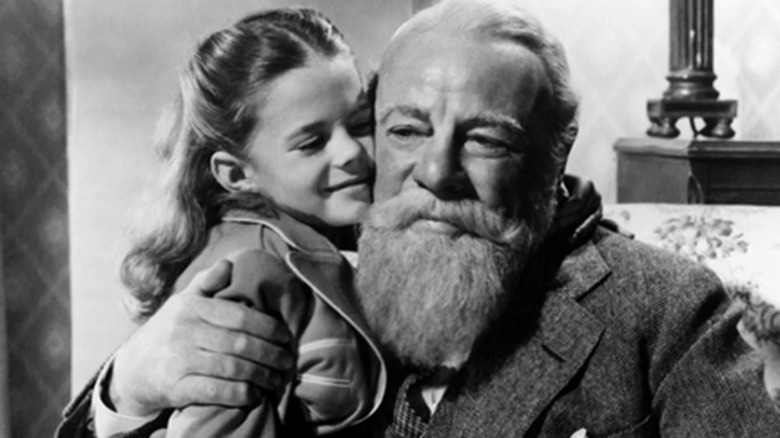 20th Century Studios
Is there a more perfect combination of capitalism and the more precious aspects of American life than the Macy's Thanksgiving Parade? Kindling festive excitement among the innocent children of the country is a wonderful thing, especially when it's sponsored by a store that wants to turn a decent profit for Christmas. As cynical as you want to be about it, there's no denying the annual event has become a beloved part of the holiday season stateside, signaling the immaculate melding of corporate interests with the human capacity for joy.
But believe it or not, before 1947 the parade didn't quite have the national recognition it does now. It wasn't until George Seaton's equally beloved interpretation of Valentine Davies' story "Miracle on 34th Street" hit theaters that the parade began being broadcast nationwide. The holiday classic not only spread a heartwarming message of hope, but also thrust Macy's and its festive procession into the public consciousness with its opening scenes depicting Edmund Gwenn's Kris Kringle waving to the crowds.
To get these important shots, Seaton actually shot on location in New York rather than using any kind of visual effects to impose Gwenn over pre-shot footage. But as you might expect, filming on-location proved to be somewhat of a mad dash for the film's crew, who had to fit their shots around the actual 1946 parade schedule.
You only get one shot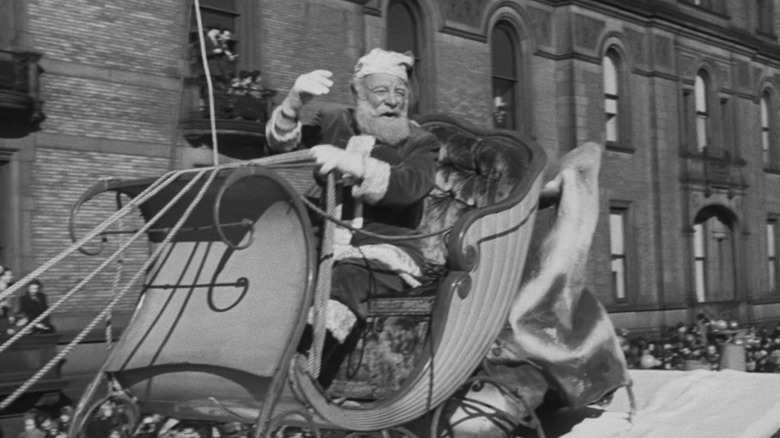 20th Century Studios
Maureen O'Hara, who played Doris Walker in "Miracle on 34th Street," has since opened up about the experience of filming the movie, which would you believe, served as a guiding light for David Harbour's upcoming "Violent Night." Walker, of course, was one of the main characters in the film — a divorcée with a precocious but slightly too cynical daughter named Susan (Natalie Wood). In the movie, Walker actually works for none other than Mr. R.H. Macy himself, and as such spends a lot of time in and around the flagship store and parade where she first discovers Gwenn's Kris Kringle.
In her biography "'Tis Herself," O'Hara recalled how she was "urgently brought back to New York" to film at the Macy's parade:
"They weren't going to run the parade more than once on our account ... It was a mad scramble to get all the shots we needed and we got to do each scene only once."
Not only did the filmmakers have to shoot around the parade as it was happening, but they were also facing unwelcome weather conditions throughout. O'Hara remembered it being "bitterly cold" during filming of the parade scenes. In fact, the whole on-location production was plagued by bitter temperatures which at one point, as the official TCM website notes, caused the cameras to actually freeze during the shooting for the film's finale.
An unbeatable classic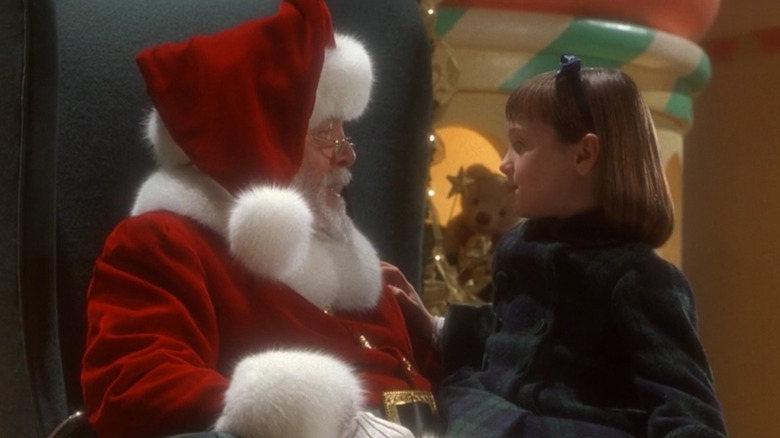 20th Century Studios
It might seem like a lot to go through to shoot on location, but New York is a special city, especially during the festive season. As O'Hara notes in her biography: "No city in America does Christmas better." Thankfully the crew was aided by kindly NYC residents. As O'Hara remembers it: "a very kind woman, Vaughn Mele, lived across the street from where we were filming and offered us her home to thaw out the cameras ... The cameras got the preferred treatment, in front of the fire, and we were all seated in the back."
Once filming wrapped in NYC, production moved to the Fox lot in Hollywood where interior shots were completed. After that, "Miracle on 34th Street" went on to become the beloved classic it still is today. Later, John Hughes and Les Mayfield attempted a 1994 remake that captured much of the same uplifting energy as the original. But the 1947 version remains the superior movie for most. Perhaps that's down to Hughes' version shooting mostly in Chicago and Macy's deciding not to lend its corporate might to the remake. In fact, footage from the Macy's parade had to be scrapped for the 1994 production, which then had to stage a fake parade on Manhattan's Upper West Side.
Compare that to the 1947 movie where crowds were treated to star Edmund Gwenn as the actual Macy's parade Santa and it's easy to see why the original retains such charm. With Hollywood being the way it is, we'll likely see several more attempts at a remake in future years, but there'll be no need. As Macy's said in a statement in 1994, when refusing to take part in Hughes' version of the film: "We feel the original stands on its own and could not be improved upon."