Jim Carrey Pitched Daniels Directing Duo A Wild Idea For A Found-Footage Horror-Comedy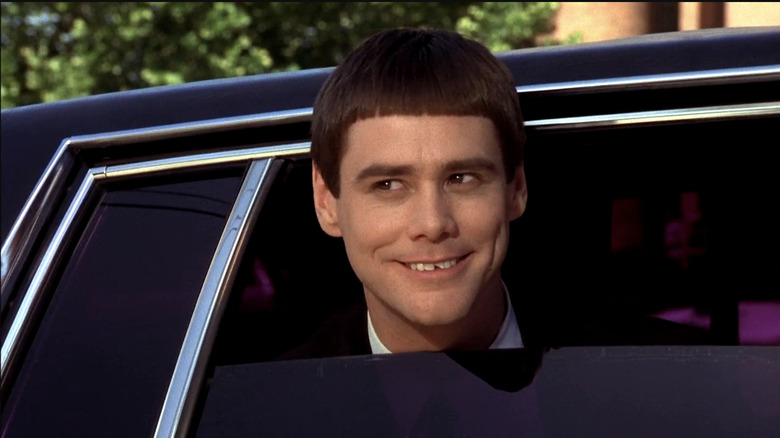 New Line Cinema
The directing duo known as Daniels (Daniel Kwan and Daniel Scheinert) are two of the most exciting voices working in cinema today. After getting their start directing evocative music videos like "Turn Down For What" by DJ Snake and Lil Jon, the two have evolved their incomparable styles into some of the most compelling feature films in years.
Their first, "Swiss Army Man," was promoted as "the Daniel Radcliffe farting corpse movie," but turned out to be one of the most moving examinations of humanity and why life is worth living even when things feel absolutely hopeless. Their latest, the stunning "Everything Everywhere All At Once," is already a front-runner for Oscar contention, even with scenes including hotdog fingers and a martial arts fight scene with visible buttplug flares. It seems as if there's nothing too weird or too out of left field for Daniels, which is probably why funnyman Jim Carrey once pitched them a found-footage horror-comedy.
During a recent interview with Entertainment Weekly, Daniels spoke about the time they briefly considered making a film about the making of "Dumb and Dumber" through the lens of found-footage horror. Daniel Kwan says that Carrey reached out to the two, very early in their careers, with a ridiculous (and yet possibly brilliant) idea for a horror film:
"He had just seen 'Paranormal Activity' and was like, 'Guys, it's found-footage and it's horror — have you seen it?' And we were like, 'Uh-huh, we've heard of it. Where is this going?' And he was like, 'I haven't seen anyone do that — but with comedy. And I have this great idea.'"
'So you're telling me there's a chance!'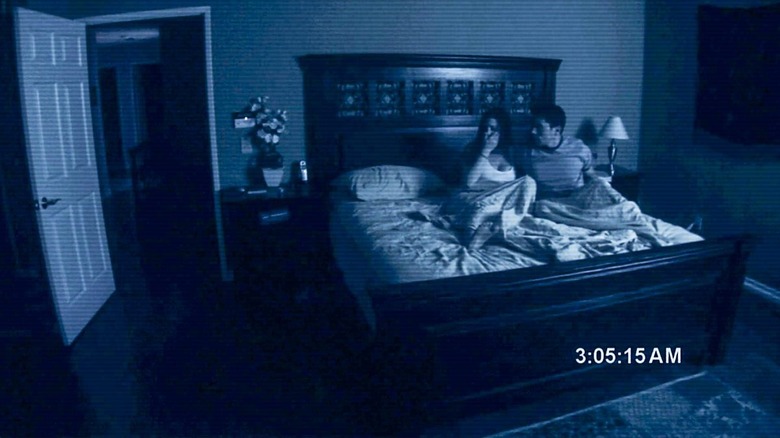 Blumhouse
"Dumb and Dumber" is a certifiable comedy classic at this point, starring Jim Carrey and Jeff Daniels as two imbecilic best friends who travel to Aspen, Colorado to return a lost suitcase that turns out to contain a ransom payment, putting the duo unwittingly in the crosshairs of some perilous people. The film's climax takes place at a beautiful resort, which also happens to be The Stanley Hotel, the allegedly haunted locale that inspired Stephen King to write "The Shining." After watching "Paranormal Activity," Jim Carrey felt inspired and called up Daniels to pitch his idea.
"Basically, the set of 'Dumb and Dumber' was famously a haunted set," Daniel Kwan tells Entertainment Weekly. Carrey reported that objects broke, people were injured, and things were moving on their own during production. "Dumb and Dumber To" was about to start production, and Carrey wanted Daniels to film a found-footage horror comedy on the set. As Kwan recalls, Carrey wanted the duo to make a feature-length, behind-the-scenes film that slowly transforms into a horror film. "We're like, 'OK, we're in. This is amazing.' We wrote a whole outline and were really excited," Kwan says.
Unfortunately, the duo pitched the idea to the producer who wasn't nearly as enthused. "I'm sorry, Jim got really excited, but there's no way the studio is going to let us do a movie while they're shooting 'Dumb and Dumber To,'" Kwan remembers the producer saying.
Probably for the best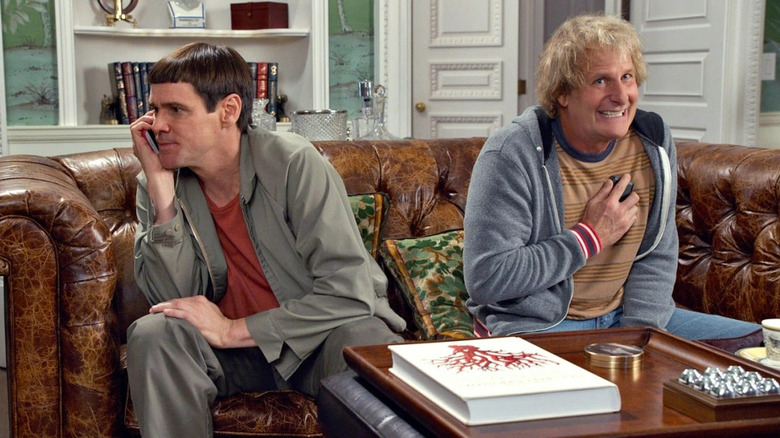 Universal Pictures
The idea of a behind-the-scenes featurette transforming into a found-footage horror film, especially one that would have starred Jim Carrey, Jeff Daniels, Rob Riggle, Laurie Holden, Kathleen Turner, and containing a Bill Murray cameo, is a genuinely brilliant idea. Daniels could have sincerely changed the game of both found-footage horror and horror-comedies in one fell swoop, which could have potentially brought them the financial security to make whatever weird and heartfelt stories struck their fancy.
Of course, everything happens for a reason, and it's possible that the success of a "Dumb and Dumber" found-footage horror-comedy would have changed the timeline that allowed them to create "Swiss Army Man" and, perhaps more importantly, "Everything Everywhere All At Once." Additionally, the production of "Dumb and Dumber To," while not haunted, was plagued with problems of its own.
It was declared by the United States government that "Dumb and Dumber To" and "Daddy's Home" were financed by stolen, foreign money. The U.S. Justice Department said millions of dollars in illicit cash were channeled through Red Granite Pictures, one of the production companies that helped produce the film. The studio denied knowingly accepting the money but eventually paid $60 million in a settlement. Thank the Everything Bagel that Daniels didn't get tied up in that mess.