Jordan Peele Shares Heartwarming Video Of The Moment Brandon Perea Found Out He Was Cast In Nope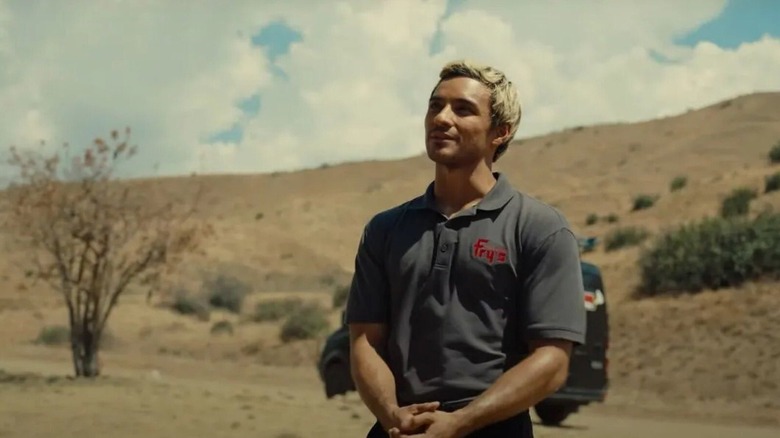 Universal Pictures
It's not every day that young actors with few credits to their name (and especially those of color) manage to put themselves in a position for the role of a lifetime — let alone one in a Jordan Peele movie. When the "Get Out" and "Us" writer/director first began to tease early footage from the UFO-themed "Nope" (which /Film's Chris Evangelista reviewed here), fans quickly gravitated towards the obvious scene-stealers: Daniel Kaluuya in his second collaboration with Peele, Keke Palmer as the fiery and charming Emerald Haywood, and especially Steven Yeun in an understated supporting role that packed much more of a punch than anyone was probably expecting.
But in the midst of it all, actor Brandon Perea quietly flew under the radar as the Fry's employee Angel Torres. Once viewers finally got to see the film for themselves, however, this hapless tech expert soon became one of the stand-out highlights of the entire film. While the Haywood siblings, Yeun's traumatized Jupe, and even Michael Wincott as a no-nonsense cinematographer all seemed to have a firm grasp on the otherworldly happenings of the film, Perea's emotional Angel essentially took on the role of the audience surrogate, reacting to the larger-than-life events much as any of us would.
So when Peele recently presented the actor with his richly deserved Rising Star award at the Critics Choice awards, naturally the filmmaker had one last trick up his sleeve. He'd filmed Perea's reaction upon first being told that he landed the part and, well, the heartwarming and wonderfully earnest video simply has to be seen to be truly appreciated. Check it out below!
'I already knew he was my guy...'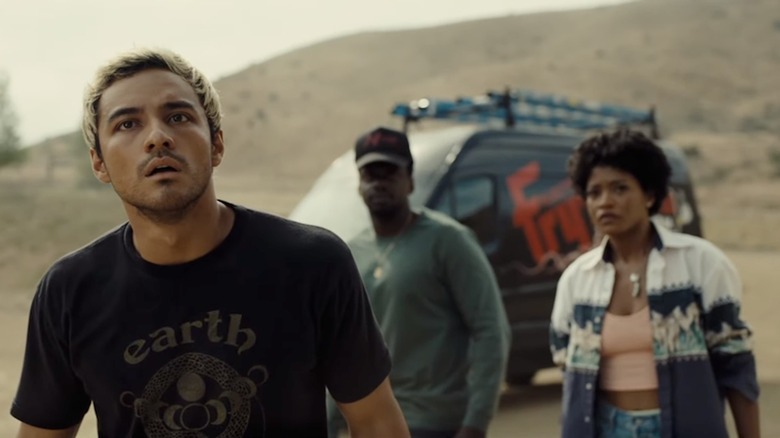 Universal Pictures
Who doesn't love a proper feel-good story that ends with an up-and-coming talent getting the breakthrough role they deserve? We saw this with Sasha Calle, the actor plucked from obscurity to play DC's Supergirl, and now we get to experience a similar instance of unbridled enthusiasm with Brandon Perea in "Nope." Thanks to Peele's forward-thinking instinct to film his actor's reaction, both Perea and fans all over the world can share this incredible moment together. During his presentation speech, the "Nope" director dropped a clip of the video he took of Perea, which was posted on TikTok.
The good feelings don't just stop there, however. Before accepting this award (the actor's first, as he tweeted later on), Perea previously explained this interaction from his perspective in an interview with Insider. Upon being coyly told by Peele that his audition would necessitate major changes to the script, Perea explained, "And I was thinking 'Oh shoot. This isn't going well for me.' But the next thing he said was, 'You know what? That's what I'm gonna do. I'm gonna rewrite my whole script.' And he did."
Not only did the actor get a laugh out of Peele during auditions (as he explains elsewhere in the interview), Perea's genuine reaction of relief upon hearing the good news drove Peele to tears, too.
"I got the job from there and started crying when he told me and just went on this whole spiel like, 'Hollywood's a rollercoaster man! Thank you for giving me the opportunity.' And then Jordan started crying too. I look at him very highly, and that's on my belt now, that's on my resume: I made Jordan Peele laugh and cry."
Hollywood is a rollercoaster, and few know that better than Peele and Perea.