Michael Madsen's Most 'Fun' Film Experience Involved Killing Philip Seymour Hoffman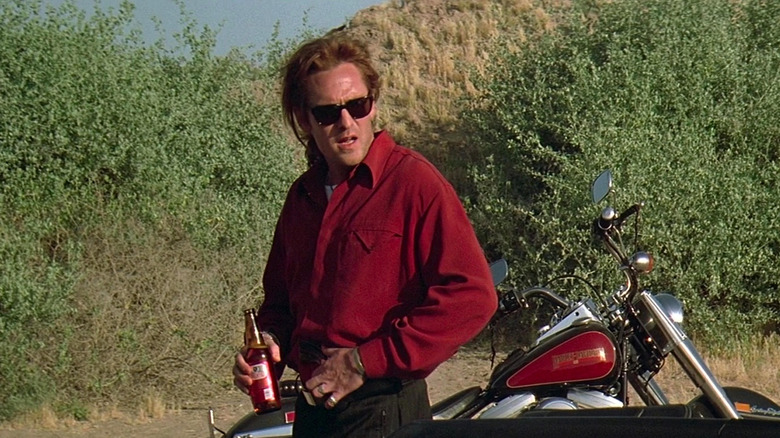 Universal Pictures
Showtime's "The Offer" chronicled the true story of how "The Godfather" made the unlikely leap from Mario Puzo's bestseller to a sweeping family epic that reinvented the crime genre and went on to win three Oscars. Centered around the day-to-day dealings and improbable situations that producer Albert Ruddy (Miles Teller) had to navigate to get Francis Ford Coppola's classic made, "The Offer" also highlights the glamorous and tumultuous life of legendary producer Robert Evans (Matthew Goode), the man responsible for helping Paramount Pictures become a major Hollywood player after taking a big risk on the romantic drama "Love Story" starring Ryan O'Neal and Ali MacGraw. 
MacGraw and Evans married each other in 1969, a year before "Love Story" became a smash hit, sending MacGraw's star soaring. She went on to accept an unlikely role opposite Steve McQueen in "The Getaway," the Sam Peckinpah-directed high-flying heist movie written by Walter Hill. MacGraw and McQueen eventually started a torrid love affair that would last for the better part of five years in the late '70s. Walter Hill and Amy Holden Jones went on to write the screenplay for the 1994 remake of "The Getaway" starring another power couple, Alec Baldwin and Kim Basinger. 
The remake is a fairly middling road trip adventure that leans much more into sultry sex scenes and over-the-top gunplay than McQueen's version, but it does feature two early performances from Michael Madsen and Philip Seymour Hoffman that hinted at greater things to come. Madsen had already made a name for himself as the unstable psychopath Mr. Blonde in "Reservoir Dogs" and his character Rudy Travis in "The Getaway" channels that same energy into a killer criminal who winds up handing Hoffman his first onscreen death.
Killing Truman Capote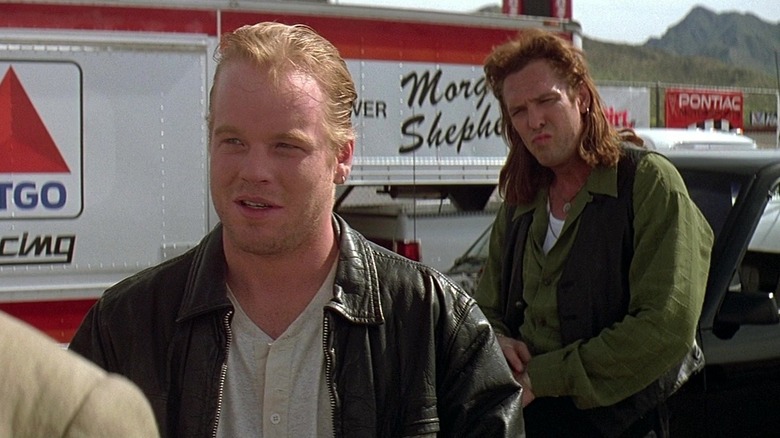 Universal Pictures
In a 2015 interview with AV Club focusing on the lesser-known roles of famous actors, Madsen talked about watching "The Getaway" years later only to realize that he actually got to kill a future Oscar winner when Hoffman was virtually unknown as an actor:
"You know, it's funny: When you watch something like now, so long afterwards, it seems so much better than it was when you first saw it. I mean, there's Philip Seymour Hoffman! I kill him. We're driving down the freeway, and I shoot him and kick him out of the car, or to the side of the road. He was a completely unknown actor, and I don't think he even had more than two or three lines of dialogue in the film, but it's funny to watch that scene and realize that years later he's going to win an Academy Award for playing Truman Capote."
Madsen also said: "'The Getaway' is probably one of the best times I've had making a picture. You know, fun-wise."
In 1993, Hoffman and Madsen actually did appear in the fun John Cusack caper "Money For Nothing" but they never shared a scene together until Madsen boots him out of a moving automobile in "The Getaway." Seeing Madsen in small parts in earlier films like "WarGames" is always unexpected and surprising. Spotting actors before they were famous can be a fun game to play, one that Madsen himself also gets a kick out of. "It's so funny how these things evolve," Madsen reflected. "You never know what's going to happen with people down the road." 
Revisiting the '90s version of "The Getaway" recently, it's actually more enjoyable to watch now mainly because of the unhinged performance that Madsen gives. It feels like an unofficial sequel to "Reservoir Dogs" where Mr. Blonde changes his name and goes on a rampage across Texas. For that alone, "The Getaway" is definitely worth a rewatch or a first-time discovery.