Brendan Fraser Thought He'd Lost His Role In The Whale After Contracting Covid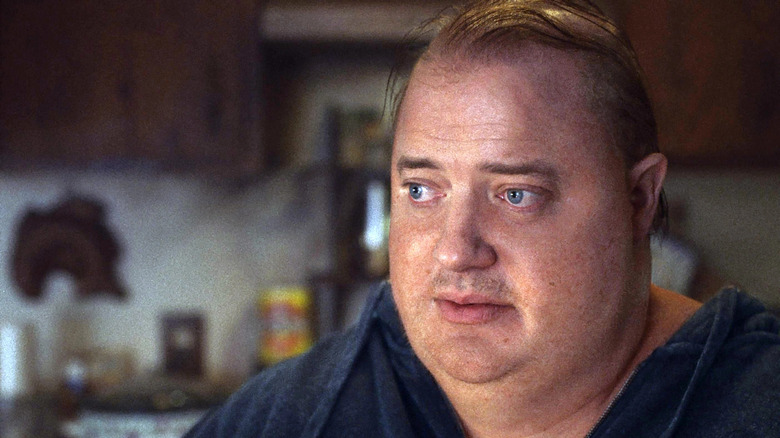 A24
The world has not been doing too great lately. Between COVID-19, political instability, and the ever-looming specter of climate change, things have been a bit of a bummer. But in a time when we needed a hero most, one from our shared past has emerged: Brendan Fraser is back.
After a long hiatus from acting to deal with chronic pain, as well as believing he may have been blacklisted by the HFPA after he accused a top Hollywood executive of groping him in 2003, the star of films like "The Mummy" and "George of the Jungle" is making his big re-debut in Hollywood with Darren Aronofsky's "The Whale," to be released in December. The film premiered at the Venice International Film Festival in September, where Fraser received a six-minute standing ovation for his comeback performance. Even in a film that some critics are calling a bit disappointing by the usual standards of director Aronofsky, Fraser's performance is being lauded as a standout, and he's being seen as a frontrunner in multiple awards races.
But, apparently, Fraser was not always certain that his comeback story was going to have a happy ending. According to a recent GQ piece, Fraser contracted COVID-19 right before shooting began for "The Whale." In the piece, Fraser talks about how he feared for the security of his role due to his sickness.
Return, interrupted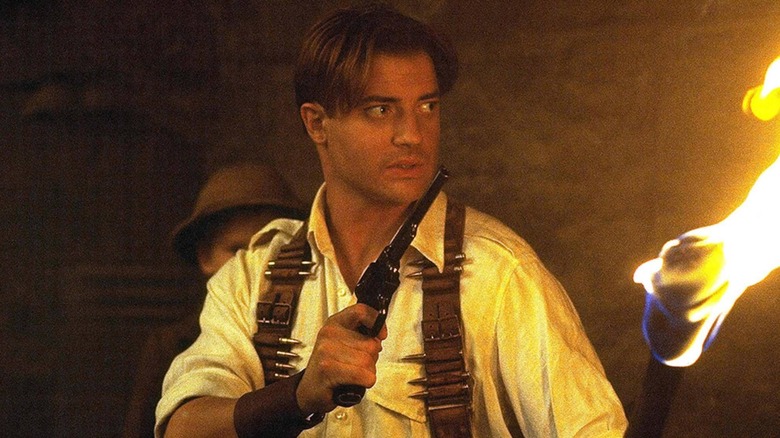 Universal Pictures
In the GQ interview, Fraser talked about the health scare that could have ended his comeback.
"I thought I was gonna lose my job. I thought I was gonna f**king die too, but I thought, I know how these things go. The bonding company will go ooh and back out. Or I won't pass an insurance checkup."
For an actor who was already very used to disappointment, one can only imagine how devastating his diagnosis was. Everything he'd been working for, the movie that was meant to revive his career, could all have gone down the toilet in an instant. Fortunately for Fraser, he did not lose his part. He was pleasantly surprised when, instead of a dismissal notice, he received a care package from Darren Aronofsky. Aronofsky was committed to having Fraser be his star, and he delayed shooting until he fully recovered.
It seems that Aronofsky's dedication paid off, as Fraser's performance as a 600-pound man attempting to reconnect with his teenage daughter seems to be the only part of his new film that anybody likes. Brendan Fraser is back, and it seems that he's upped his acting game since his time in "Looney Tunes: Back in Action." I'm excited to see if Fraser can make the award season sweep that some expect for him, and then whatever lies ahead for the actor. Fraser is fully committed to gunning for all of the awards, which he spoke about in the GQ piece.
"I owe it to myself. I owe it to the filmmakers. I know I owe it to those fans who paid to come and see me and stand in line in the sun and, you know, all of that. I owe it to my kids. This is my shot."