Donnie Yen Couldn't Afford Any Mistakes During Mike Tyson's Ip Man 3 Scenes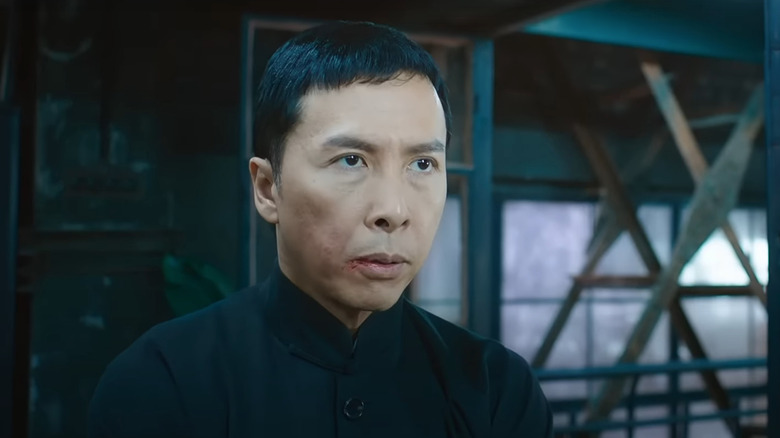 Pegasus Motion Pictures
Since 2008, Donnie Yen has been dispatching all manner of foes in the Ip Man franchise. But his most dangerous encounter may well have been when he faced off against Mike Tyson in the third installment.
Based on the life of Wing Chun grandmaster Ip Man, the franchise stars Yen in the title role and loosely tells Ip Man's story. The first film, which earned its place as one of the great kung fu movies, depicts his early days in Foshan during the Sino-Japanese War, while "Ip Man 2" finds Yen's hero in 1940s Hong Kong where he faces down British police. By the time it came to the third film, Yen, who also appeared in "Rogue One" and Disney's live-action "Mulan" remake needed something a little more formidable to face down. Enter Iron Mike.
"Ip Man 3" is set in the late 1950s, and also stars Danny Chan as esteemed martial artist (and Ip Man's protégé) Bruce Lee. This time around, the grandmaster is forced to defend his school against a host of threats, one of which is Tyson. Appearing as a western property developer known only as Frank, the boxing legend provided a suitably menacing adversary for Yen's Wing Chun master, who'd already seen off the Japanese and the British. The franchise makes no mention of the real Ip Man being an officer of the Kuomintang party who actually opposed the communists. But who needs actual events when your martial arts school is being threatened by the former Heavyweight Champion of the World.
Unsurprisingly, it seems the 165-pound Yen, all too aware of the stakes, was slightly nervous to take on the roughly 230-pound boxer.
'I was worried that he might not hold back'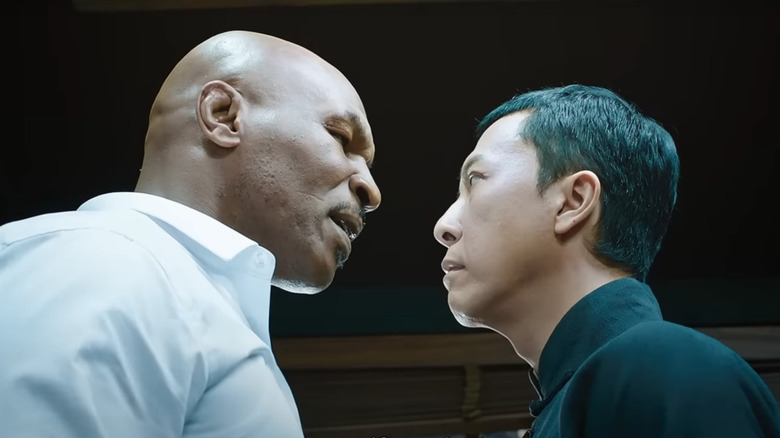 Pegasus Motion Pictures
In the movie, Yen and Tyson come to blows in a three-minute fight that is as notable for its fast pace as it is for Tyson's attempts to speak Cantonese. As it turns out, Yen was a Tyson fan and knew all too well the power of his notorious swing. Talking to the South China Morning Post, the "Ip Man" star said:
"I am a fan who watched his boxing matches until 4 or 5 am on TV in Hong Kong when I was a child ... I was worried that he might not hold back in using force as he is not an actor. I had to be very cautious. I saw it as a life-and-death boxing match. Just a little carelessness and it could be fatal."
Reporting back from his experience on-set, Yen recalls having to duck one of Tyson's punches before his opponent's fist landed in a sandbag next to him. The actor recalled how he "felt like a big truck was rushing towards [him]" and felt a real "sense of danger" at the moment. For a man who'd previously taken on Jet Li and felt "enormous pressure," that's a strong statement.
A life-threatening experience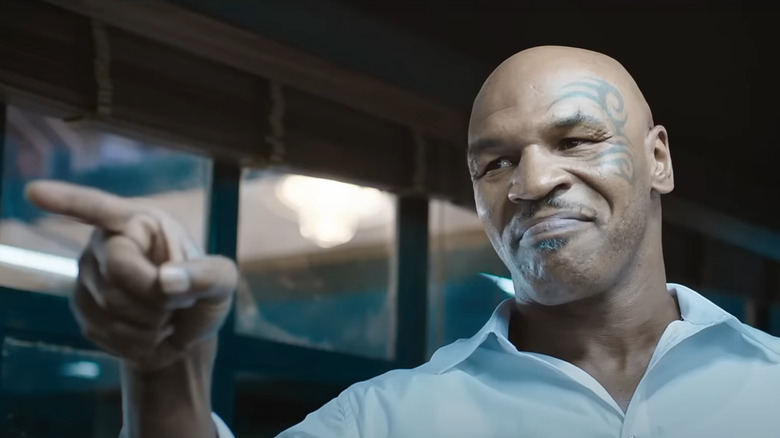 Pegasus Motion Pictures
Tyson's appearance in "Ip Man 3" is notable for being his first appearance as a fictional character rather than himself. And it's a decent one at that. The fight is well choreographed, if slightly unbelievable, and Tyson seems to have been committed to learning the beats, as shown in a behind-the-scenes clip where he and the production team pay close attention to the dailies.
Tyson would, of course, take on the real grandmaster in the form of Steven Segal in 2017's "China Salesman," while Yen is set to join Keanu Reeves in 2023's "John Wick: Chapter 4." But Tyson might well maintain the title of Yen's most formidable opponent, with the actor expanding on his experience during promotion for "Ip Man 3." He recalled feeling as though the fight was "life-threatening" and being worried that Tyson wouldn't hold back, saying to himself "'Wow, what if he doesn't remember the choreography. What if he comes in and instead of 1, 2, 3 he goes 2, 3, 1.' So it was enjoyable but at the same time it was truly life-threatening." As it turns out, Tyson was the one who actually got hurt, stating in an interview post-shooting that he "broke [his] finger."
Unfortunately the follow-up, 2019's "Ip Man 4," proved controversial, with Hong Kong protestors boycotting the next installment due to Yen, Danny Chan, and producer Raymond Wong's pro-China leanings. But "Ip Man 3" remains a successful chapter in the franchise, making $157 million at the global box office on a budget of $36 million.