Emancipation Trailer: Will Smith Fights For Freedom In Antoine Fuqua's Historical Drama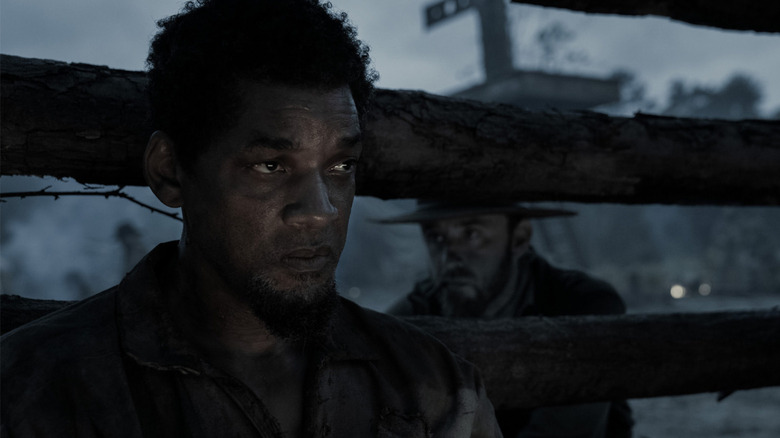 Apple TV+
The first trailer for Antoine Fuqua and Apple TV+'s unsettling slavery drama "Emancipation" is finally here. Based on the true story of a widely-photographed slave nicknamed "Whipped Peter," Will Smith takes center stage as an escaped slave that becomes a crucial part of the abolitionist movement. Be warned that the new trailer does have some graphic imagery, so we would like to extend caution before watching it. However, the sweeping cinematography, epic fights, and powerful performances seen throughout tease a film that could secure Smith his fourth Oscars nomination and perhaps his second win.
The topic of slavery on film is a difficult and nuanced one, and it's important to understand all perspectives on it. After all, it's no secret that the history of Black pain on screen is one filled with exploitation. However, in a new interview with Variety Fair, Fuqua argued that the story of Peter, as well as other stories like "Emancipation," should still be told in order to preserve the terrifying realities of the American slave trade.
"It's necessary, because you can't forget the level of brutality that human beings are willing to go through for money, for greed," he stated. "You watch things now ... what do you think that's about? Power and money."
Watch the Emancipation trailer below
Starring alongside Smith in "Emancipation" are Ben Foster, Charmaine Bingwa, Mustafa Shakir, Steven Ogg, Gilbert Owuor, Michael Luwoye, Grant Harvey, Timothy Hutton, Imani Pullum, Jabbar Lewis, and Aaron Moten. The film's script was written by William N. Collage, while Robert Richardson oversaw the film's apparently beautiful cinematography. Smith also produced the film alongside Todd Black, Jon Mone, and Joey McFarland.
"Emancipation" will arrive in select theaters on December 2 before hitting Apple TV+ on December 9. To learn more about the film, read its synopsis below:
"'Emancipation' tells the triumphant story of Peter, a man who escapes from slavery, relying on his wits, unwavering faith and deep love for his family to evade cold-blooded hunters and the unforgiving swamps of Louisiana on his quest for freedom. The film is inspired by the 1863 photos of 'Whipped Peter,' taken during a Union Army medical examination, that first appeared in Harper's Weekly. One image, known as 'The Scourged Back,' which shows Peter's bare back mutilated by a whipping delivered by his enslavers, ultimately contributed to growing public opposition to slavery."