Oliver Stone Was Happy To 'Clash' With Eric Bogosian On The Set Of Talk Radio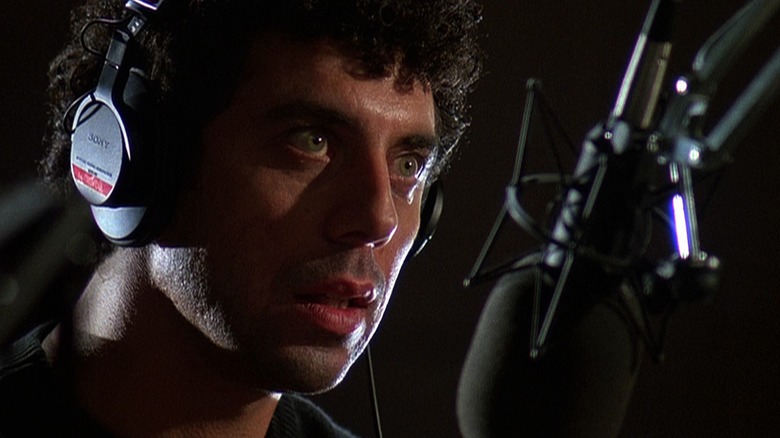 Universal Pictures
Oliver Stone's 1988 film "Talk Radio" was based on the Pulitzer Prize-nominated play by Eric Bogosian which was, in turn, inspired by the book "Talked to Death: The Life and Murder of Alan Berg" by Stephen Singular. Set largely entirely in a recording studio, "Talk Radio" is about a call-in radio DJ named Barry Champlain (Bogosian) whose ratings have been rising thanks to his strident political streak of blustery misanthropy. Listeners call into his show to lambaste his horrible attitude, or to agree with his rejection of humanity. Most people call in to harass him and bicker. Some call in to directly threaten him. Near the start of the film, Barry receives a bomb threat. 
Bogosian seemingly wrote "Talk Radio" as a criticism of the then-rising tide of AM radio hosts who were coming to express more and more extreme right-wing viewpoints. Barry, as it is said multiple times throughout, isn't a misanthrope so much as a man possessed of a deep and profound self-loathing. His hate for the world, he admits in his darker moments — on mic, no less — is genuine. He is afraid of the American people. It was quiet salient of Stone and Bogosian to have the extreme political bent of radio pegged as early as they did. It wouldn't be until the 1990s that the golden age of right-wing pundits and shock jocks would begin in earnest. "Talk Radio" is intense, rough, and an excellent character study. One can't look away from the screen. 
In a 2015 interview with Filmmaker Magazine, Stone admitted that achieving that intensity was no easy task, largely because he and Bogosian constantly butted heads on set. But although the two bickered, the director seems to have preferred it that way.
The director vs. the author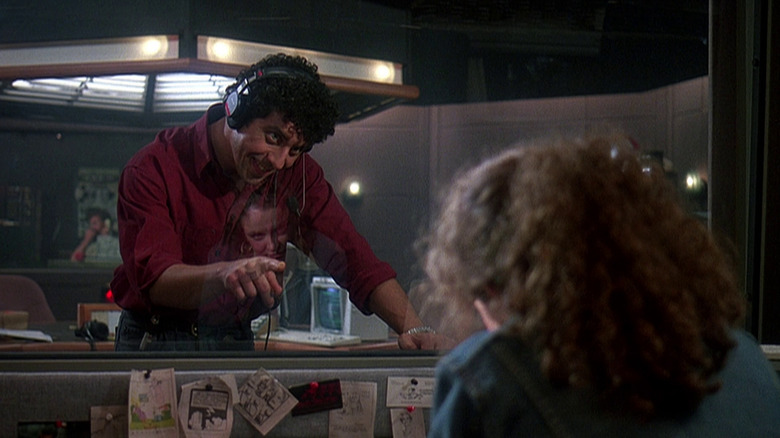 Universal Pictures
Stone understood why he and Bogosian fought. One of them was an actor who authored the material in question, and the other was a film director attempting to bring his own take to that material. Bogosian and Stone were both resolute, strong-minded artists, and neither wanted to hear the other's interpretation. Bogosian may have been the writer of the piece, but Stone felt he should be allowed to take control of his own production. The fights, Stone felt, were fruitful. They allowed Stone to sharpen his view of the Barry character. Stone said: 
"Eric and I clashed, but it was a good clash, a fruitful clash — you should read his account of it in James Riordan's book [Stone: The Controversies, Excesses, and Exploits of a Radical Filmmaker], it's hilarious. Obviously he's a very thoughtful man. He's also profoundly narcissistic. Remember, he's an actor, doing his own script, and he probably has a different interpretation of the character than I do. My version of the character is that he's someone more concerned with world problems than his own because he doesn't want to face himself." 
Stone was also the one who seems to have linked "Talk Radio" to the psychology of the world at large. In the late 1980s, Stone saw an earnest breakdown in human communication. People were, to his eye, thriving on confirmation bias, and not bothering to absorb details. Stone's thesis ran thus: 
"Ultimately, it's an empty conversation. The point -– a very sad point -– is that in the end none of this talk makes any difference. You can talk to an audience, but as individuals they're each crazy in their own way and everything is so subjective that it doesn't matter what you say."
Remember, this was 1988. Not 2022.
It was Eric all the way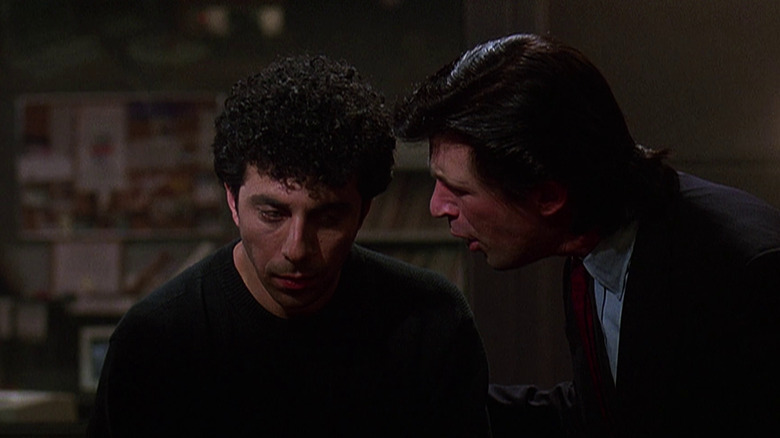 Universal Pictures
Stone, it turns out, didn't audition other actors for the part. This was Bogosian's play, and Stone was determined to let him have the spotlight. He had also seen Bogosian play the role, and was appreciative of the actor's passion. Someone else surely could have played the role — Stone even saw a different actor play Barry on stage once — but the inherent tempestuousness of the original actor was simply going to be something Stone would have to bear. As he told Filmmaker Magazine: 
"It never occurred to me to use anybody other than Eric. It may have occurred to [producer Edward R.] Pressman, he might have gone out to other actors at some point, but when I came on board I said let's go with Eric. It's a low-budget movie, we can do it. He just had so much fire. I saw the play years later with Liev Schreiber; he's a great actor, but I still prefer Eric's interpretation. We took it further, though; in my mind the play was not conclusive about the character."
The ending of the film differs quite dramatically from the stage play, with Stone inserting a hugely dramatic event right at its conclusion. Without revealing anything, it's clearly seen as an act of cultural revenge on figures that Stone personally hated. Shock jocks, especially of the right-wing variety, were Stone's sworn enemies. About his ending, he said: 
"I had strong feelings about Rush Limbaugh and all these other talk radio hosts who were destroying the culture and I wanted to turn the joke on them." 
"The Rush Limbaugh Show" had started in California in 1984, but went national on August 1, 1988. "Talk Radio" was released the following December. The criticism was pointed.