Puss In Boots: The Last Wish Trailer: Only Shooting Stars Break The Mold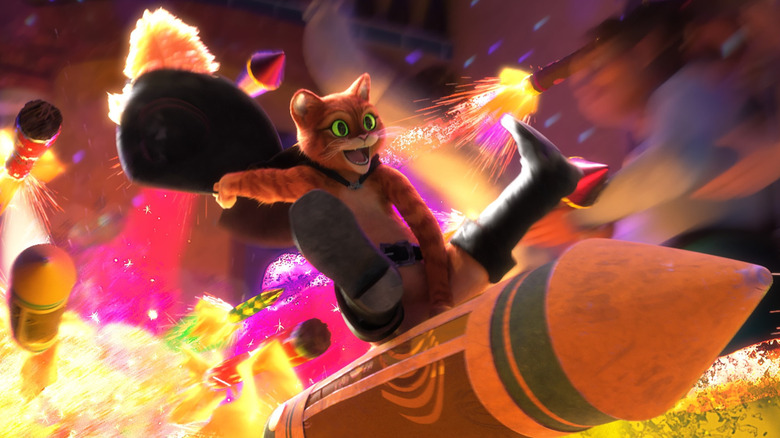 DreamWorks Animation
Of all the movies due to hit theaters this holiday season, you probably didn't expect to have a "Puss in Boots" sequel sitting high on your list of much-anticipated titles. But based on everything we've seen and heard about this film, it's very much worthy of being on your radar. We first met Puss in Boots back in 2004, if you can believe it. The dastardly cat stole the show in "Shrek 2" and appeared in two more sequels before taking center stage in his 2011 spinoff. Over a decade later, he's returned, just as reckless as ever, but with a stunning new look.
A couple of months ago, /Film's Rafael Motamayor got to see a half-hour of footage from the movie at the Annecy International Animation Film Festival. He praised the film for taking a page out of the "Into the Spiderverse" stylistic playbook, making it an exciting departure from the rest of the "Shrek" franchise and the latest in a lineup of movies to blend 3D and 2D animation to beautiful effect. As for his impressions of the overall film, Rafael dubbed the film a "shockingly somber, reflective, and visually stunning spaghetti Western about an aging cowboy contemplating whether there is still a place for him in the world — except it's a cat that wears boots and a little hat."
Are you on board yet? Well, you should be. Nothing brightens a holiday season quite like Antonio Banderas voicing a cowboy kitty cat and "Puss in Boots: The Last Wish" is set to hit theaters this December.
Watch the trailer for Puss in Boots: The Last Wish
After a lifetime of reckless adventuring, Puss has bid farewell to eight of his nine lives, leaving him with no more safety nets. While any logical cat would take this as an opportunity to live a long and peaceful life in retirement, the swashbuckling Puss opts to begin a brand new adventure: one that will win him some spare lives back. The plan is simple: a journey across the fairy tale land, track down a wish-granting star, and voilà. So long as nothing goes terribly wrong, of course.
Along the way, Banderas' Puss will be joined by an all-star cast of foes and compatriots. On one side, we've got Puss, the ever-captivating Kitty Softpaws (Salma Hayek), and the very chatty mutt Perrito (Harvey Guillén). But they aren't the only ones hoping to make some life-changing wishes: our heroes are up against Goldilocks (Florence Pugh) and the Three Bears Crime Family, "Big" Jack Horner (John Mulaney), and terrifying bounty hunter, the big, bad Wolf (Wagner Moura). Easily the greatest revelation in the trailer is when Goldi voices her evil plan — to make everything in the world just right. Under her reign, never again will anything be too hot or too cold! Instead, the world will suffer the fate of lukewarm everything. Forever. Yikes.
"The Last Wish" is helmed by the creative team behind "The Croods: A New Age," with Joel Crawford directing and Mark Swift producing. The cast also includes Olivia Colman, Ray Winstone ("Black Widow"), Samson Kayo ("Sliced"), Anthony Mendez ("Jane the Virgin"), and Da'Vine Joy Randolph ("The Lost City").
"Puss in Boots: The Last Wish" arrives in theaters on December 21, 2022.