Why Ronny Cox's Total Recall Hairstyle Forced Paul Verhoeven To Scrap Two Days Of Footage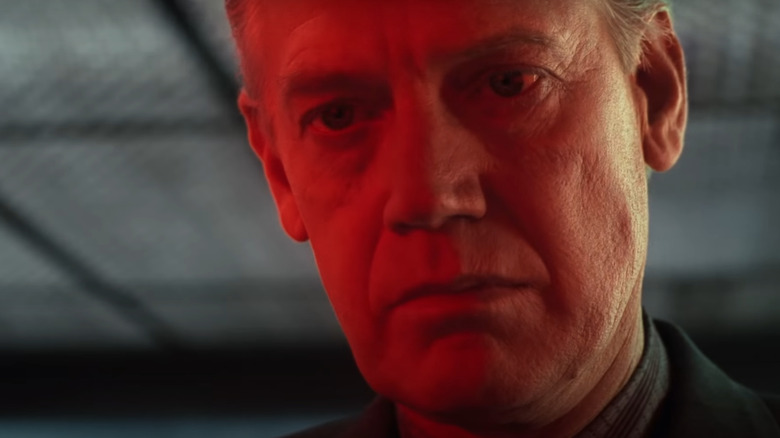 TriStar Pictures
In the '80s, Dutch director Paul Verhoeven came to America and started churning out a series of notable sci-fi adventures. "Robocop" established him as a distinct voice within the genre, and then Arnold Schwarzenegger tapped him to direct the long-gestating "Total Recall." During that time, he also managed to gain a reputation for his no-nonsense approach to filmmaking.
That was certainly the case by 1989 when it came time to shoot "Total Recall," a retelling of the short story "We Can Remember It for You Wholesale" by Philip K. Dick. Verhoeven assembled a talented cast to tell the story of Douglas Quaid (Schwarzenegger), a construction worker who, plagued by dreams of Mars, opts to have memories of the planet implanted in his head, only to find out the dreams were actual memories. It's all a bit confusing, really, but it proved successful despite its gargantuan (for the time) budget of $65 million. Much of this success is down to Schwarzenegger's presence, but Verhoeven also enlisted his "Robocop" cohort Ronny Cox, who provided a suitably menacing energy in the role of Martian dictator Vilos Cohaagen.
Sadly, "Total Recall" proved to be a grueling shoot and its exacting director didn't necessarily make things any easier. As The Ringer reported, Verhoeven would reshoot scenes up to 20 times, while VFX supervisor Eric Brevig recalled how "he was always challenging me, like, 'You're not going to be able to make this look good.'" Even Schwarzenegger would recount to Empire how he and Verhoeven almost worked together again in the '90s on the unmade "Crusade," before the director "started going crazy" in a meeting with the studio. Naturally, when Cox realized he might have to persuade the mercurial director to reshoot two days of footage, he was more than a little hesitant.
Verhoeven's volatility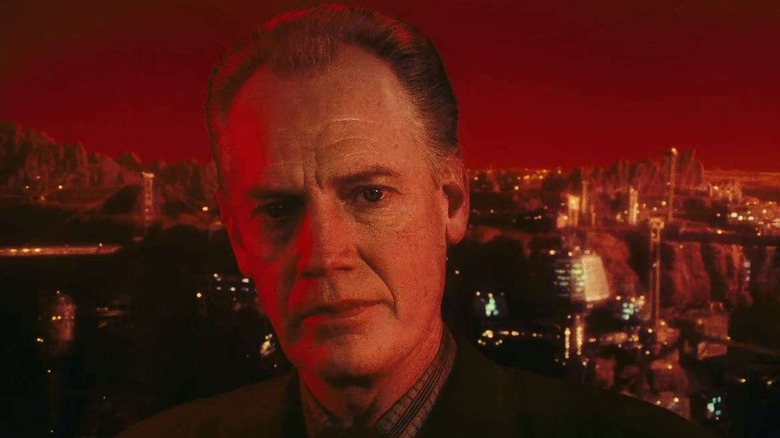 TriStar Pictures
After shooting for a couple of days on the "Total Recall" Mars set at Estudios Churubusco in Mexico City, Cox had to be fitted for a mask that would be used in the film's climax. Talking to SyFy.com, the actor recalled how at the fitting, special effects guru Rob Bottin slicked back his hair and he loved it for his character. So much so, he had Bottin take a photo to show Verhoeven.
Unfortunately, the "Deliverance" actor was now faced with confronting his volatile director about the potential change, two days into shooting. Just as his character Cohaagen dresses down Michael Ironside's Richter for letting Quaid get away in the film, Cox was sure he was in for a public chastisement when he went to Verhoeven. As Cox put it: "Being on the wrong end of one of [Verhoeven's] tirades is not a pleasant experience." But far from telling his actor to, in the words of Cohaagen "do what he's told," the director responded as favorably as the actor could have hoped:
"I took it and showed it to Paul when I got back ... and I said, 'Paul, I know that we've already shot two days, but I want you to look at this picture.' And he saw the picture of me with Cohaagen with his hair all slicked back like that. And then he looked at me and said, 'Ronnie, I'm very angry at you.' And I was cringing, and I said, 'Why?' And he said, 'Because I'm going to have to reshoot two days.'"
The director knew what was right for the movie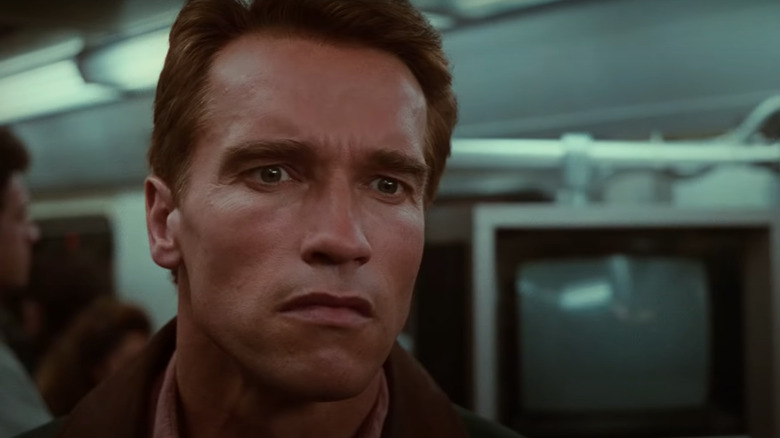 TriStar Pictures
Though Verhoeven has undoubtedly fostered a reputation as a sometimes irascible figure in the industry, it all seems to stem from knowing what's right for his movies. The director was, after all, the only one who could bring "Total Recall" to fruition after numerous others had tried in vain for years. David Cronenberg even had a go at bringing the story to the screen, but after several attempts at redrafting the script, couldn't make his darker version of "Total Recall" work.
In the case of Cox and his character's hair style, it seems like one of those minor details that could have easily set the director off for being inconsequential and therefore not worthy of a reshoot discussion. But Verhoeven clearly had a commitment to making the best possible film he could and paying as much attention to detail as possible. It's a good thing, too, as the movie ended up making $261.3 million worldwide and clinching the Oscar for visual effects. The odd tirade aside, Verhoeven's focused vision for his film clearly proved crucial for its success.