The Game's Unpredictable Plot Is A Point Of Pride For Michael Douglas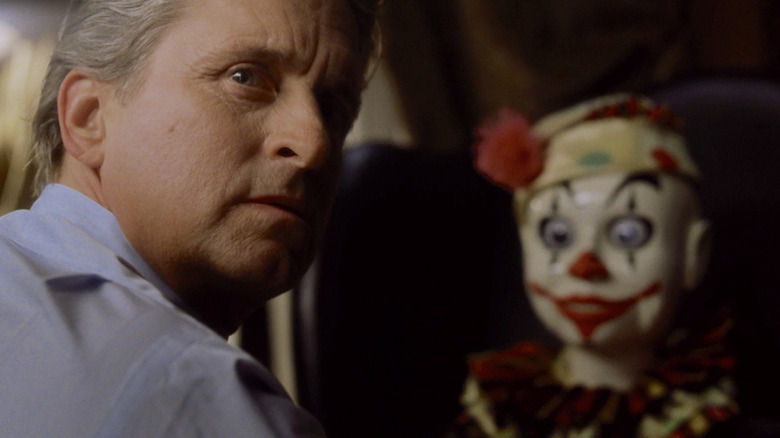 Polygram Films
Most of David Fincher's films enter a tempest upon release, as critics and moviegoers tussle over whether his noir-influenced visual style supports whatever story he's telling (it usually does). His 1997 effort "The Game" is one that divides Fincher fans, with some ranking it below newer works like the 2020 Tinseltown drama "Mank" despite the critical praise the film enjoyed upon release from luminaries like Roger Ebert ("It stays true to its paranoid vision right up until what seems like the very end–and then beyond it," he writes).
The story of "The Game" follows Nicholas Van Orton (Michael Douglas), the man who has everything. A wealthy, Scrooge-esque investment banker, Van Orton meets up with his estranged brother (Sean Penn) who gives him an unorthodox, one-of-a-kind birthday gift: a chance to play a mysterious "life-changing" game that seems to have no boundaries and, Van Orton learns, could endanger his life.
/Film's Joshua Meyer applauds the choice to cast "Wall Street" star Douglas in the lead role, pointing out that, "The same face that declared, "Greed is good," would be put through the wringer till he was saying, 'I don't care about money.'" Douglas, for his part, counts "The Game" among the movies that he's proudest of, for the simplest reason: it was unpredictable. He tells Collider:
"I think what I'm most proud about is that it's one of the very few movies that you could not guess the ending. That's why I'm such a big sports fan, with sports you can never guess what's gonna happen. Most movies you get halfway through and you can kind of guess the ending. 'The Game' you could never figure out what the ending was gonna be. David Fincher is a very talented filmmaker."
Fincher has regrets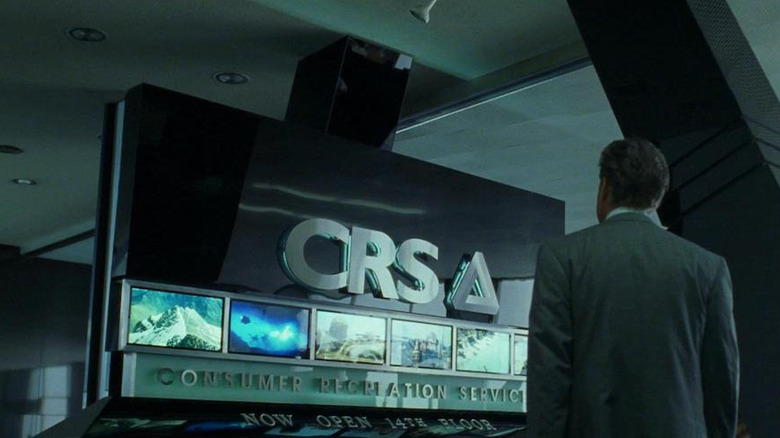 Polygram Films
Douglas adds to Collider that while he thinks highly of "The Game" as well as fans who approach him on the street, it was "an extremely tough shoot" full of late nights and long hours, correlating with the director's penchant for numerous retakes and Fincher's efforts to keep forward momentum before the big reveal.
Coming off of the wild success of his crime thriller "Seven," Fincher had a high bar to reach on his third feature film. While he considered the project, his wife, producer Ceán Chaffin, told him that he shouldn't helm this particular movie, citing its third-act climax among other reasons. By the end of the 128-minute runtime, the game is up, Consumer Recreation Services is revealed to have orchestrated every major event of the plot, and Nicholas Van Orton's life has been completely transformed by the experience. Fincher felt the ending was weak, telling Indiewire, "We didn't figure out the third act, and it was my fault, because I thought, if you could just keep your foot on the throttle, it would be liberating and funny."
The "Gone Girl" director did his best to keep the strings taut as Van Orton tried to keep up with CRS and discern where the game ends and reality begins, but ultimately, Fincher would regret taking on "The Game" nearly as much as he did "Alien 3." Following "The Game," the next decade would see a hat trick of thrillers and grim meditations with the multilayered "Fight Club," "Panic Room," and "Zodiac," and on this run, he'd have no problem keeping his foot on the throttle.