Dead To Me Season 3: The Dramedy's Final Season Is Also Its Weakest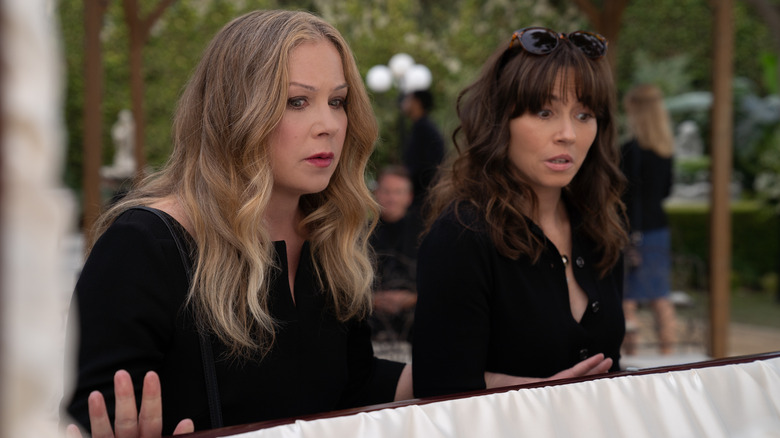 Netflix
The first season of Liz Feldman's "Dead to Me," a darkly funny wine-mom sunshine noir, was a real gem. It felt like it came out of nowhere, and it hooked you from the jump. The series had a big trick up its sleeve: in addition to likable, wine-chugging, foul-mouthed leads, practically every episode ended with a shocking twist or cliffhanger, ensuring that viewers would have no choice to binge. In short, I loved it. And I enjoyed season 2 as well, although there was a noticeable drop in quality (it happens). After a hiatus due to both the COVID-19 pandemic and star Christina Applegate's multiple sclerosis diagnosis, the series returns for its third and final season, and I won't lie: I was excited for one last ride.
So it brings me no pleasure to say the show goes out with a whimper rather than a bang. Perhaps it's due to the long break between seasons 2 and 3 (season 2 dropped on Netflix on May 8, 2020, which feels approximately 1000 years ago at this point). Perhaps the story has run its course. Perhaps some distance has made me see flaws that I never caught before. Whatever the case, it's undeniable that "Dead to Me" season 3 is a disappointment. Talk about a bummer. 
The leads still have great chemistry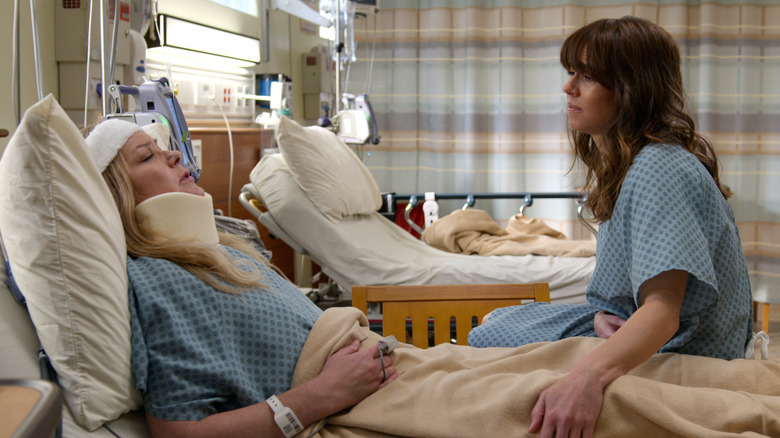 Netflix
None of that is to say season 3 is a complete wash. Once again, the show's stars, Christina Applegate and Linda Cardellini, are the real draw. The two actors work so well together, playing unlikely besties with plenty of secrets. Indeed, the only thing that really kept me watching this third season (other than, ya know, my job reviewing it) was the continued chemistry between Applegate and Cardellini, and the enjoyment of their characters' unique, strange friendship. I'd like the pair to work together again on some other project because they're a killer duo.
In case you need a refresher, "Dead to Me" follows Jen (Applegate) and Judy (Cardellini), two women who were thrust into each other's lives via tragedy. A series of unlikely events and wild occurrences eventually lead to the murder of Steve (James Marsden), Jen's boyfriend  — a murder the two women covered up. And oh yeah, Steve's twin brother Ben (also Marsden) is around, too, just to make this all the messier.
"Dead to Me" season 2 ended with yet another hit-and-run. This time, Jen and Judy were the victims, struck in their car by someone who fled the scene. That someone? Ben, who is wracked with guilt about the whole affair (although not enough to turn himself in). The hit-and-run is the least of Jen and Judy's problems as they stumble into another series of unfortunate events. I'll be vague to avoid spoilers, but let's just say the women once again find themselves constantly in over their heads and on the verge of a nervous breakdown.
An underwhelming conclusion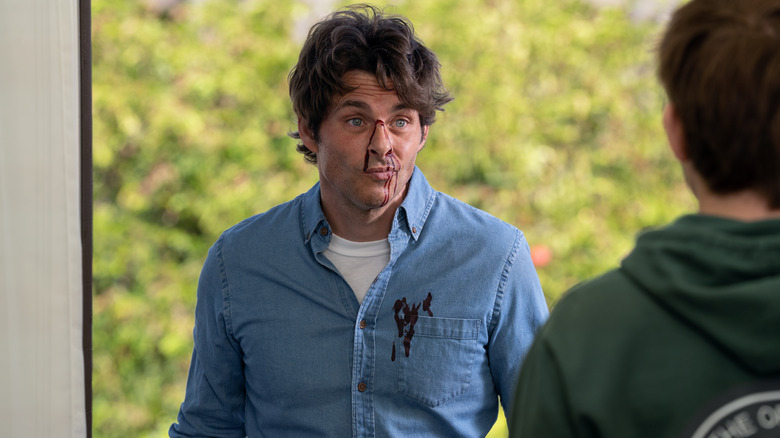 Netflix
Watching Applegate and Cardellini grow flustered with what's happening is part of the fun of the show, although the atmosphere reaches manic levels this season. Perhaps to counterbalance all that, and perhaps because this is the final season, the show starts to get incredibly sappy and sentimental as it heads toward its conclusion. There's nothing wrong with that, of course. But it feels out of place for a show that has been so comfortable leaning into darkness. 
Luckily, Applegate and Cardellini are aided by a game, funny supporting cast. Marsden, always welcomed, does the best he can with a rather so-so character (the "secret twin" idea never sat right with me). Also strong: Diana-Maria Riva as Ana, a cop sympathetic to Jen, and Brandon Scott as Nick, another cop who isn't so sympathetic. Scott is a particular stand-out this season, getting some of the biggest laughs with his somewhat clueless character. 
But as enjoyable as the characters remain, and as touching as some of the sweeter moments can be, "Dead to Me" season 3 comes up short. It feels rushed in ways the previous seasons did not, and it takes far too many shortcuts (the fact that Ana keeps breaking countless laws to protect Jen starts to feel really silly after a while). I'll always cherish the first (and in some cases, second) season of this show, and I'll look back fondly on the work Applegate and Cardellini did here. But "Dead to Me" season 3 deserved a better ending than this.
"Dead to Me" season 3 hits Netflix on November 17, 2022.