Millie Bobby Brown's Dream Project Is A Britney Spears Biopic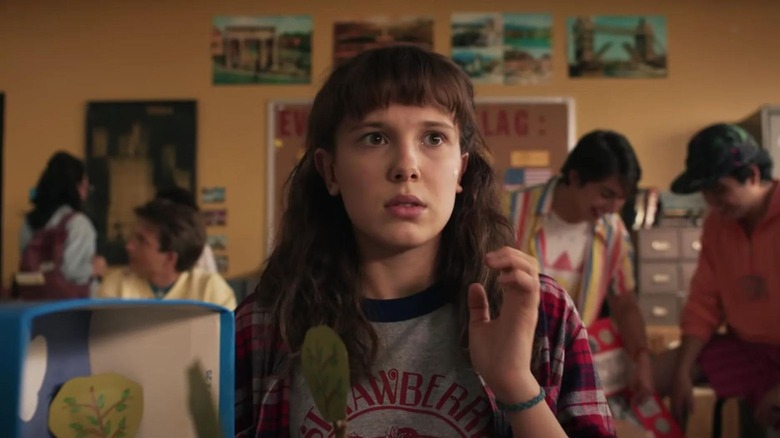 Netflix
Millie Bobby Brown is terrific in everything that she does. She was only nine years old when she made her acting debut on ABC's "Once Upon a Time in Wonderland," giving an endearing performance as young Alice in the inspired adaptation of the popular Lewis Carroll-created universe. Her performances throughout the "Godzilla" films, "Enola Holmes," and her career-defining role as Eleven in Netflix's "Stranger Things," a young girl with psychokinetic and telepathic abilities, only solidified her position as an incredibly talented actress. Along with being a performer, Bobby Brown has dived into the beauty industry, worked as a UNICEF ambassador, and is the youngest person to be listed on Time's 100 most influential people in the world. In everything she does, she is a constant source of inspiration to teens. There's nothing Bobby Brown cannot do if she puts her mind to it — and it appears the young actress is already prepared for a more prominent, more serious role: a biopic.
Hollywood is currently having a significant biopic resurgence thanks to Baz Luhrmann's "Elvis," starring the spectacular Austin Butler. Several other celebrities have their stories unraveled on the silver screen. Earlier this year we had "Blonde" with Ana de Armas portraying Marilyn Monroe, Rooney Mara is set to play Audrey Hepburn, and Madonna's "Little Sparrow" will see Julia Garner in the leading role. Bobby Brown seems to be taking note of this trend and has aligned it with her future interests, which include playing pop princess Britney Spears.
'I want to play a real person'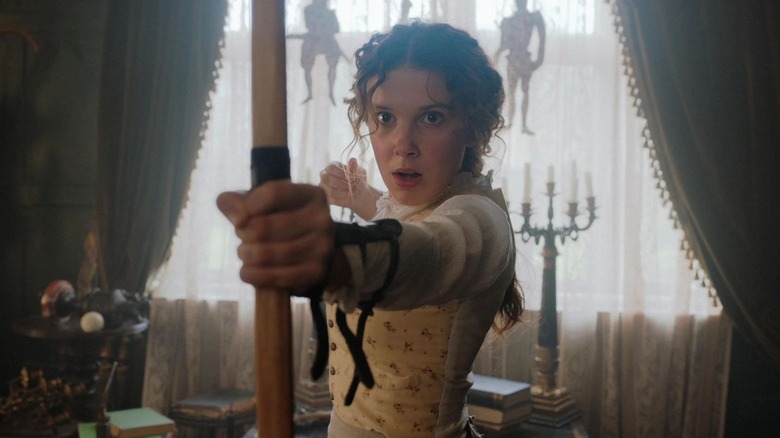 Netflix
Ahead of "Enola Holmes 2" releasing on Netflix, the actress appeared on The Drew Barrymore Show, where she made her intentions clear. Millie Bobby Brown revealed that she wants to play a real-life figure and believes she can tell Britney Spears' story since it resonates with her experiences.
The actor illustrated the shared background between Spears and herself — as both the singer and the young actress largely grew up in the public eye. Bobby Brown was the breakout star of "Stranger Things" at 12 years old, and like Spears, has grown up in the overwhelming media spotlight that never failed to scrutinize her. 
Speaking of Britney Spears' life story, the actor shared: 
"I think her story, first of all, resonates with me. Just growing up in the public eye, watching her videos, watching interviews of her when she was younger. I mean, same thing with you, I see the scramble for words and I don't know her, but when I look at pictures of her I feel like I could tell her story in the right way, and hers only."
The actor's filmography so far clearly indicates that no role is out of bounds for her, because she possesses the capability and talent to portray all kinds of characters. Bobby Brown has brought to life complicated, nuanced sci-fi protagonists, and fourth-wall-breaking detectives with a penchant for comedy. Millie Bobby Brown would bring an honest and empathetic perspective to the pop legend, rooted in a shared lived experience. Honestly, just give her the role already!