The Young Pope's Elaborate Costumes Had Jude Law Struggling To Move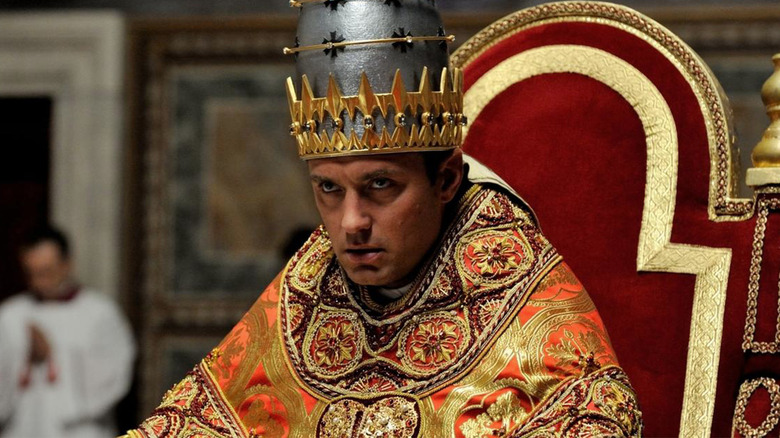 HBO
Among the many Jude Law performances, his turn as the titular character in "The Young Pope" may be up there with his very best work. Created by Paolo Sorrentino, the series was an intimate, fictional look at the Catholic Church at the highest levels in the Vatican. It featured Law as Lenny Belardo, a relatively young cardinal, who is chosen as the first American pope, Pius XIII. "The Young Pope" juggled several key dramatic themes that revolved around the complicated politics of the Vatican and the waning faith of its new leader. However, what it didn't really account for was how uncomfortable the pope's garbs were. 
Seriously, Law had a difficult time moving around in the typical Pope Pius XIII attire.  Of course, the personal trials and tribulations of its main characters make "The Young Pope," and its follow-up "The New Pope," compelling even in its most dreary moments. But knowing that Law did indeed struggle to move around in all the liturgical garments does lighten up the mood quite a bit. You'd think that a younger, more athletic pope would better adapt to the circumstance, but hey, we're all human.
The Stiff Pope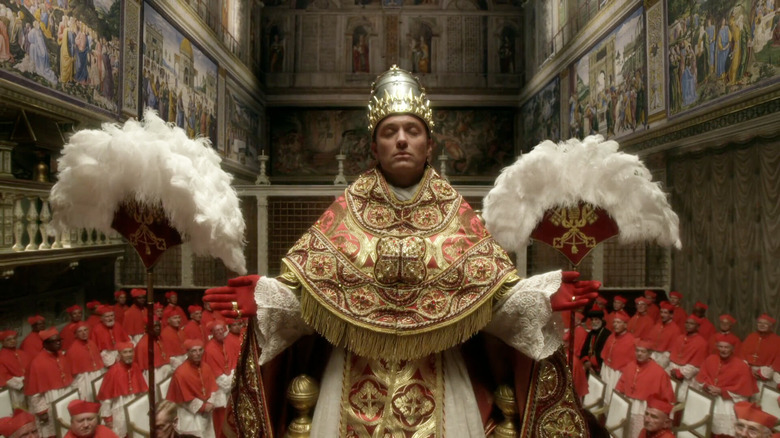 HBO
In "The Young Pope," Law's titular character can be considered a fashion icon in all honesty. He wears a variety of clothing throughout the series, but none are as elaborate (or uncomfortable) as when he has to attend to his holy duties in a public scenario or privately within the confines of the church. Deadline caught up with Law back in 2017 about "The Young Pope," where he took the opportunity to talk about the challenging scene to pull off:
"Physically, the most challenging was probably the first speech to the cardinals, and that was simply because the medieval papal outfit I was wearing was literally two gold-embroidered carpets, wrapped around with metal, with a giant metal crown on my head. I could barely move, and I have no idea how a 70- or 80-year-old chap does that, because I'm a quite healthy 44-year-old, and it was really uncomfortable."
His first speech to the cardinals is just the tip of the iceberg, too. In the sequences when Pius XIII has to give his biggest speeches, an appropriately grand attire furnishes him with style and a commanding presence. Perhaps something could be said about the weight of the world on the pope's shoulders, literally and metaphorically. Law only gets better as the series goes on, but these scenes remain his best work to date.
If you haven't watched Law give his best performance yet, it's better late than never. "The Young Pope," and its sequel, "The New Pope," are available to stream on HBO Max.