Kathy Bates Says This Is Her 'Achilles Heel' When It Comes To Acting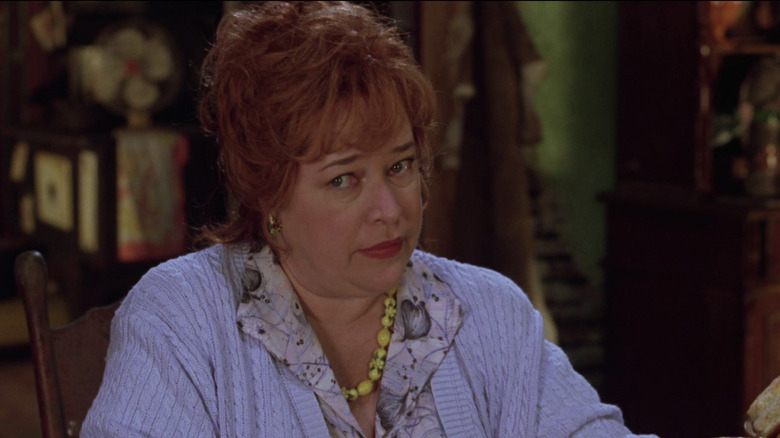 Buena Vista Pictures
Kathy Bates is most famous for her role as an unhinged, obsessed fan in "Misery," which won her an Academy Award, but the actress has portrayed many memorable characters in unforgettable films. She is the bored Southern housewife Evelyn Couch in "Fried Green Tomatoes," the boisterous "Unsinkable" Molly Brown in "Titanic," and the prim and proper Mrs. Givings in "Revolutionary Road." For the first three decades of her career, Bates stuck to serious roles, explored complex characters, and proved herself to be an immeasurable talent.
Bates always nails dramatic performances and runs away with any scene she graces. Many actors would've stuck to the familiar, and continued to run with their established and celebrated talents, but Bates didn't. In 1998, she took a huge step out of her comfort zone, and co-starred in the Adam Sandler comedy "The Waterboy." It was a huge step for the actress, who told Vanity Fair in 2020 that taking herself too seriously is one of her biggest flaws.
Some kid named Adam Sandler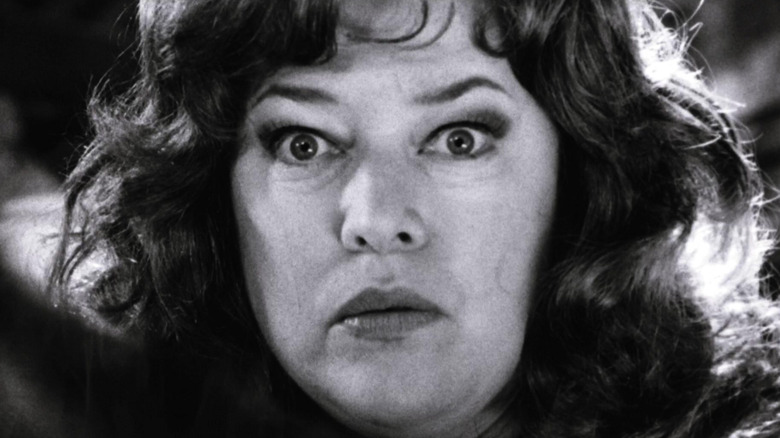 Buena Vista Pictures
By 1998, Adam Sandler had already made a name for himself by performing silly songs on SNL, and reinventing golf in "Happy Gilmore," but none of that caused a blip on Bates' radar. Her first exposure to the comedian came when she received the script for "The Waterboy," and she wasn't impressed. "I read the first 12 pages," She told Vanity Fair. "It was really silly, it was a football movie, and I thought, eh, and I threw it in the trash." You can't blame her for tossing it, Sandler's goofy sense of humor is a far cry from the actresses' typical material, but Bates' niece convinced her to reconsider:
"My niece, who worked with me, and still does, came in and said, 'What is this?' And I said, 'Eh, I don't know. It's some movie by some kid, Adam Sandler.' And she just exploded, and she said, 'Adam Sandler! [...] You've got to do this! You've got to do this!' And I said, 'Okay, let me read it again.'"
Although she wasn't sold, Bates accepted the role of Mama Boucher, and she's happy she did. She said that Mama was "a fun person to play," and that the role helped her get over one of her biggest flaws. "One of my Achilles Heels, both as a person and as an actor," she said, "[is that] I take things way too seriously. This was an opportunity to just let it all hang out, and just play and be silly, and it turned out to be one of the most wonderful experiences of my whole life."
The role will never receive the critical acclaim of "Misery" or "Titanic," but audiences continue to love Mama Boucher and her many theories about The Devil and the medulla oblongata.