Star Trek's Tawny Newsome Worried She Wouldn't Be Funny Enough In Lower Decks Season 3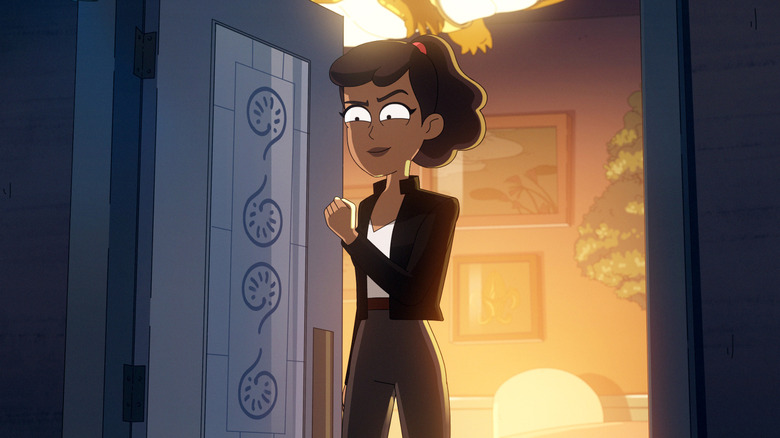 Paramount
"Star Trek: Lower Decks" recently concluded its third season, and the show has definitely found a groove. Initially presented as a crass, slapstick comedy show, "Lower Decks" quickly revealed itself to be deeply respectful of "Star Trek" philosophy. The show openly understands that its four main characters, while low-ranking and not well-respected, are still principled, sophisticated characters capable of growth and reflection. "Lower Decks" doesn't want to be "'Star Trek' with fart jokes." It wants to be "Star Trek."
At the outset of the series, Ens. Beckett Mariner (Tawny Newsome) was a brash, motor-talking blowhard who deliberately talked back to the deeply entrenched formalism of the franchise. She was, at first glance, an avatar for a cynical modern audiences unwilling to engage with "Star Trek" any longer. Just as the show evolved, though, so too did Mariner, finding that she still loves breaking rules, but also that she has some deep-seated neuroses instilled by her mother, Capt. Freeman (Dawnn Lewis). Her bluster and embrace of chaos are, she found, coping mechanisms.
By the third season, Mariner had a love interest, began to take her job a hair more seriously, spoke more openly to her mother, and actually thought about her friends in a caring fashion. These developments were, it seems, a cause for concern for Newsome. In an interview with CBR, the actor admitted she had worried that character development might stand in the way of the show's comedy.
'I didn't have the full scope of her journey'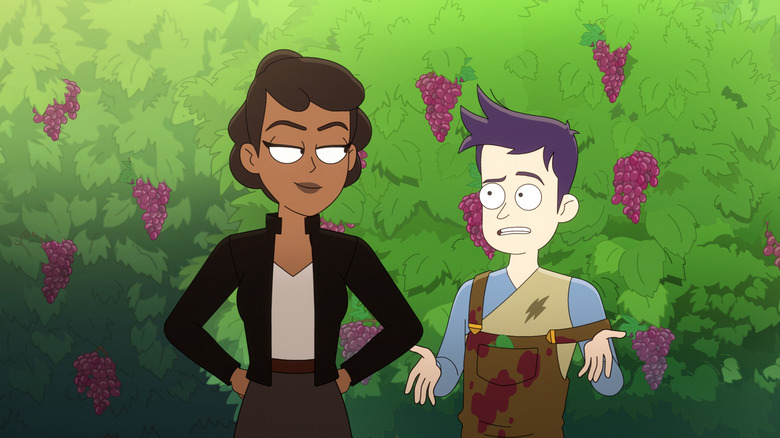 Paramount
The cast of "Lower Decks," Newsome implied, is given access to a full season's worth of scripts in one go. This may be a little unusual as "Lower Decks" — unlike its peers "Discovery," "Picard," and "Prodigy" — adheres to a more traditional, episodic "Star Trek"  structure. Despite this, events from one episode do often lead into the next, and arcs do begin to form over time. This is refreshing for old-world Trekkies who long for something recognizable that, it is hoped, plays well for younger audiences who can enjoy a break from the long-form TV they're used to.
Being presented with an entire seasons, however, allows the "Lower Deck" actors to see their own character arcs at play. Newsome, when looking over the third season, was immediately concerned:
"Back when we recorded it, I remember being nervous that I wasn't being funny enough because I didn't have the full scope of her journey. I had read all the scripts, but I didn't have the ability then to zoom out and see what [show creator] Mike [McMahan] and the writers were really very smartly doing, which was setting her up with more heart and emotional intelligence. My first instinct was, 'Oh no, I'm not as funny as seasons 1 and 2!' not in the writing but in my performance."
Prior to "Lower Decks," Newsome worked almost exclusively in comedy. She appeared as a regular on the sitcom "Bajillion Dollar Propertie$" (a show from the short-lived Seeso streaming service), as well as "Comedy Get Down," "Brockmire," and "Space Force." Soulful character development, it seems, was a new wrinkle in her career.
Riffing: The Next Generation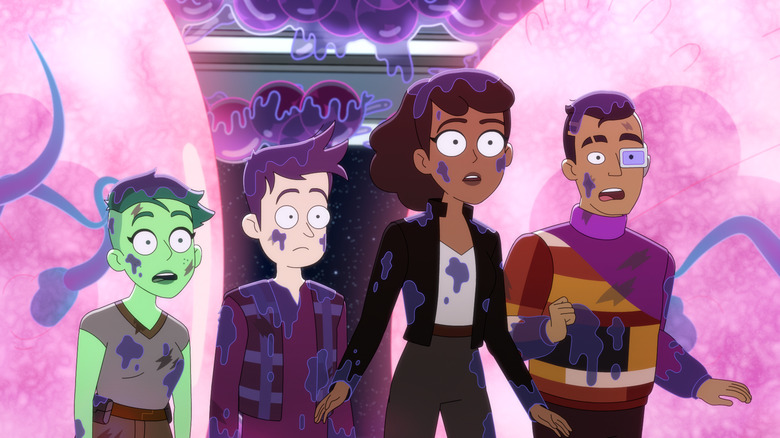 Paramount
Newsome also pointed out that she and her co-stars were frequently permitted to riff in the recording booth, improvising jokes and throwing out one-liners. It seems that with the third season, similar improvisation was permitted, but in a less comedic fashion. Because there was less raw comedy for Mariner, Newsome felt that she wasn't contributing enough ... at least at first. It wasn't until she fully grasped Mariner's arc that everything fell into place:
"I never ask to go back in and do additional ADR days or any other additional recording, but I considered asking, 'Hey, is it okay if I take another pass at 305,' or whatever because I felt like I wasn't doing as many alt takes or riffing as much, but that's not true. I was. The riffing and the alt takes that we were doing were just coming from a different place. They were less jokey. Seeing it all altogether, it really made sense, and I was so glad that they steered me in that direction."
At the end of the third season, Mariner briefly leaves the U.S.S. Cerritos to pursue a rebellious career as a maverick archeologist, operating outside the purview of Starfleet. It's not until she realizes that her Starfleet training made her more compassionate and resolute that she decides to return to her ship to aid in a crisis. Mariner has become one of the better characters in "Star Trek," displaying a streak of relatable, chaotic rebellion, while simultaneously recognizing that her pranksterly ways are hastily losing their youthful cuteness. Mariner is a woman in her 20s who is finally trying to grow up. It's been exhilarating to witness.