The 12 Best Tilda Swinton Movies, Ranked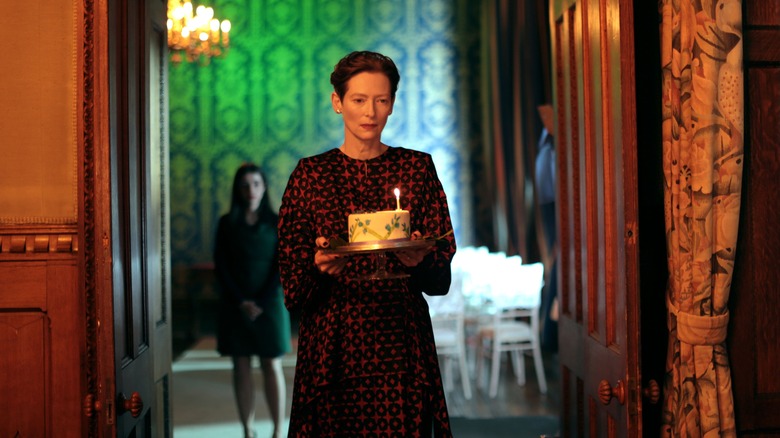 A24
No performer today is as chameleonic as Tilda Swinton. Her versatility seemingly knows no bounds. Swinton's filmography spans from the metaphysical worlds of Thai director Apichatpong Weerasethakul to the Marvel Cinematic Universe — not to mention partnerships as disparate as collaborations with avant-garde artist Derek Jarman to a one-off appearance doing broad comedy in a Judd Apatow movie. If you're looking for one person whose career speaks to the vastness of global cinema, Swinton might well be the best representative for the last four decades.
Although Swinton continues to push artistic boundaries, her upcoming role in "The Eternal Daughter" provides a moment to reflect on the defining features of her career. "The Eternal Daughter" is another film where she's entering into a recurring partnership with a director (in this case, Joanna Hogg) and digging deeper into what their artistic relationship means. Playing a mother and her daughter gives Swinton the opportunity to delve into the physical and emotional lives of women with startling acuity. The performances touch are otherworldly while maintaining her earthy naturalism. The A24 film is the latest jewel in a crown that's already radiant but has plenty of room for more gems.
To sum up Swinton's talents in a dozen performances is difficult given the breadth and depth of her work. From blockbusters to indies, Hollywood to global productions, drama to comedy, we size up the films that capture the influence she's had on cinema.
12. The Chronicles of Narnia: The Lion, the Witch, and the Wardrobe (2005)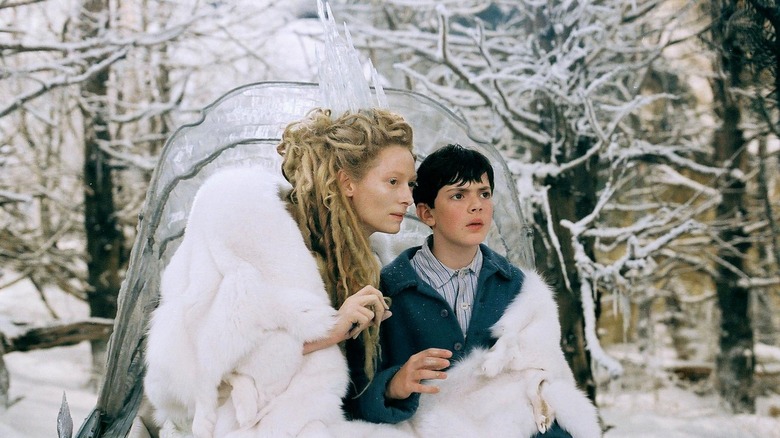 Disney
Likely, many younger audiences became familiar with the icy charms of Tilda Swinton in "The Chronicles of Narnia: The Lion, The Witch, and The Wardrobe." While she pops up in early-aughts studio pictures like "The Beach," "Vanilla Sky," and "Constantine," she never fully flexed her muscle in leading roles. As the treacherous White Queen from the C.S. Lewis novels, she's playing a deeply allegorical role that echos a biblical clash between good and evil.
Swinton relishes the serpentine seduction of temptation as her witch encounters the guileless Pevensie children who enter the world of Narnia through a mysterious wardrobe. Her seemingly soft-spoken pleasantness –- and generous offers of sweet delicacies like Turkish delights — disguises her sinister intentions. Within the realm of Narnia, she's a Satanic figure that doomed the land to eternal winter and banished the noble, messianic lion, Aslan (Liam Neeson).
Her White Witch portrayal inspires genuine terror, especially when her war against Aslan erupts into battle. But she plays every scene with extraordinary precision and attention to detail. Her scenes with Edmund Pevensie (Skandar Keynes), the sibling most given to indulge his sinful side, showcase a master emotional manipulator at work. With delicate line delivery and loaded glances, her tyranny is abstract and harrowingly real. She's the perfect villain for the "Narnia" series -– so much so that the franchise trotted Swinton out for two sequel films, even though her character didn't appear in those books.
11. Only Lovers Left Alive (2013)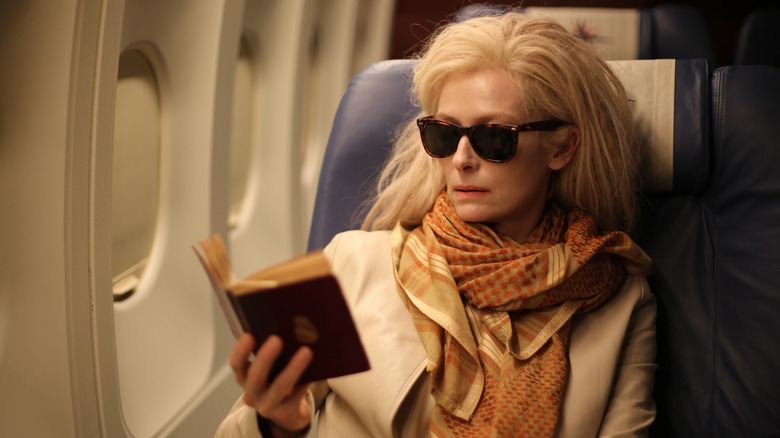 Sony Pictures
"Tilda Swinton hipster vampire" feels like the kind of logline cooked up by an artificial intelligence bot for cinephiles. Still, Jim Jarmusch made such a possibility a reality in 2013's "Only Lovers Left Alive." The film follows two centuries-old bloodsuckers holing up in a hollowed-out version of near-future Detroit. Independent filmmaking legend Jarmusch found something of a late-career muse in Swinton, who effortlessly channels his off-color energy. From a jilted ex-lover of an aging libertine in "Broken Flowers" to a kooky funeral home owner in "The Dead Don't Die," she always tunes into his wavelength.
"Only Lovers Left Alive" got to the whole "just vibes" thing years before the phrase entered the mainstream. There's not much of a forward-moving narrative here. Instead, it moseys in languorous circles alongside Swinton's Eve and Tom Hiddleston's Adam. The cheekily-named duo embodies the contemporary ennui of jaded artists: Their centuries-long struggle to find meaning rings differently within Detroit's modern and shallow world.
Off-kilter gags and lamentations help break up the film's monotony. But the enjoyment of Jarmusch's loosely plotted film depends on how much one can watch Tilda Swinton be. "Only Lovers Left Alive" marks the first film to bank on the actress' iconography as something more than just a chameleonic character actress. Jarmusch derives real power from what audiences associate with her star image. Undeniably, it's inspired casting to have Swinton portray someone who exists outside of time's constraints, given how her persona seems to transcend time altogether.
10. The Eternal Daughter (2022)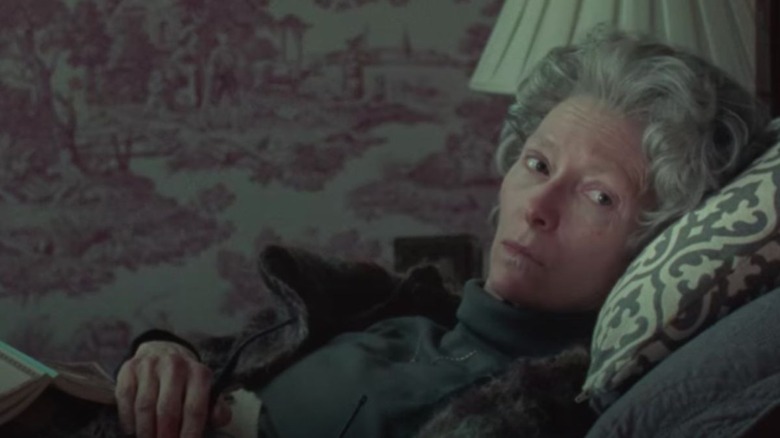 A24
While she's worked with ten directors multiple times, the closest kinship Swinton shares with any filmmaker is likely Hogg, who featured Swinton in her 1986 short film, "Caprice." As Hogg has risen to international prominence in the last decade, Swinton has become a crucial collaborator due to their shared life experiences. Their film work explores the mystical quality of cinema and how it can collapse past and present within a liminal space on-screen.
The duo's third feature, "The Eternal Daughter," extends and expands Hogg's "The Souvenir" films. In this audacious genre mash-up, Swinton reprises her role as an elderly version of her character Rosalind, the mannered mother of a budding filmmaker, Julie (based on Hogg). But she also assumes the role of Julie. However, this isn't purely stunt casting. (Even if it was, Swinton's delineation between Rosalind and Julie's psychology and physicality makes it seem two different actors portray them.)
Hogg's fascinating stroke of meta-casting raises all sorts of compelling questions about the inescapability of one's ancestry. "The Eternal Daughter" combines arthouse sensibilities into a haunted house premise. In the film, Julie seeks to identify the spectral presence haunting the hotel getaway with her mother. The ghost doesn't solely feel like an eerie horror element tacked on to the story but a crucial embodiment of Hogg's thematic obsession about what parts of history and memory linger within a space or become passed on to another.
9. The Deep End (2001)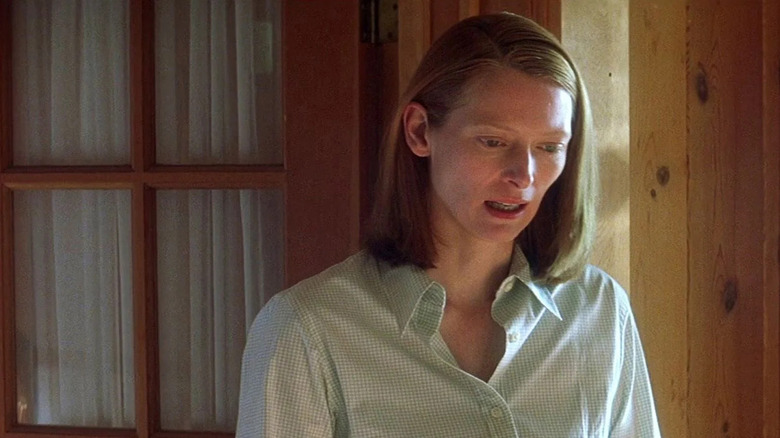 Fox Searchlight Pictures
Swinton's first breakthrough with mainstream awards came from 2001's domestic drama "The Deep End." She stars as mild-mannered mother Margaret Hall, whose tranquil family life around Lake Tahoe shatters. She discovers her son Beau (Jonathan Tucker), a high school senior, is having a consensual affair with the 30-year-old Reno nightclub owner Darby Reese (Josh Lucas). She's clear-eyed about her son's free will and his sexual preferences, even though it's a time when she can't bring herself to say aloud that her son is gay.
But even though she can't mention Beau's sexuality, she soon has to manage the fallout from his adolescent recklessness when an argument produces a body. In spite of whatever qualms Margaret might have with her son's choices, the desire to protect her son overrides that. Swinton harmonizes her character's contradictions as she explores her fiercely protective maternal instincts that come from a place of instinct rather than logic. As a mysterious figure with monied interests in Reese's disappearance (Goran Višnjić) emerges, Margaret must decide how far into peril she'll travel to protect the future of her son.
This motherly myopia is something Swinton frequently visits. But it's "The Deep End" where she starts developing the emotional vocabulary to channel such exquisite anguish. Even if the story doesn't necessarily have too many surprising turns, Swinton's performance remains engrossing and elevates the material above its pulpy thriller premise.
8. The Human Voice (2020)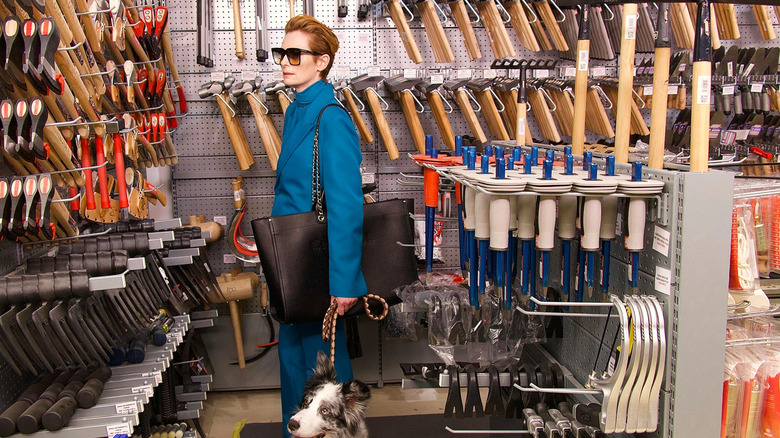 Sony Pictures Classics
Perhaps it's questionable to include "The Human Voice," a 30-minute short, among a list comprised of features. But Swinton does more capital-A acting in this film than anything else she's done. On top of that, she has no other human performers to bounce her performance off of, so it has to go on any list of her best works — even if she's not on screen for long.
"The Human Voice" could have been solely a stylistic exercise. But it had a practical purpose for legendary Spanish director Pedro Almodóvar: He wanted to make something small-scale in the English language before tackling his first English-language feature. But the short is more than a stepping stone, as it's a compelling piece of timeless drama and timely pandemic-era isolation. Almodóvar's source material, an experimental 1930 play by French artist Jean Cocteau, encouraged him to explore how to construct a single-character film.
Countless elements could have made this work a strung-together compilation of meme-able moments. Tilda Swinton shops for a hammer! Tilda uses AirPods! She ogles her Criterion Collection discs! Still, it never becomes camp because her performance anchors each moment. As an unnamed figure, Swinton monologues for a half-hour over the phone to a former lover. The sentiments are broad, but Swinton's delivery imbues them with searing specificity. She knows how to fill the space physically and emotionally while working through her character's feelings in real-time.
7. The French Dispatch (2021)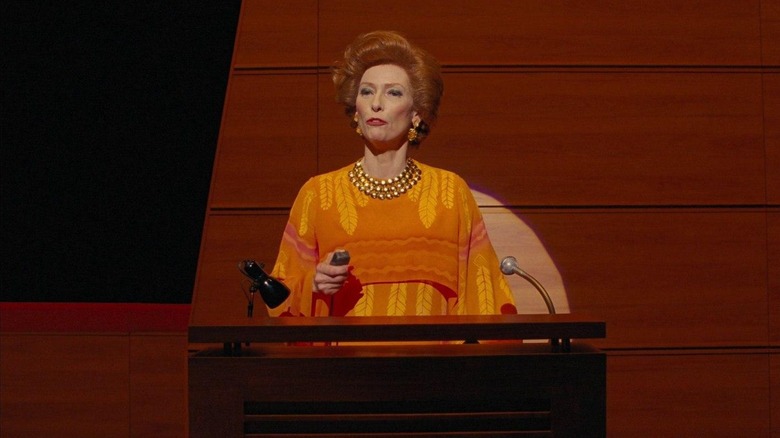 Searchlight Pictures
Directors like Terry Gilliam and the Coen Brothers have recognized something fundamental about Swinton's talents that often goes underappreciated: she's hysterical. Her dogged commitment to conveying the lived reality of her character, however big or small, makes her incredibly well-suited to star in a comedic ensemble film. By now, it's impossible to imagine a Wes Anderson film without Swinton — after their collaboration began in 2012's "Moonrise Kingdom."
She's played several quirky characters for Anderson — from the heavily prosthetics-laden widow Madame D. in "The Grand Budapest Hotel" to voicing a soothsaying pug in "Isle of Dogs." But she shined the brightest as J.K.L. Berensen in "The French Dispatch," a star journalist who contributes to a "New Yorker"-like publication in the mid-20th century.
Swinton's character provides the narrative throughline for the film — filled with off-color wit and astute observations. Her narration is a parodically highfalutin lecture. She interjects a story about an incarcerated painter turned art-world sensation with a precise amount of silliness. Berensen avoids falling into the trap of becoming a poofy-haired paper doll in Anderson's elaborate sets. Her bracketing appearances give crucial context to the content she's conveying, which makes her story, "The Concrete Masterpiece," the film's standout segment.
6. Orlando (1992)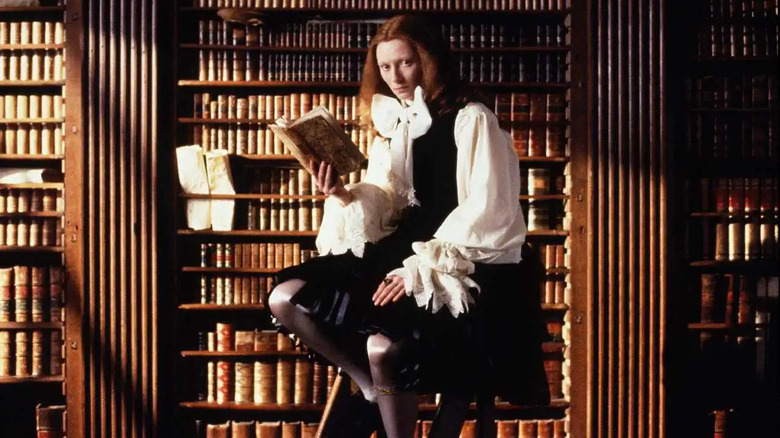 Sony Pictures Classics
Translating an author's literary style from page to screen is difficult. But writer-director Sally Potter pulls it off with her adaptation of Virginia Woolf's novel "Orlando." In the film, Swinton embodies the author's modernist prose in the role of the titular English nobleman. In Woolf's telling, Orlando becomes a woman troubadour ambling through time. Potter sidesteps the literalism by taking advantage of cinema's expressive qualities.
Swinton just simply is Orlando from the jump, and the viewer must reconcile the disparity between what the characters see and what the audience sees. Each expression highlights the arbitrariness of gender, emphasizing the timeliness of Woolf's deconstruction of the gender binary. With a husky baritone voice and androgynous appearance, Swinton makes the audience lean into the character. Swinton deftly prioritizes subtlety over spectacle. When given unconventional charges, Swinton pulls it off with effortless and ethereal grace.
Her Orlando, who sustains a youthful glow from Elizabethan England to its Thatcherite period, straddles classicism and modernity. Swinton bridges irony and sincerity in her soulful, searching approach. Even features like the fourth wall breaks, which shatter the illusion of performance, feel rooted in the character's timeless nature. Film requires a certain literalization as it converts ideas into concrete images. Yet Swinton defies this essential feature of the medium by retaining an imaginative quality in her performance. "Orlando" harnesses the screen's power as a reflective surface, inviting users to see what they wish in the protagonist.
5. A Bigger Splash (2016)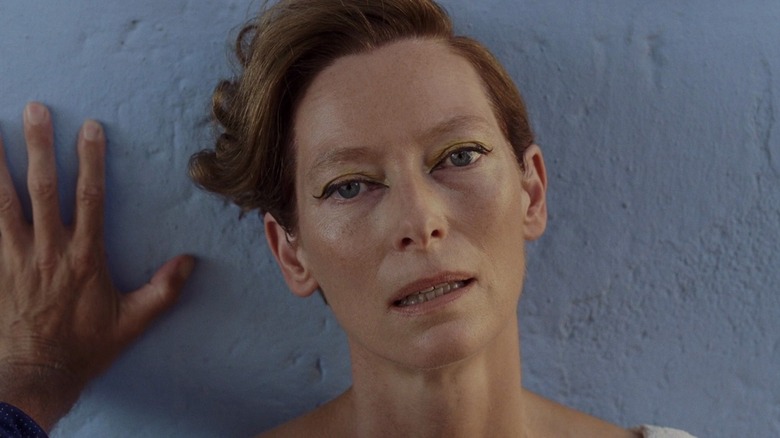 Fox Searchlight Pictures
While "Bones and All" star Timothée Chalamet might be the new apple of Luca Guadganino's eye, the actor has a long way to go to catch up to Tilda Swinton's status in the director's filmography. She appeared in Guadagnino's first feature in 1999, learned to speak Italian with a Russian accent for "I Am Love," and donned several appearance-altering prosthetics for his "Suspiria" remake. Yet her most inspired turn for Guadagnino came in a quieter register — literally, as she barely speaks in his sun-soaked erotic thriller — "A Bigger Splash."
In Guadganino's film, Swinton plays Marianne Lane, a rockstar recuperating from vocal surgery with her laconic lover Paul (a bulky, brooding Matthias Schoenaerts) at an isolated Italian villa. While robbed of her ability to audibly verbalize her thoughts and feelings, Swinton's communication finds alternate and powerful forms of expression. "A Bigger Splash" asks Swinton to lean on facial movement, exaggerated whispers, and grand gestures to get her perspective across. In her capable hands, Marianne can have moments as larger-than-life as a silent-era comedy. But she can be as subtle and withdrawn as the star of a quiet and dramatic chamber piece. As she and Paul welcome the unexpected visitation of her former lover Harry (Ralph Fiennes) and his mysterious young companion "Pen" (Dakota Johnson), submerged passions float to the surface and demand addressing. Rarely does a character who's so quiet feel so loud.
4. Memoria (2021)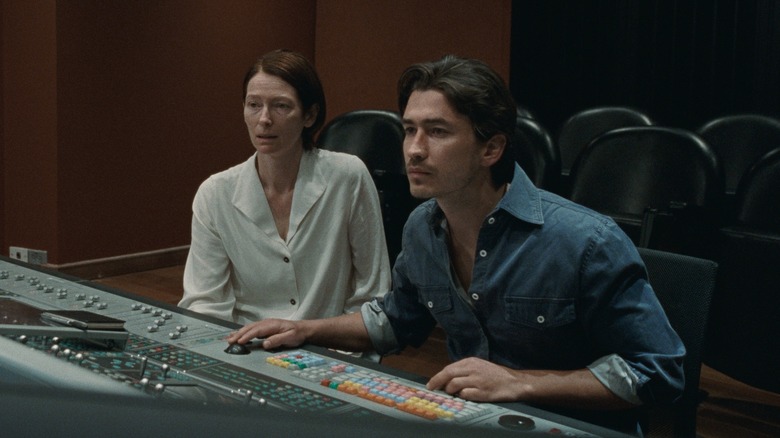 Neon
Tilda Swinton described her "Memoria" character Jessica "as a predicament." Moreso than any film in her storied career, the actress enters the realm of abstract representation. But this achievement is more remarkable because she unlocks this other level of consciousness while still maintaining a grounded presence. In close collaboration with Weerasethakul, Swinton takes the audience on a deliberately paced journey that makes the familiar feel fantastical.
There's a deceptive simplicity at the core of Jessica. She suffers from what appears to be exploding head syndrome, a sleep condition where someone hears a loud and unexpected noise that's imperceptible to others. As if to prove she's not insane, Jessica sets out to locate or recreate the noise to gain a sense of control over the unanticipated thumps. "Memoria" is ultimately just that: a personal journey to find a centering calm. But it's also so much more! The film explores the collective ties that bind us that are as elusive and undetectable as the disquieting noise.
Swinton opens Jessica up to represent something larger than an individual experience. In her search for an explanation for the unexplainable, the native Scot chips away at cultural boundaries in her adopted country of Colombia. Learning to abandon her foolhardy quest to impose human logic onto ephemeral phenomena expands her horizons. Jessica connects all the more deeply with the natural world surrounding her. "Memoria" seeks nothing less than the transcendent, and Swinton helps carry it there.
3. Snowpiercer (2014)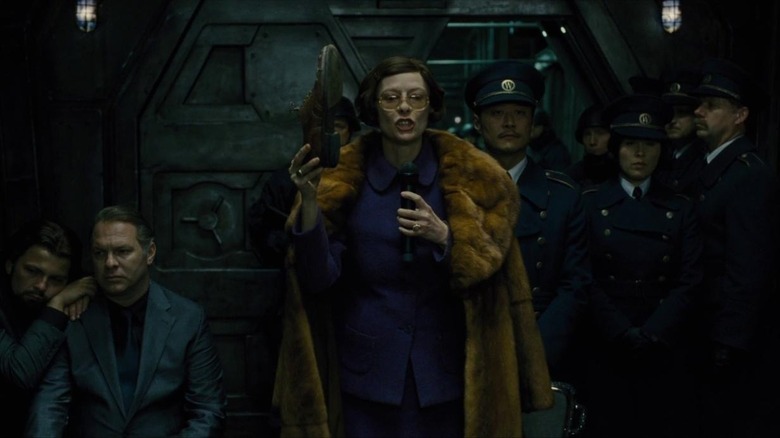 Raidus/TWC
The role of Mason, as it appears on the page for "Snowpiercer," is a man. When Swinton won the part of a farcical functionary aboard a train whose car structure mirrors its class stratification, she intended to play the role as written — no changes to pronouns. Director Bong Joon-ho never uses casting as something to be gawked at by the audience. In a career full of twists on gender that highlight androgyny and ambiguity, Swinton delivers her most radical take on the concept by rendering it arbitrary.
In fairness, gender ambiguity is the least interesting thing about Mason's character. In a film that literalizes its allegory with all the subtlety of a sledgehammer, Swinton soars. Heck, with her coke-bottle glasses, thick brown bob, gnarly yellow teeth, and heavy accent, she may even outdo the craziness of the ending of "Snowpiercer.".
Mason embodies the absurdity of creating rigid divisions within society, relegating poor people to squalor in the back of a train circling a frozen earth. Mason becomes something of a practical and spiritual tour guide through the increasingly bizarre world that upholds extreme inequality. The spokesperson for the mysterious engine caretaker at the front proves a fascinating foil to the noble revolution leader Curtis (played in a brilliant stroke of meta-casting by Captain America himself, Chris Evans). Mason's sycophantic devotion to a senseless order makes for a clean contrast to his hardscrabble idealism as he battles his way through the cars for justice.
2. Michael Clayton (2007)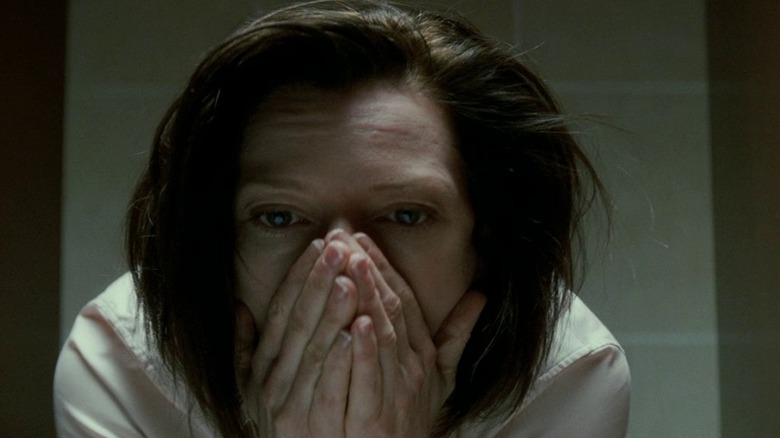 Warner Bros.
When Tony Gilroy introduces Swinton's Karen Crowder in "Michael Clayton," she's in rehearsal. She's not preparing to play a part on stage — just steeling her nerves to do her job. As the general counsel for an agribusiness concealing the carcinogenic side effects of their product, Karen needs to appear calm. If Swinton hadn't humanized such a stiff suit of a villain, it would have been a cringe comedy role.
In a film about shady lawyers determining where they draw the line between personal and professional interests, Swinton's turn is the skeleton key to the entire film's murky moral drama. Her role deconstructs performance itself, as Gilroy cuts between the competent company lackey Karen performs in public and the overly rehearsed and insecure person she is in private.
Karen's journey to the dark side is a testament to the banality of evil and the gentle rationalizations good people give themselves to commit terrible acts. After one of their lawyers undergoes a crisis of conscience threatening to torpedo years of work in their class action lawsuit, Karen has to make some quick and dirty choices about how to handle a spiraling situation. Karen foils fascinatingly against George Clooney's titular fixer, whose disillusioning perspective on the same events plunges him deeper into his rogue take on ethics. Swinton finds the scared shell of humanity within the character, only to terrifyingly show how easy it is to sublimate that soul into the ruthless corporate id.
1. We Need to Talk About Kevin (2011)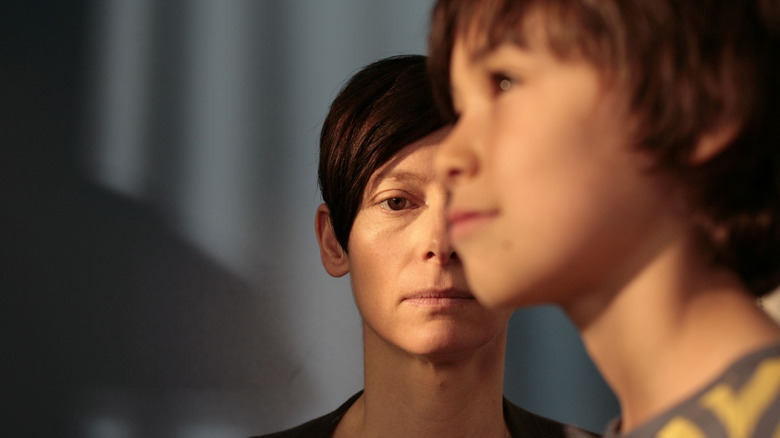 Oscilloscope Pictures
Across languages, genres, and eras, Swinton has proven herself astonishingly adaptable — so much so that it's baked into her star image. But that doesn't make her work in Lynne Ramsay's "We Need to Talk About Kevin" any less of a monumental performance. The way Swinton fades into the impressionistic fabric of the film is an incredible sight to behold. She's not just clay that Ramsay molds in the editing bay. Swinton's multifaceted turn complicates the simple portraiture of her character Eva Khatchadourian by exposing contradictory sides of the woman.
In "We Need to Talk About Kevin," Swinton explores a sadly prevalent cultural archetype: the "mother of a monster." Her troubled teenage son Kevin (Ezra Miller) commits an act of heinous violence against his fellow students that feels senseless and somehow predictable. The film returns to the familiar debate of nature vs. nurture when discussing how someone's identity forms — although Ramsay presents the conflict not as an argument but as a conversation. There's no silver bullet or simple answer to the age-old conundrum. Instead, it presents vignettes of memory and history that provide evidence for the viewer to make their case for Eva's innocence or culpability.
Swinton's performance, equal parts symbolic and humanistic, speaks to humanity's messy and complicated nature. Eva contains all the collective hopes and heartbreaks of motherhood. She plays the character's truth while allowing us to construct our explanation from what we observe.