Of Course Quentin Tarantino Has No Regrets About How He Cast Jackie Brown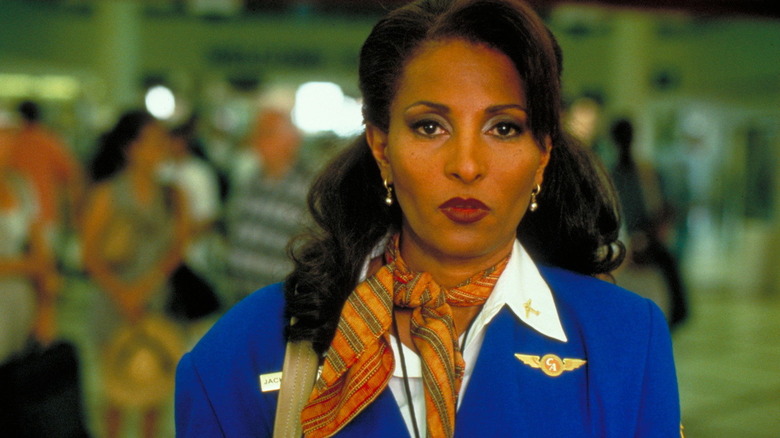 Miramax Films
As much as it rules, "Jackie Brown" has always sort of been treated like the black sheep of Quentin Tarantino's filmography. It's just not quite Tarantino's usual style — a book adaptation that lacks Tarantino's signature ultraviolent flair. The story of a flight attendant who's caught smuggling money lacks the immediate scale and complexity of some of Tarantino's other work.
The film stars Pam Grier in her first major leading role since her time starring in blaxploitation films like "Foxy Brown" and "Coffy" in the '70s. "Jackie Brown was basically the extension of all those other characters," said Grier in a 2018 Variety interview, citing her past work's influence on her role. "Jackie Brown was an extension of having to be forceful." Along with Grier, the film stars Robert Forster, a former leading man from decades past who was floundering in direct-to-video movies at the time. He ultimately received an Academy Award nomination for Best Supporting Actor for his role as a bail bondsman and Grier's love interest.
While Grier and Forster certainly weren't nobodies, "Jackie Brown" served as a sort of reinvigoration of both of their careers. Tarantino typically works with bigger stars in the lead roles in his films, but, film nerd that he was (and is), Tarantino clearly wanted to work with two brilliant actors who had seemingly peaked in the '70s (he even wrote the script for them specifically). It's telling that Tarantino was able to secure such stars as Michael Keaton and Robert De Niro in minor roles, even as he cast Grier and Foster as the leads. 
In an interview on Bill Maher's Club Random podcast, Tarantino told a story about a conversation he had with a Hollywood financier about the film's cast, and how he could've cast bigger names in those two key roles. 
Careers revived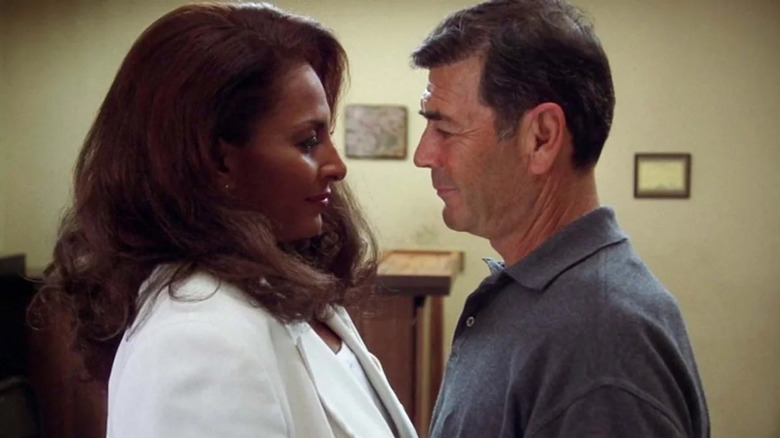 Miramax Films
According to Tarantino on the podcast, he encountered that unnamed financier on a plane and was asked if he wished he had cast bigger stars in the film instead of Grier and Forster. At first, Tarantino seemed a bit offended by the question:
"And I go, 'Well, we made $30 million dollars with a movie starring Pam Grier and Robert Forster. I thought that was actually pretty f***ing good.' His point, though, he goes, 'That's all you.' Well, great! I can make a movie with Pam Grier and Robert Forster, and it can do well because I made it? That's the reason to be f***ing famous."
Ultimately, when pushed by Maher to name which actors the studio was suggesting, Tarantino did list two more bankable actors who could have theoretically replaced Grier and Forster. "Oh, yeah, it would have been Angela Bassett and Robert De Niro," said the director.
I'm really glad we got the version of the movie that we did. Grier and Forster put in career-best performances — they clearly knew this could be their biggest movie ever, and they needed to make the most of it. And they were successful, as both actors were brought back into the limelight after a few decades in the margins of Hollywood. Forster remained active until his death in 2019, and Grier is still going to this day. If the two hadn't been in "Jackie Brown," I probably wouldn't know who they are, so I'm thankful Tarantino stuck to his guns and introduced me to two brilliant actors.