Every Main Character On The West Wing Ranked Worst To Best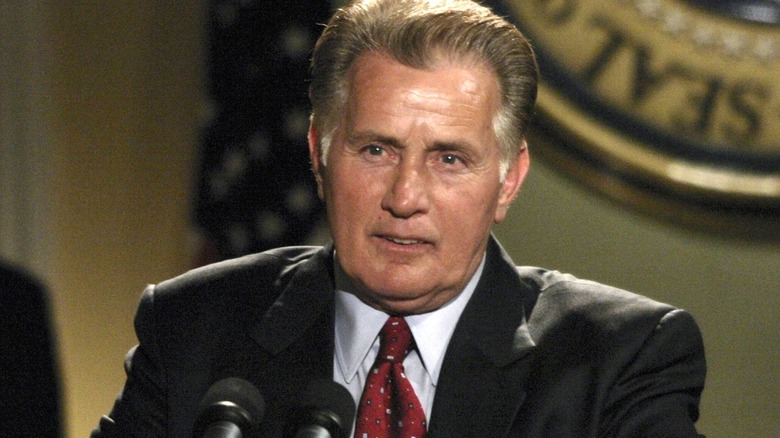 NBC
Watching "The West Wing" now feels like revisiting a moment in time. Aaron Sorkin's groundbreaking political drama follows President Josiah Bartlet (Martin Sheen) and his senior staff as they strive to make the world a better place during two terms in the nation's highest office. It's an idealistic — some would say naive — depiction of politics that feels like a fantasy in the divided America of today. Airing in the early days of peak TV, the network drama was unique in its verisimilitude, lack of studio interference, and inclusion of characters who looked, felt, and acted like real people.
You'd think that a show about the White House would revolve around its most famous occupant, but POTUS is just one of its many compelling characters. In fact, originally, the president wasn't supposed to be on the show at all. Rather, Sorkin's intent was to follow the staffers, assistants, secretaries, and security guards of the executive branch, creating a workplace dramedy set in the world's most powerful office. 
Over the course of seven seasons, many minor players began to find their footing, growing into some of the most beloved characters in television history. Let's catch up with the main cast members of "The West Wing" and rank each from worst to best.
15. Kate Harper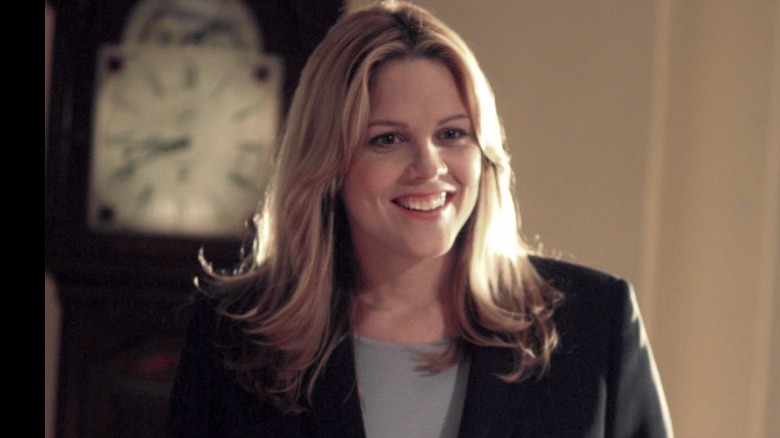 NBC
Former CIA agent Kate Harper (Mary McCormack) enters the Bartlet White House near the end of the fifth season, when the series was undergoing a massive overhaul following the departure of its creators, Aaron Sorkin and Tommy Schlamme. She immediately gets off on the wrong foot, overstepping her boundaries with Bartlet and removing a joke from Presidential remarks. It's not until Kate and Josh Lyman (Bradley Whitford) are stuck together during a security drill that we begin to learn more about her. As the building is being secured, Kate tells Josh that she once endured a 77-hour lockdown, hinting at a dynamic past outside the White House's walls.
One of these CIA missions involved monitoring trade negotiations with Cuba, putting Kate in the path of White House chief of staff Leo McGarry (John Spencer) during one of the lowest moments of his life. Kate protects Leo and keeps his secret, earning goodwill from the audience. However, he barely remembers their interaction. 
Unfortunately, this act of kindness isn't enough to make Kate likable. She's a competent character, and it's refreshing to see a woman occupy a role of authority on television, but she's relatively boring and joins the show at its lowest point. Kate becomes part of the Bartlet Administration when the show is shifting towards the Santos campaign, and she ultimately finds herself left behind.
14. Annabeth Schott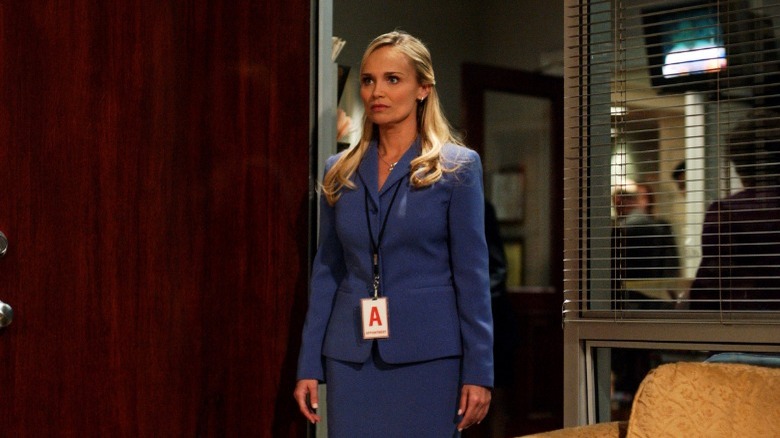 NBC
Annabeth Schott (Kristin Chenoweth) is another compelling character who had the misfortune to enter "The West Wing" at a time of upheaval. Following her Tony-nominated performance as the good witch Glinda in "Wicked," the tiny dynamo seemed like the perfect way to add fresh blood to a series beleaguered by constant change. Chenoweth does add a burst of energy to "The West Wing," but struggles to find her footing. 
Annabeth joins the Bartlet administration  in season 6, vacillating between searching for a new candidate for press secretary and grooming Toby Ziegler (Richard Schiff) to take the job himself. While her attempts to make the grouchy communications director more appealing are charming, it takes awhile for Annabeth to feel like a legitimate member of the staff.
Annabeth would've been destined for Mandyville had she not joined the Santos campaign as an advisor for vice presidential candidate Leo McGarry. The two form a close relationship that brings her closer to the action and makes her a key member of the cast's inner circle. As the first person to discover that Leo has passed away, Annabeth becomes the audience's surrogate for one of the show's most heartbreaking moments. Her tear-streaked face is the first thing that Josh sees upon arriving at the hospital, telling him and the audience all we need to know about the fate of Santos' running mate.
13. Will Bailey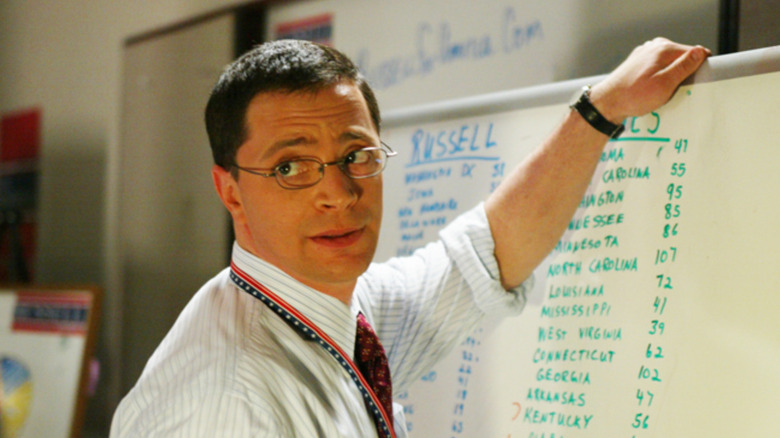 NBC
Will Bailey (Joshua Malina) is the epitome of an Aaron Sorkin character. As he shared in Los Angeles Magazine, Malina appeared in the Broadway run of "A Few Good Men," which Sorkin wrote, and Sorkin's previous TV series, "Sports Night." When he heard rumors that Rob Lowe was leaving "The West Wing," he called his old collaborator and offered him "a less well-known, less good-looking actor who's willing to work for a lot less money" as a replacement. Sorkin accepted immediately, and began writing Will Bailey into the action.
While Malina fit right in with the cast, quickly gaining a reputation as an on-set prankster, his character traveled a much rougher road. After running a successful congressional campaign for a dead candidate, Will takes over as Bartlet's deputy communications director. He's thrown into the fire almost immediately, assisting with the State of the Union address by helping Toby conquer a bad case of writer's block.
Will would likely rank much higher on this list if not for his season 5 move to enemy territory. Leaving Bartlet's office, he becomes the chief of staff for "Bingo" Bob Russell (Gary Cole), a replacement vice president who no one takes seriously. This morphs into a presidential campaign that pits Will directly against Josh Lyman and his candidate, Matt Santos, reportedly garnering animosity from fans of the show. Had he ventured down a different path, Will would be a series standout. As it is, he too often seems to be filling a void left by other characters, rarely getting a chance to shine on his own.
12. Deborah Fiderer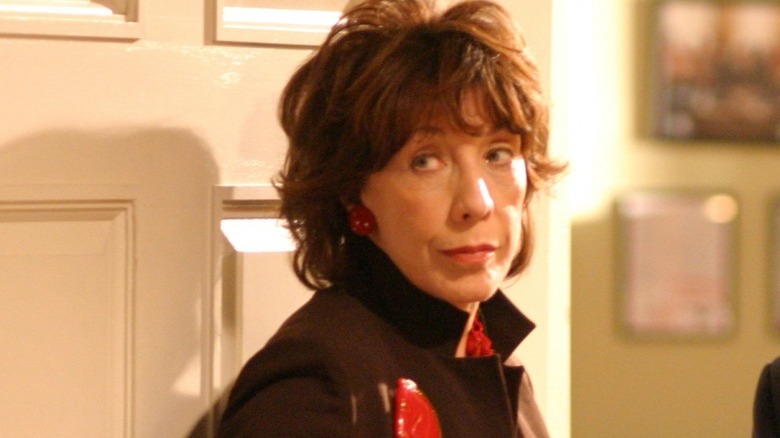 NBC
It takes the grieving president nearly a year to replace his first executive secretary, Mrs. Landingham (Kathryn Joosten). Further, her eventual successor, Deborah Fiderer (Lily Tomlin), gets off to a rocky start. Having vowed never to work in the White House again, Debbie shows up to her Oval Office interview high on pills and rambling about alpacas, but Charlie Young (Dulé Hill) is determined that she be hired and convinces the president to give her another chance. Impressed with her integrity, intelligence, and dry humor, Bartlet eventually welcomes Debbie into his inner circle late in season 3, and she remains there until the show's final episode.
Legendary comedienne Lily Tomlin told the Chicago Tribune that she was already a fan of the show when she joined, and had been hoping to be cast as a lobbyist or lawmaker when the season 2 death left an opening on President Bartlet's team. As guardian to the highest office in the land, Debbie takes her position seriously, demanding an efficiency that often confounds the more cavalier members of senior staff. She's not afraid to be disliked, either. It's not until hearing her parting advice to her successor, "Your most frequent answer will be 'no,'" that we understand her full dedication to protecting the President's time and attention. However, unlike Charlie, Debbie remains on the periphery of the action. She guards the gate, but rarely enters the fray.
11. Abbey Bartlet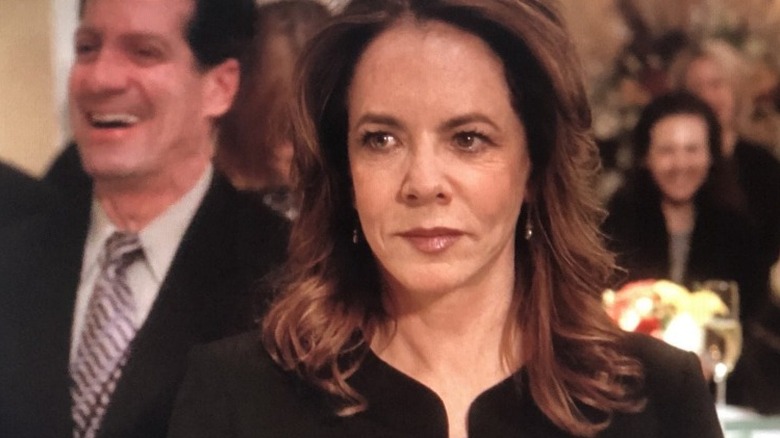 NBC
By the time we meet Dr. Abigail Bartlet (Stockard Channing) in the seventh episode of "The West Wing," we've already heard a good deal about her. Traveling to Washington D.C. to host a state dinner, her first appearance coincides with a class 4 hurricane. According to the award-winning actress, her introduction to her onscreen husband, Martin Sheen, was a similar whirlwind. She told EW, "I flew from Toronto across the country, they threw me into an evening dress. ... I got out of the car, fresh from hair and makeup, and went up and introduced myself: 'I know we've never met, but I think we've been married for about 25 years.' And they said, 'Okay, we need you on set.' That was it."
Though she spends a significant time at the couple's New Hampshire home, Dr. Bartlet is perfectly compliments her powerful husband. Channing received six Emmy nominations and one win for playing Abbey, in large part because of the couple's sparkling chemistry. Abbey never fails to support Jed, but maintains her own views and agenda, constantly using her platform to champion women's issues. She's also central to one of the show's most compelling plot lines: President Bartlet's concealment of his multiple sclerosis. The beloved actress and her character would likely rank higher on this list if she'd appeared in more episodes. However, Abby's trademark wit and glamor is more than enough to make her an indelible part of "The West Wing" family regardless.
10. 10. Matt Santos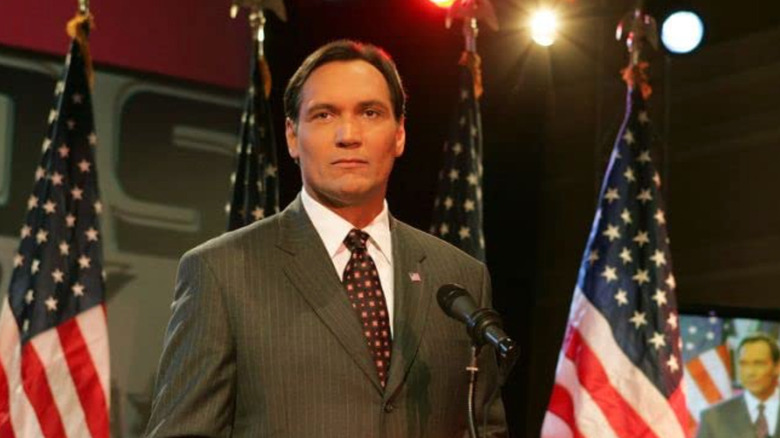 NBC
A show about an American president was always going to have an expiration date. No matter how popular "The West Wing" became, presidential term limits meant that the showrunners would eventually have to find a way to replace Jed Bartlet. Instead of shying away from the challenge, producer John Wells embraced it. As he told Empire, he decided to use the impending conclusion of the Bartlet administration to explore the dynamics of a primary election, taking much of the action out of the White House and onto the campaign trail.
Modeled on a dynamic young Senator from Illinois named Barack Obama, Matthew Santos (Jimmy Smits) is an idealistic coalition builder who bucks the established order and goes on to win the Democratic nomination, then the presidency. He runs a nail-biter of a campaign against a Republican challenger, the equally likable senator from California, Arnold Vinick (Alan Alda). This tight race leads to one of the show's most ambitious episodes, as Vinick and Santos square off in a debate, which was broadcast live on NBC. The cast performed the unprecedented episode twice in one night —once for East Coast audiences, and then again for those out west — a nerve-wracking experience that Smits says was "like jumping off a cliff."
Orchestrated by Josh Lyman, Matt Santos' victory feels like a long-shot, and the outcome was reportedly not even certain in the writers' room. However, two seasons of watching the Texas congressman struggle for legitimacy while pleading his case to the American people made his eventual victory that much more cathartic. The final episode of "The West Wing" ends with Santos' first day behind the Resolute Desk, assuring us that the White House we've been watching for seven seasons will be in good hands.
9. Toby Ziegler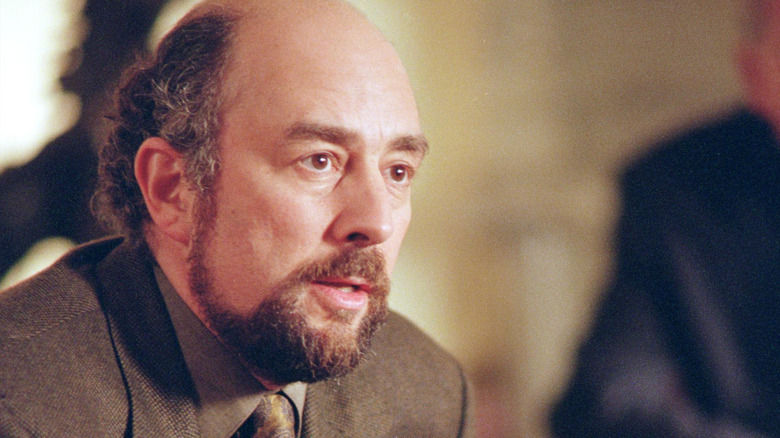 NBC
The first original cast member to appear on this list, the soulful director of White House communications often serves as the conscience of the Bartlet administration. Toby Ziegler is a brilliant writer, but his love for crafting words often covers a deep sadness and a fear of intimate connection with others. In The Guardian, actor Richard Schiff describes Toby as "someone who didn't speak unless he had to," but he is unflinchingly honest and rarely hesitates to follow his convictions, even when they put him in opposition to his powerful boss. Toby and the president frequently have a combative relationship, but there's no doubt that Bartlet becomes a better man each time he's challenged by his prickly speechwriter.
Toby might be a character lost to sadness if not for Schiff's understated comedic timing, which brings out the humanity in a dour character. Having lost a bet on a campaign stop, Toby spends a full episode having to follow his name with the phrase, "I work at the White House," a hilarious prank that takes a surprisingly endearing turn.
Unfortunately, the last season sees Toby turn against the administration by becoming a whistleblower who leaks government secrets to the press. It's manufactured drama that contradicts everything we know about the character. Schiff tells Empire that he was "deeply hurt" by this turn of events, and recalls getting a conciliatory email from Aaron Sorkin proclaiming Toby, "my favorite character I've ever written." Given everything we went through with the cantankerous speech writer, it's difficult to disagree.
8. Mrs. Landingham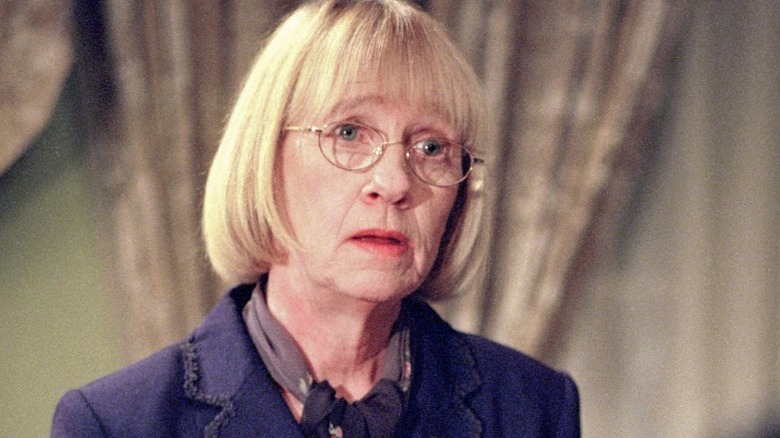 NBC
President Bartlet's first executive secretary, Dolores Landingham (Kathryn Joosten), is the heart of the Oval Office, and her presence is felt long after her untimely death at the end of season 2. A young Dolores (Kirsten Nelson) first meets a young Jed Bartlet (Jason Widener) while working as a secretary at his prep school, and quickly decides to take on the role of his surrogate "big sister." She has a unique bond with the president, and is one of the few people who can speak to him without the weight of his office clouding every interaction.
A stickler for the rules, Mrs. Landingham insists on formality; she refuses to pay anything but full price for her first new car because it violates a little-known constitutional clause. However, while driving her new vehicle, she is hit and killed by a drunk driver, plunging the president into a crisis of confidence just days before he must choose whether to run for a second term.
With such a brief tenure on the show, Mrs. Landingham probably wouldn't make this list if not for her pivotal role in one of the show's best episodes. The season 2 finale, "Two Cathedrals," depicts teenage Jed's first introduction to the woman who changed his life, and contrasts that experience with his rage at a God who would take her away. While watching Mrs. Landingham challenge Bartlet to fight for those with less power, we realize the magnitude of her influence on one of the world's most influential men.
7. Sam Seaborn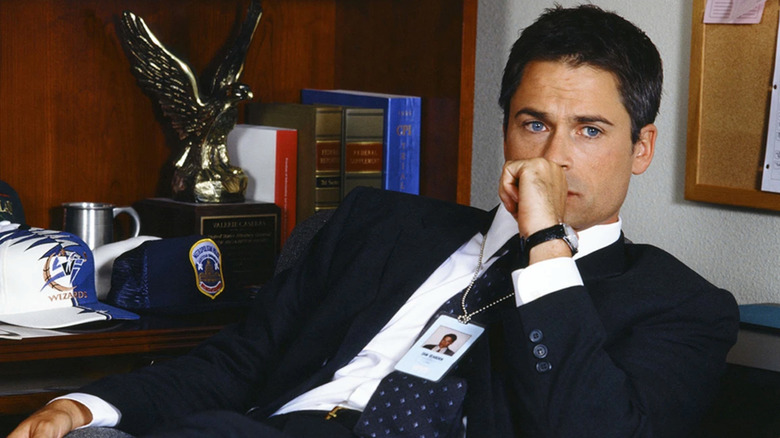 NBC
The first season of "The West Wing" feels like a starring vehicle for Rob Lowe. Sam Seaborn's romantic entanglements with a high-priced call girl dominate the show's early episodes; it's not till the following season that other characters begin to take the lead. As the most famous member of the original cast (give or take one Martin Sheen), Lowe's commitment to the role of Sam went a long way in getting the fledgling show on its feet. As John Wells remembers in Empire, "The network was concerned about putting some more attractive people in the cast; quite honestly Rob Lowe agreeing to do it allowed us to make a lot of the other casting choices that we wanted to make."
As the show became more of an ensemble drama, Lowe began to contemplate his departure, eventually issuing a statement that said, "There was no longer a place for Sam Seaborn on 'The West Wing." Rumors circulated about Lowe's desire to helm own series and his difficulty negotiating a raise on par with those received by his castmates. Lowe officially left the show in season 4, a harbinger for the sea change that would accompany Aaron Sorkin's own departure.
Despite this off-camera drama, Sam Seaborn is one of the most compelling and relatable characters in all seven seasons of the show. His earnestness and his commitment to perfection is endearing, and his brotherly relationships with Josh, Toby, and C.J. Cregg (Allison Janney) provide the emotional core of the series as the White House staff strive day in and day out to maintain their personal lives while performing some of the most difficult jobs in the world.
6. Josh Lyman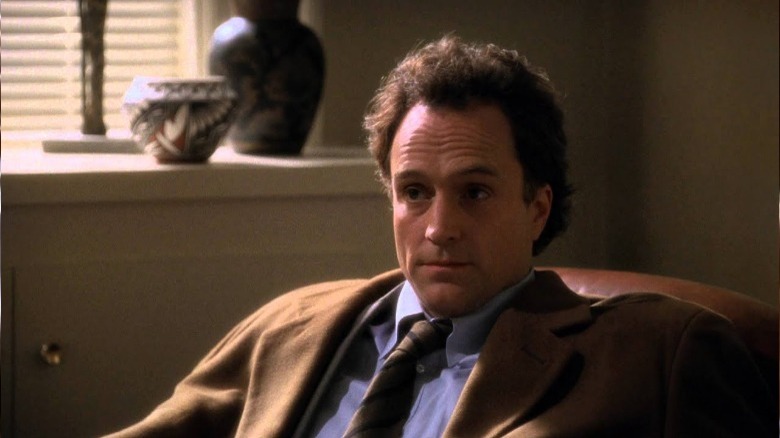 NBC
Few characters are as synonymous with "The West Wing" as Josh Lyman. The deputy chief of staff and resident loose cannon epitomizes the often-sarcastic blend of humor and political jargon that is the show's hallmark. Although he was originally tapped to play Sam Seaborn, Bradley Whitford told Empire that he called Aaron Sorkin after learning about his casting and said, "I'm not Sam! I'm not the guy with the hooker, I'm the guy bashing the Christian right!" Not much of a people pleaser, Josh often clashes with his political opponents, but he's a loyal friend and the driving force behind many of President Bartlet's biggest achievements.
Josh is a bit of a clown in early episodes, but his character deepens when he develops PTSD after being shot during an attack on the president and his staff. His struggle to seek treatment is a powerful example of destigmatizing mental illness, especially since it involves a male character. As Matt Santos' campaign manager, he carries much of the drama of the later seasons, even convincing Sam Seaborn to make a late return to the White House.
However, it's Josh's role as one half of the show's most exciting couple that makes him rank so high on this list. His flirtation with his assistant, Donna Moss (Janel Moloney), is a near-perfect example of a will-they-won't-they relationship done right. Present from the very first episode, the romantic tension between the two is a dance that Moloney and Whitfort maintain for a full seven seasons, one that only resolves itself just before the series finale.
If you or someone you know needs help with mental health, please contact the Crisis Text Line by texting HOME to 741741, call the National Alliance on Mental Illness helpline at 1-800-950-NAMI (6264), or visit the National Institute of Mental Health website.
5. Donna Moss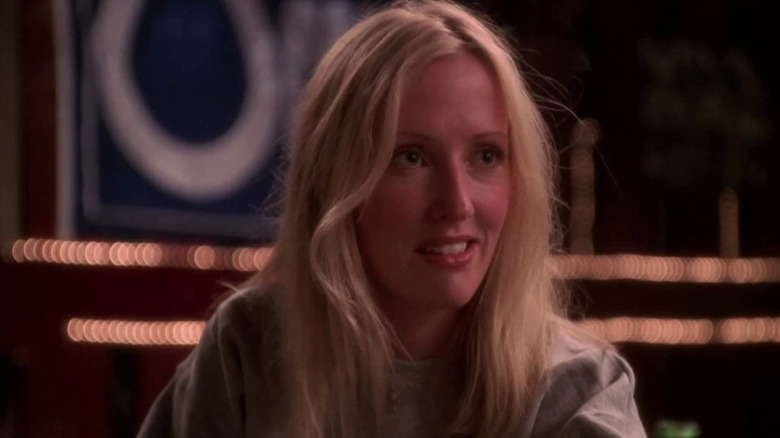 NBC
Josh Lyman's gal Friday, Donatella Moss, began her journey on "The West Wing" with a bit part that wasn't expected to last beyond the pilot. And yet, Janel Moloney ended up appearing in every episode of the first season, even though she never knew which scene would be her last. In a reunion with the "West Wing" cast hosted by EW, Moloney described how she made the most of every second of screen time. "I didn't care if Brad was handing me a piece of paper and I had no lines," she said. "I was making a choice, I was making it about something, I was throwing a detail in there. There was no way anyone was gonna send my a** home." Moloney officially became a member of the main cast in season two, cementing Donna as the heart of the West Wing staff.
Her character succeeds largely due to her chemistry with Bradley Whitford, which resulted in one of the most successfully drawn-out screen romances of all time. While some now find the romance a little problematic — there's a clear power imbalance at play — there's no doubt their delightful flirtation eased the tension inherent to some of the show's heavier plotlines.
But Donna is much more than a love interest, and it's thrilling to watch her come into her own and decide to pursue her own dreams. Eventually, she becomes an indispensable part of the Santos campaign, and a confidant for future FLOTUS Helen Santos. Refusing a job in Josh's office, she instead becomes the first lady's chief of staff. We say goodbye to the beloved character while surveying her beautiful new offices, impressed with how far she's come.
4. President Josiah Bartlet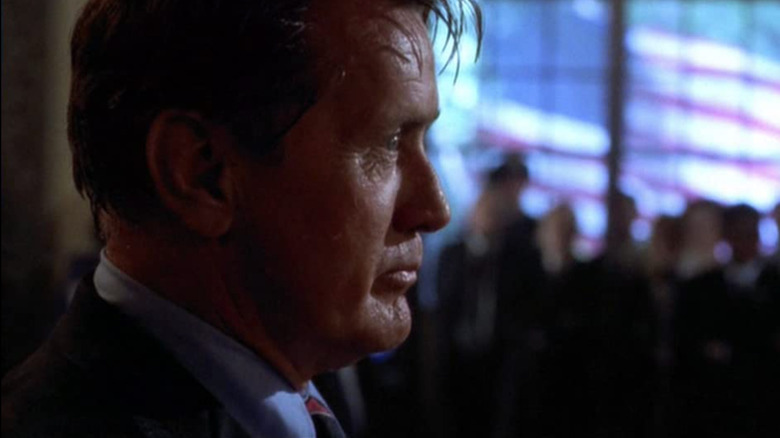 NBC
President Josiah "Jed" Bartlet was not supposed to be a main character on "The West Wing." Originally intended to stay on the periphery, Martin Sheen's contract only covered a few episodes a season. However, as soon as the magnetic actor entered his first scene, reciting the First Commandment in his booming voice and shutting down a group of hypocritical conservatives, it became clear to everyone that he should be in as many episodes as possible. As producer Tommy Schlamme put it, "If the show is about all the planets, let's end it with the sun."
A veteran of "The American President," Sheen transitioned from playing Michael Douglas's chief of staff to sitting behind the fictional Resolute Desk himself, making Bartlet an intelligent but approachable commander in chief. Sheen brought elements of his own personality to the role, requesting that Bartlet be a devout Catholic and a Notre Dame alum, both of which became foundations of President Bartlet's character.
For Bartlet, Sheen managed to find the perfect blend of authority and self-deprecation, wracking up six Emmy nominations for his portrayal of the folksy president. Pivoting effortlessly between inspiring speeches, poignant interactions, and moments of self-aware humor, his Thanksgiving call to the Butterball Hotline remains one of the show's best scenes. Despite a legendary career, the "Apocalypse Now" actor calls his time on "The West Wing" "the most satisfying thing I've ever done."
3. Leo McGarry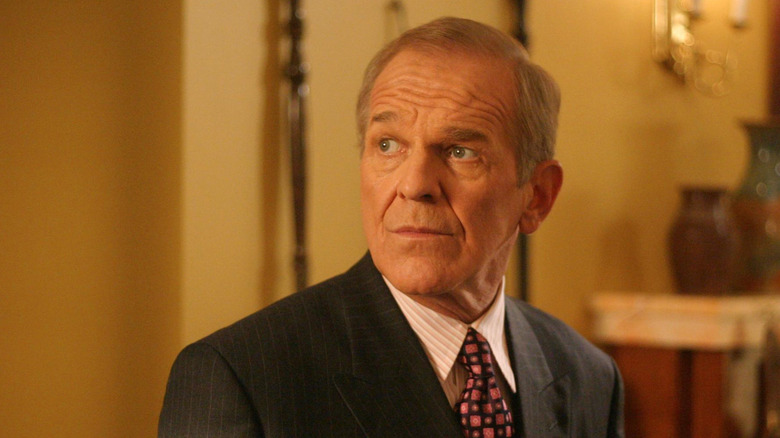 NBC
It's safe to say the fictional Bartlet White House would not exist without Leo McGarry. As flashbacks show, the former secretary of labor traveled to New Hampshire to tell then-governor Josiah Bartlet about his vision for the future. Scrawling "Bartlet for America" on a cocktail napkin, Leo convinces his friend to seek higher office and changes the course of history. As Bartlet's eventual chief of staff, he oversees nearly every aspect of the executive branch, inspiring his team to lead while challenging them to give each day their best.
As a recovering alcoholic, Leo is quick support to his younger employees. He convinces Josh to seek treatment for his PTSD with a moving story that alludes to his own struggles with mental illness. The veteran actor similarly became a mentor to the cast both on and offscreen, and would frequently help his younger colleagues learn their lines, inviting them to practice the challenging "walk and talk" scenes by his backyard pool.
Spencer's shocking death midway through filming the final season reshaped the conclusion of "The West Wing" saga. Apparently, Republican senator Arnold Vinnick was originally supposed to win the general election and become the next president-elect, but Spencer's passing made the showrunners rethink their plan. The beloved cast member received a tear-filled sendoff in "Requiem," an entire episode dedicated to Leo's funeral and memorial service that is widely considered to be one of the series' best. This tear-filled episode reunited former cast members and allowed "The West Wing" family to say goodbye to their friend and mentor.
If you or anyone you know is struggling with addiction issues, help is available. Visit the Substance Abuse and Mental Health Services Administration website or contact SAMHSA's National Helpline at 1-800-662-HELP (4357).
2. Charlie Young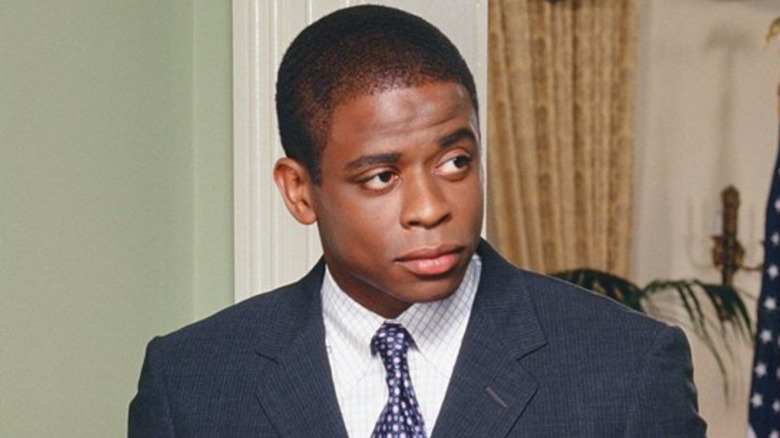 NBC
Originally hired as the president's personal aide, Charlie Young becomes so much more than an assistant. For seven seasons, he balances his demanding day job with college classes, caring for his younger sister, mentoring troubled youth, and maintaining a personal life of his own. He begins a relationship with Bartlet's daughter Zoey (Elisabeth Moss), and attracts the attention of white supremacists who carry out an attack on the president's motorcade, a plotline inspired by real racist complaints about the onscreen couple.
Charlie becomes a surrogate son to President Bartlet, a dynamic that Hill remembers carrying over into the real world. "The West Wing" features many moving moments between the two characters, including a conversation in which Bartlet warns the young man not to protect him by lying to Congress, and a lockdown sequence in which Charlie bursts through Secret Service agents to check on the president. When EW asked Dulé Hill to name his favorite, Hill named the scene in which Bartlet gives him a priceless Paul Revere carving knife. "That still, to this day, warms my heart," he said, "because I feel like it really cemented the relationship between Charlie and Bartlet as a father-and-son-type relationship."
Though Bartlet insists that he continue to advance his career, Charlie is reluctant to leave the White House, and takes a position as special aide to the chief of staff. His relationship with Zoey remains unresolved, but he concludes the series on his way to Georgetown Law. Hill told Town & Country that he likes to think that Charlie would one day make his way to the U.S. Congress.
If you or a loved one has experienced a hate crime, contact the VictimConnect Hotline by phone at 1-855-4-VICTIM or by chat for more information or assistance in locating services to help. If you or a loved one are in immediate danger, call 911.
1. C.J. Cregg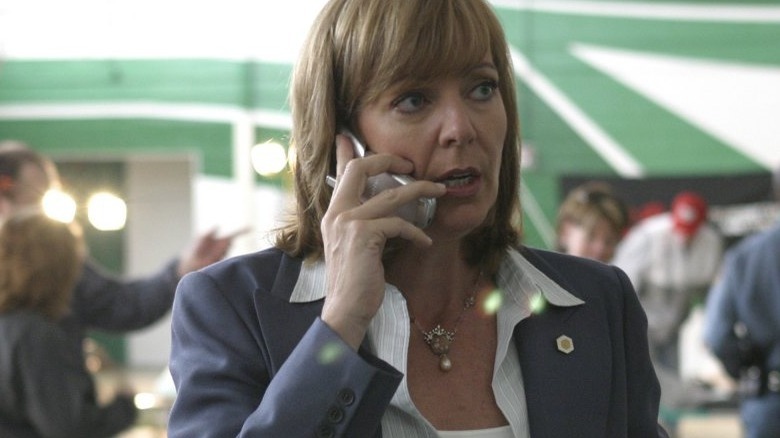 NBC
President Bartlet's first press secretary, C.J. Cregg, handily secures the top spot on this list amidst steep competition. A woman in a male-dominated field, Claudia Jean is not afraid to speak truth to power and stands up for what she believes in, even when it puts her life in danger. She is also fiercely protective of the reporters in her press pool — it's tempting to join their standing ovation at the season 6 announcement that C.J. has been appointed the new chief of staff.
Like her fellow White House employees, C.J. sacrifices her personal life for her career and a dedication to public service. For seven seasons, she engages in an on-again off-again flirtation with reporter Danny Concannon before finally committing to the relationship in the final season. Their love story, symbolized by Gail the goldfish, is incredibly charming, and one of the few that seems on solid ground after the series finale.
C.J. is both inspirational and relatable, and Allison Janney notes that she often hears from fans about her character's impressive legacy. "People come up to me all the time and say they changed their majors in college," she tells EW. "They went into public service because of C.J." Janney was nominated for six Primetime Emmys, winning a whopping four, for her portrayal of the headstrong woman. She says, "She is my favorite character I've ever played because she's someone that I aspire to. I wish I could be C.J." Honestly, Allison? We all do