Shooting Ace Ventura: When Nature Calls Was A Costly Experience For Simon Callow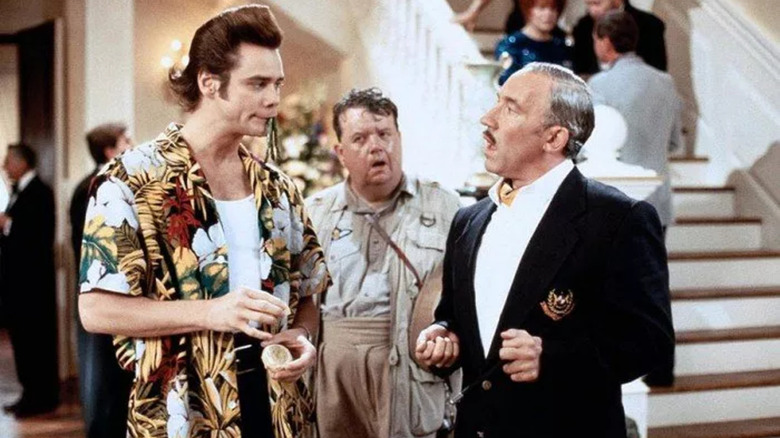 Warner Bros. Pictures
The 1994 comedy "Ace Ventura: Pet Detective" kicked Jim Carrey's movie career into high gear. Despite Jim Carrey's belief that audiences would either love or hate the movie, the film pulled in $107 million at the box office against a budget of $15 million. This success led to an immediate follow-up reaching theaters one year later. And while filming the sequel, "Ace Ventura: When Nature Calls," appears to have been an unpleasant experience for many of the people involved, it was an especially rough one for co-star Simon Callow.
In "Pet Detective," Ace Ventura (Carrey) helps the NFL's Miami Dolphins retrieve their stolen special attraction dolphin from a disgruntled and vengeful ex-player who once cost the team the Super Bowl. In the sequel, the eccentric pet detective returns for a safari in Africa to help relocate Shikaka, the great white bat that is sacred to the fictional Wachati tribe. This time, however, the villain is no mere football player. Ventura (spoiler?) discovers the bat was stolen by consul Vincent Cadby (Callow), the person who hired Ventura to find the animal in the first place.
"When Nature Calls" would prove to be a bigger financial hit that its predecessor. grossing $212 million on a $30 million budget in theaters. But for all the millions upon millions of dollars that Carrey reaped from the film, it would end up emptying Callow's pockets.
'Acts of God' means no extra pay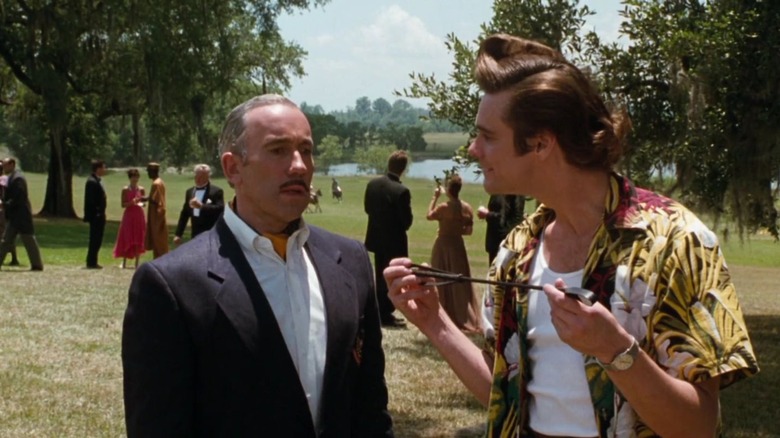 Warner Bros. Pictures
Simon Callow detailed the drama that plagued production on "Ace Ventura: When Nature Calls" in his 2015 memoir, "Shooting the Actor" (via Den of Geek). The chaos led to Callow paying money out of his own pocket just to be in the movie, much like what happened to Danielle Harris on "Halloween: The Curse of Michael Myers." 
As Callow put it, Jim Carrey "was at war with the director and the producers." Half of the movie's $30 million budget went directly to Carrey, so what could have made the film's leading man so unhappy? "[Carrey] believed, rightly or wrongly, that having paid him a sum of money beyond computation to make this sequel, they were stinting on everything else — props, studio, time," Simon wrote. Carrey was also upset with the movie's blocking, and Steve Oedekerk, Carrey's friend, was later brought in to replace Tom DeCerchio as director.
Carrey wasn't the only one who thought the producers were penny-pinching. Amid the drama, Carrey took some sick time. The star's absence pushed production behind schedule, which clashed with his obligation to promote his role as Riddler in "Batman Forever" (which also came out in 1995). Callow also had a prior commitment. The higher-ups on "When Nature Calls" encouraged him to fly back and forth from his home in the UK to deal with his other obligations. Callow later learned that his first-class tickets were deducted from his salary. Furthermore, he wasn't reimbursed after cutting his trip to Italy short to fly back and film an extra scene on-set.
According to Callow, Carrey's sick leave and delays in production were considered "Acts of God." This clause in his contract meant that Callow wasn't entitled to any overtime pay or extra expenses. Now that's some real penny-pinching.