Steve Martin Is The Sole Reason John Hughes Directed Planes, Trains And Automobiles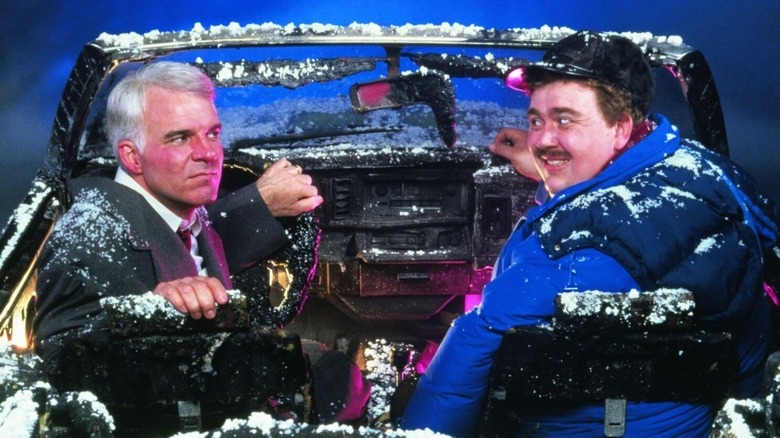 Paramount Pictures
The 1987 comedy "Planes, Trains and Automobiles" is one of the late John Hughes' best movies. On the project, Hughes pulled a triple duty: he wrote, directed, and produced the film. That, however, wasn't suppose to be the case; Howard Deutch, who had just collaborated with Hughes on "Pretty in Pink," was originally set to direct the Thanksgiving classic, but once Steve Martin came into play, Hughes had a change of heart. "He loved Steve Martin," Deutch said in "John Hughes: A Life in Film," a 2015 biography written by Kirk Honeycutt. 
In "Planes, Trains and Automobiles," Steve Martin plays Neal Page, an impatient and snobby ad executive who's in a rush to make it home to his wife and children for Thanksgiving. Page's assumingly straightforward trip from New York back home to Chicago becomes a convoluted — and hilarious — disaster after repeated unfortunate encounters with Del Griffith (John Candy), a slob, shower curtain salesman, and suspected thief.
Martin perfected his role as the uptight, upper-middle class Page. Though a guy like Page may be unlikable in real life, all the horrible obstacles that prevents him from getting home to his family makes me feel bad for the poor guy. With that said, his reactions to these unimaginable misfortunes make me laugh out loud every single time. The scene in which he angrily drops F-bomb after F-bomb to the innocent rental car clerk will never not be funny.  
I understand why Hughes was excited to work with Martin. And though Martin was equally as excited to work with Hughes, when he got onboard, the "Father of the Bride" actor developed one concern.
The script was too long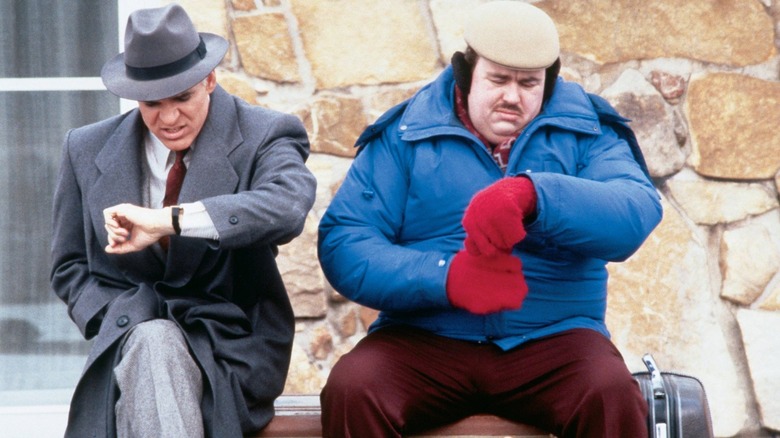 Paramount Pictures
According to the biography, when Steve Martin read the script to "Planes, Trains and Automobiles," he couldn't get over the fact that the script was 145 pages long. Most comedy scripts come in at around 90 pages, and a 145-page script is excessive even for a drama. I'm a screenwriter and many of the competitions I submit to make it clear in their submission guidelines that your script will be tossed out if it exceeds 120 pages. 
Martin asked Hughes if he planned to cut the script. "He looked at me strangely and said, "Cutting?' I realized he had no intention of cutting anything!" Martin recalled. He quickly learned that the filmmaker never married himself to his scripts anyway. He gave Martin and John Candy the freedom to ad-lib at will; and that they did, so much so that their improv got out of hand. 
Ironically, Hughes did end up trimming a scene, in a move that still confuses Martin today. At the end of the movie, Neal Page is finally in Chicago, on the CTA train on his way to his family, and at last free from Del Griffith. He reflects on a previous conversation between two; Del jokes that he haven't been home in years. This prompts Neal to go back to the CTA station where he sees Del is sitting inside alone with his storage trunk. Apparently, in the script, Del delivers a long monologue revealing that his wife died and he has no family.
Even without the monologue, the movie still hits home with its holiday messages of giving, appreciating family, and being thankful. And don't fee bad for Deutch. As a "thank you," Hughes gave him the director's chair for the 1988 comedy "The Great Outdoors."