Why Diddy Didn't Make The Cut For Oliver Stone's Any Given Sunday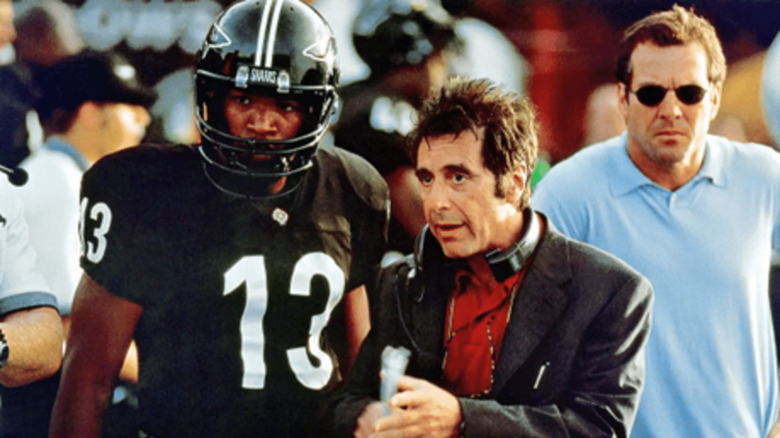 Warner Bros. Pictures
Sean "Diddy" Combs is many things: record label executive and entrepreneur, Grammy Award-winning artist and dance extraordinaire. We can add actor to that list too; he had movie roles, including in "Carlito's Way: Rise to Power" and the 2008 adaptation of "A Raisin in the Sun." But his breakout performance could've came in Oliver Stone's 1999 sports drama "Any Given Sunday." 
In the movie, Al Pacino stars as Tony D'Amato, the head coach of a fictional professional football team who struggles to get his squad to the playoffs. One of his many challenges lies at the quarterback position. After his starting and backup QBs suffer injuries during the same game late in the season, Coach D'Amato must call on his third-string, a young journeyman named Willie Beaman (Jamie Foxx). Beaman shines in the spotlight, awing the crowd with his superior athleticism, agility and running speed. Before the NFL's Lamar Jackson and Cam Newton, there was Mike Vick. And before Vick? Well, there was Willie Beaman.
However, the new star's ego rises along with his newfound fame. He refuses to follow the playbook and clashes with the conservative Coach D'Amato and his fellow teammates. "Any Given Sunday" is considered one of the best football movies ever made. The film allowed Foxx, then-known for his comedy, to showcase his chops as a dramatic actor, which set him up to win his first Oscar just five years later. But he was up against major competition for the role. One famous star who vied for the role of Willie Beaman was Diddy. Unfortunately for the "Can't Nobody Hold Me Down" rapper, he couldn't meet Stone's expectations on the field.
'He just didn't have the throwing ability'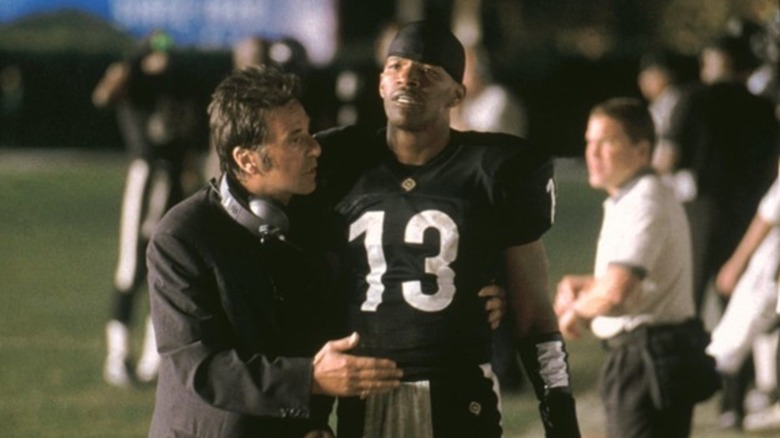 Warner Bros. Pictures
Oliver Stone, who co-wrote and directed "Any Given Sunday," played no games when it came down to casting. He wanted bonafide athletes and implemented a practical solution to separate the real from the pretenders. Bill Bellamy, who plays wide receiver Jimmy Sanderson, explained in a 2020 oral history in Entertainment Weekly:
"Oliver was like, 'The way I'm going to shoot this film, you've got to be able to do this s***.' If you lied during that interview, you were exposed, because we had to show up [and play] at USC. We were out there running with real quarterbacks, running backs, and receivers."
I guess there's this ritual in Hollywood where actors must go through the wringer to land roles in sports movies. Preparing for Love & Basketball took a toll on Sanaa Lathan before she even got the part is just one other example. When Diddy showed up to USC, Stone was unimpressed. "He was not really a natural athlete, so we waited him out," the legendary filmmaker told EW. The founder of Bad Boys Records wasn't a natural actor either, but Stone was less concerned about that. "The bigger issue was the arm," he said. "He just didn't have the throwing ability, and you can't double him, because it's going to look phony." 
Waiting for Diddy to develop that Dan Marino-like cannon of an arm proved futile and he was sent home. Jamie Foxx, a natural athlete who played quarterback in high school, got the tap instead, but Oliver maintained that Foxx was always his first choice. I doubt Diddy shed any tears about not getting the part. In '99, he had a platinum-selling album to promote and a multimillion-dollar record label to run anyway.