A Five-Minute Meeting With Ridley Scott Was All It Took To Get Matt Damon In The Martian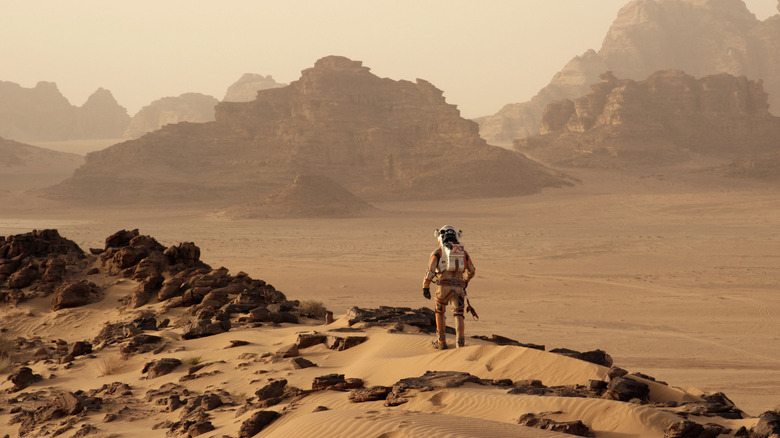 20th Century Fox
Ridley Scott made his name directing science-fiction films, but it's not a genre he latched himself to. Between 1982 and 2007, he was only involved in two sci-fi productions, and they were really just two extensions of one project: "Blade Runner," and the re-edited "Final Cut" of that film, which restored the film as he first envisioned it. 
Since the 2010s, Scott has explored science fiction more than in the preceding decades. His "Alien" prequels, "Prometheus" and "Covenant" were divisive (though I'm a fan), and the HBO Max series "Raised By Wolves" met a premature cancellation. Scott's most popular 21st-century sci-fi story was 2015's "The Martian." That film racked up a blockbuster gross and earned the director his best reviews since "American Gangster" in 2007. Contrary to its title, the lead is an Earthling: astronaut Mark Watney (Matt Damon), who's left stranded on Mars and must survive alone for 18 months. When compared to "Alien" and "Blade Runner," "The Martian" is a tonal anomaly. The story's themes are cooperation and sacrifice and it offers an optimistic glimpse of humankind's future.
Damon spoke with the Canadian magazine MacLean's shortly before the film's wide release. According to the actor, he and Scott were both so wowed by the script, they jumped into making it.
Trek to the silver screen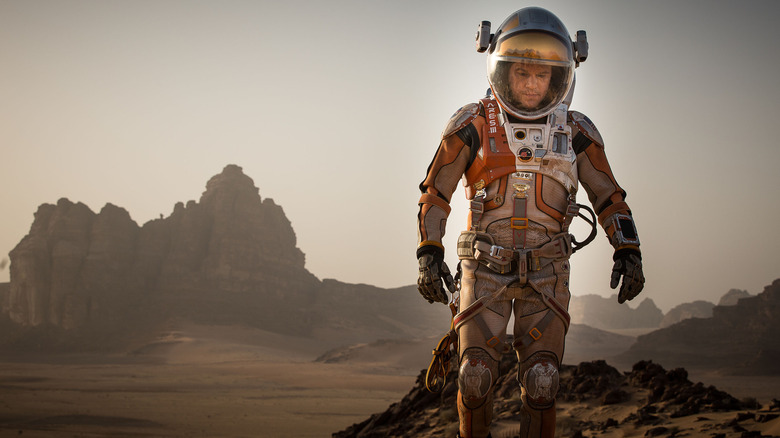 20th Century Fox
"The Martian" had a short journey from book to film. Self-published by Andy Weir, it was serialized online throughout 2011. The film rights were optioned by Fox in 2013, before it even got a print edition (that came in 2014, courtesy of the Crown Publishing Group). The project was first developed by Simon Kinberg but Drew Goddard wrote the final screenplay.
Goddard's influence comes through in the film's humor. A light touch was necessary given not only the dire straits Watney faces but all the technical detail too. Weir is a computer programmer by trade, i.e. a technical writer, not a creative one. Goddard was left with a lot of information to compress and he wishes he could've fit in even more. As he told Wired: "If I put all the good stuff on the screen, the movie would be nine hours long."
Goddard was initially set to direct the film as well. According to Damon, his plans changed when he was offered "Sinister Six." While the Spider-Man adjacent film may have been his dream job, hindsight shows he made the wrong call. Damon recounted:
"[Goddard] said, 'Well, okay, I can't do 'The Martian'. Or I can do 'The Martian' in like a year.' I said, 'Okay.' Then I got a phone call that Ridley had been sent the script and like it. I raced over and met with Ridley. It was a five-minute meeting. We sat down and he goes, 'The script is great. I mean it's f***ing great. Why the f*** aren't we making this movie?' And I said, 'I don't know!'"
Goddard wasn't disappointed with how things turned out. As he told CreativeScreenwriting.com, no one was more excited to work with Scott than he was.
Smooth sailing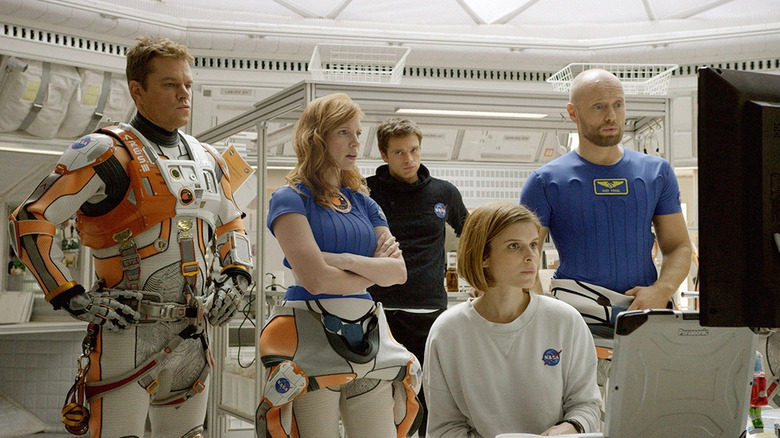 20th Century Fox
Scott first learned of "The Martian" when Simon Kinberg introduced the book to him. He's admitted that some of the technical detail was lost on him, but he thought the story's fundamentals were strong. In an interview with NME, he said, "Any survival story is always fascinating ... ['The Martian' is] a 21st-century 'Robinson Crusoe.'"
Scott's involvement was announced in 2014. With him seated in the director's chair, the project came together. The rest of the ensemble, from Damon's "Interstellar" co-star Jessica Chastain (Watney's commanding officer Melissa Lewis) to Chiwetel Ejiofor (NASA Director Vincent Kapoor) signed on in 2014 as well. Filming was spread across Hungary and Jordan, but took only 70 days.
According to Damon, Scott's gruff style didn't cause any problems on set, but if anything made things more fun:
"He does a curse a lot. He's gruff, but in a very playful way. His crew would [lie] down in traffic for him. He always works with the same guys, and they're so loyal. But you know he's sitting there at the monitor, with the headphones on, and if 15 seconds go by and nobody says anything, it's, 'Why aren't we shooting?!' He's very fun. It's like a playful drill sergeant."
Between the smooth production to the successful release, "The Martian" was a win for everyone involved. Scott found it was his least stressful production in more than 30 years. As he told NME, "The last script that landed on my desk that I didn't have to work like crazy on, until this, was 'Alien.' Everything else I've worked like stink on for months."
"The Martian" may not reach the same highs as "Alien," but it sounds like Scott had just as much fun making it.