Every Main Character In Six Feet Under, Ranked Worst To Best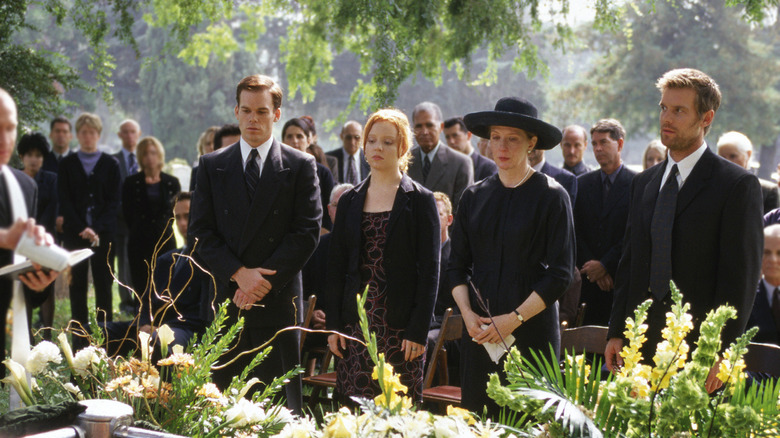 HBO
Warning: The below feature contains major spoilers for HBO's "Six Feet Under."
In 2001, Ryan Murphy had not adapted "The Normal Heart" for television. Mike Nichols had not yet transformed "Angels in America" into a six-part miniseries for HBO. While serious gay art thrived on the stage — thanks to the pioneering efforts of writers like Tony Kushner, Larry Kramer, and Terrence McNally — television offerings were bleak. For those looking for legitimate queer representation on television, a sassy guest star was often the best they got. Thankfully, "Six Feet Under" came along and changed the landscape.
"Six Feet Under," a show about death, has taught me everything about life. I continue to learn from the five-season series, even seventeen years after its daring and unforgettable conclusion. Over numerous rewatches, I switch allegiances. Some years I'm a Brenda (Rachel Griffiths), a David (Michael C. Hall), a Nate (Peter Krause), and recently, a Ruth (Frances Conroy). The Fisher fam transcends weirdness to teach us about getting along in this world that's difficult and messy but preferable to death. During its run, Alan Ball's masterpiece won numerous awards, including a Peabody Award in 2002. The series boldly weaved stories that weren't being told in 2001 — gay stories, non-white stories, and elders' stories. While it was never the juggernaut of its contemporaries "The Sopranos" and "Sex and the City," "Six Feet Under" ripens with time. If you haven't gotten the chance to watch it yet, check it out now! Then, come back here, and dive into the characters you'll come to love (and hate) in "Six Feet Under."
12. George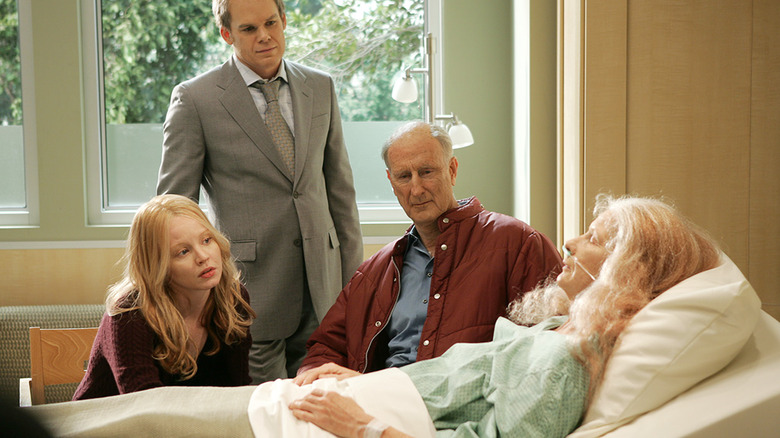 HBO
At the end of season 3, Ruth is the loneliest she's ever been in the series. There is no Hiram (Ed Begley Jr.), no Nikolai (Ed O'Ross), and (thankfully) no Arthur (Rainn Wilson). So when she meets the lonely George Sibley (James Cromwell), who lost his glasses, it seems inevitable that the two would get together. The speed of their wedding nuptials is one of the stranger parts of the show: Was it because of a tight season full of big storylines? Or did Ruth and George want to get things moving that quickly? Their wedding is sweet nonetheless, and as the audience, we think Ruth might settle down with George. He doesn't seem like the most complex man in America, but he presents himself as stable, and Ruth has been through enough.
In season 4, we learn more about George's background. Surprises reveal his dysfunctional past, which should make him fit in more with the Fishers, but it doesn't. Even as he replaces the old Formica table in the kitchen, George is at odds with the other Fishers. Despite his problems, he strives to represent normalcy. He constantly combats his new family's peculiarities, which makes him exhausting (and the worst) to be around.
11. Lisa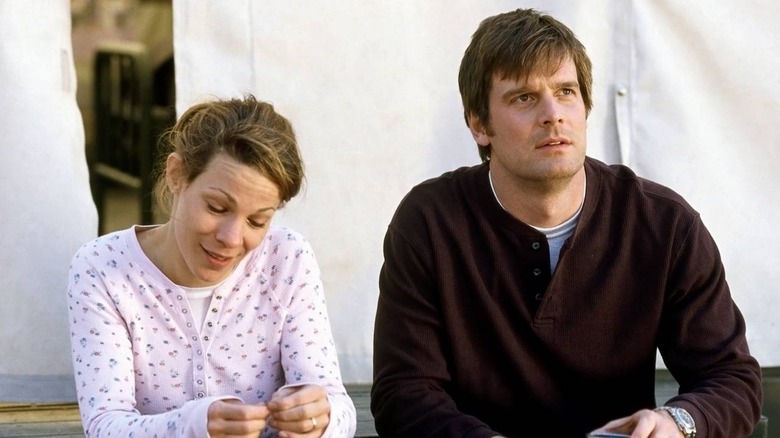 HBO
Lisa (Lili Taylor) is a tough character to watch because there's more Lisa in us than we might willingly admit. She's Nate's best friend and is in love with him — even as he sleeps with other women and doesn't see her as anything more than an environmentally-conscious vegetarian. After one night of desperate passion and need, she learns she's pregnant with Nate's baby. While she doesn't plot to ensnare Nate, things become messy. By season 3's time jump, they're married and living in the carriage house behind the Fisher and Diaz families. For most of the season, petty squabbles dominate their conversation. They have none of the passion Nate shares with Brenda. Their representation represents obligation, responsibility, and mistakes made right. While it's a compelling story arc, it doesn't make for an exciting role for the phenomenally talented Lili Taylor.
Her disappearance late in season 3 is the most exciting development in their relationship. We see Nate confront his conflicting feelings about her eventual death while slowly learning that Lisa was living a double life. I would have loved to see more scenes of Lisa's affair with her brother-in-law, but I'm not about to offer editorial feedback to the creators of "Six Feet Under." Instead, I will say this: I like Lisa, but she never got a fair chance. She was never a Fisher, not really.
10. Billy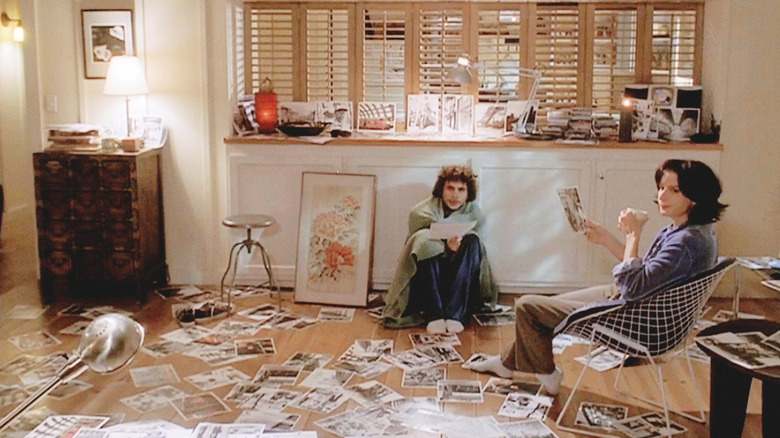 HBO
While Tony Soprano (James Gandolfini) and Dr. Melfi (Lorraine Bracco) were shining a light on anxiety and panic attacks, "Six Feet Under" was having tough conversations about depression, mania, and bipolar disorder. The Fishers may experience their share of mental health issues throughout the series, but no one suffers more from mental illness than Brenda's brother Billy Chenowith (Jeremy Sisto). When we meet him in season 1, he's regularly going off his meds and engaging in dangerous and risk-taking behavior — going so far as to date the underage Claire (Lauren Ambrose). His behavior escalates: he stalks Brenda and Nate, then attack his sister, which puts her in the difficult situation of having his care elevated.
From one perspective, Billy is an antagonist, trying to break up Nate and Brenda. His dangerous behavior adds an element of horror to the genre-blending series. In later seasons, he transitions into an almost-anti-hero. His relationship with Brenda has a submerged romantic approach that is as cringy as it is compelling. Still, Billy's journey represents visibility for mental health issues — long before Lady Gaga advocated for it. "Six Feet Under" refused to tie a bow on complicated relationships. Although that makes for realistic television, it makes Billy's story much sadder and harder to watch unfold.
If you or someone you know needs help with mental health, please contact the Crisis Text Line by texting HOME to 741741, call the National Alliance on Mental Illness helpline at 1-800-950-NAMI (6264), or visit the National Institute of Mental Health website.
9. Margaret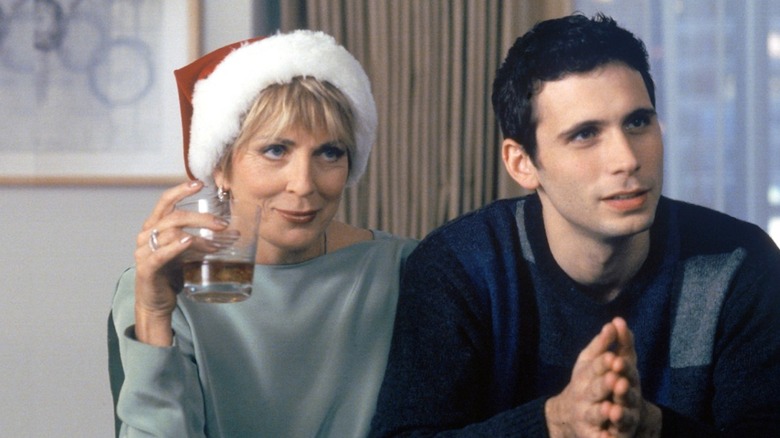 HBO
If "Mommie Dearest"-era Joan Crawford was a therapist, she would be Margaret Chenowith. Although the legendary Joanna Cassidy was never part of the main cast, her supporting appearances as Margaret consistently added a flourish to "Six Feet Under." Margaret possesses an unrivaled ability to get under everyone's skin, particularly Brenda. She is hyper-sexual, outrageous, and always showing off. If anyone in the series were to legitimately get a spin-off, it should have been her. She'd rank higher on this list too if she was a series mainstay.
During her initial appearances, Margaret comes across as intelligent, evolved, and bold. She represents the millennium while Ruth and her many aprons live comfortably in the past. Margaret's evolution is one of the most exciting parts of the series. After losing her husband, she embraces a sense of abandonment that makes her more comparable to Sharon Stone in "Casino." I look forward to any family dinner that Margaret finagles an invite to because you can rest easy knowing she will make the repressed Fishers feel uneasy. No matter how outrageous her behavior, Margaret always keeps her stilettos in reality. We all know someone with Margaret's energy, and we're a little obsessed and terrified of her.
8. Federico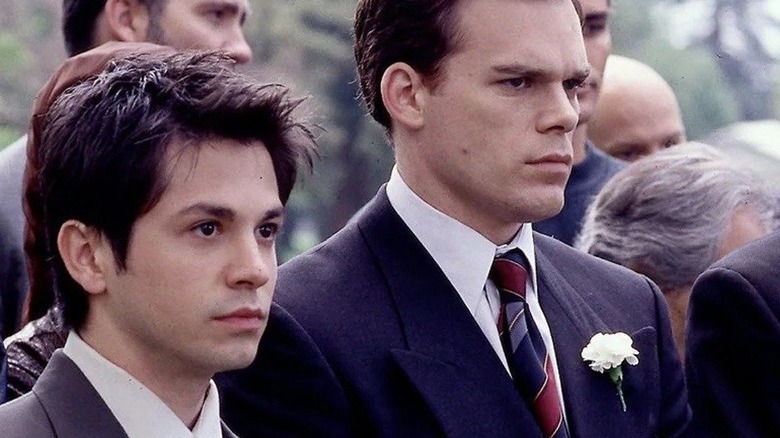 HBO
I love Federico (Freddy Rodriguez). When we first meet him, he is the star restorative artist at Fisher and Sons. He's an easy-going family grateful to the departed Mr. Fisher (Richard Jenkins) for putting him through school. But Federico's presence is often at odds with the Fishers. He finds David and Nate to be tiresome employers. When they deny him a partnership, he goes to work for a mega-corporation of funeral homes. Then there are moments when he appears critical of David's sexuality, a sentiment that immediately positions him in an adversarial role. However, it also adds layers of complexity to his character. He's not exactly the worst, but he too needs to evolve more.
Acceptance and equality are not concepts that are immediately embraced, even for someone like Federico who encounters his share of discrimination. In an early season 1 episode, David and Nate seek Federico's help in organizing a gang funeral, assuming he would know about that sort of thing. He doesn't, but he helps the Fishers anyway. It's an exciting moment to watch, as two characters struggle to understand each other. The episode's lessons are numerous — especially in today's vitriolic climate.
7. Nate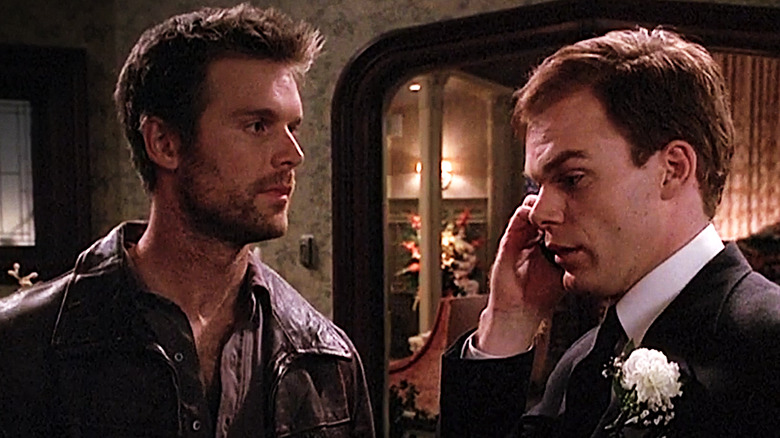 HBO
When I first watched "Six Feet Under" as a twelve-year-old, I looked up to Nate. I longed for the day when I would go on long meditative runs, sleep with Rachel Griffiths, and talk regularly with dead people. Nate exudes existential dread, and I wanted to eat it all up. He is the ultimate aimless wanderer — a casual observer of nature, eastern philosophy, and lazy spirituality. If Nate existed today, he'd buy crystals without knowing their names (or how to cleanse them) and purchase his sage at CVS. His father's death gives Nate the direction he didn't understand he needed. His evolution as a funeral director never gets old to watch. If anything, it makes us weirdos at home Google, "How does one become a funeral director?"
No one in the series lives with the threat of death like Nate. In earlier seasons, he navigates his father's passing. But after his diagnosis in season 2, Nate learns that his death will always worry him, and his brain might be a ticking time bomb. His tumultuous relationship with Brenda could be tiring — though I rooted for them. It made it all the more crushing and disappointing when Nate chose to be with Maggie on the night he died.
Nate is the first Fisher I related to in the series. While today I share more of a connection with other characters, I admired Nate for welcoming me into this morbid world, allowing me to appreciate life more.
6. Vanessa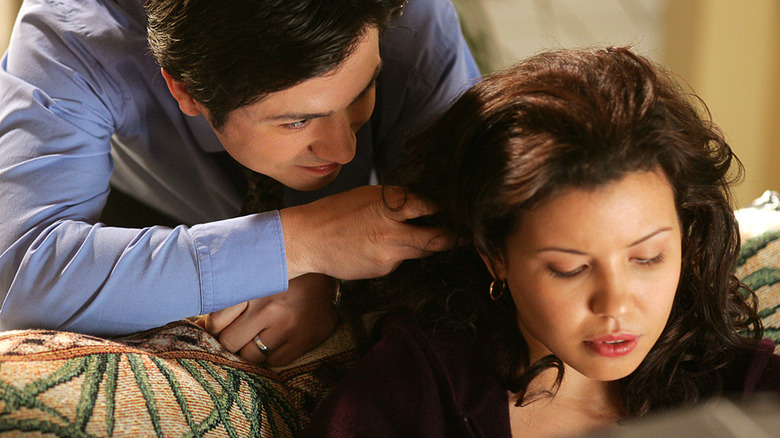 HBO
Justina Machado is one of the hardest-working actresses in America. She seems to be in everything I watch — from "Final Destination 2" to "Dancing with the Stars." In "Six Feet Under," her presence was always refreshing. She plays Vanessa, Federico's wife, an overworked nurse, and a mother advocating for her family. She pressures Federico to stand up to the Fishers, take the job with Kroner, and push to become a partner at the funeral home. More often than not, Vanessa is a tornado. But her perspective is more akin to the audience. She knows just how spooky the Fishers are. Even though she's a nurse and her husband works with corpses for a living, she firmly believes her life is run-of-the-mill and nothing like the Fishers. She draws an intriguing (and hypocritical) line in the sand — calling out the Fishers for being weird even if she shows up to someone else's wake to see her husband's work.
As the series progresses, we see more of Vanessa. However, it's never as much as I wanted to see in "Six Feet Under." Similar to Margaret, she's a ball to have at the Fishers' family dinners. In a sea of insanity, she knows exactly who she is and what she wants. At times, this makes her more exciting to watch than the openly wacky George, Billy, and Margaret.
5. David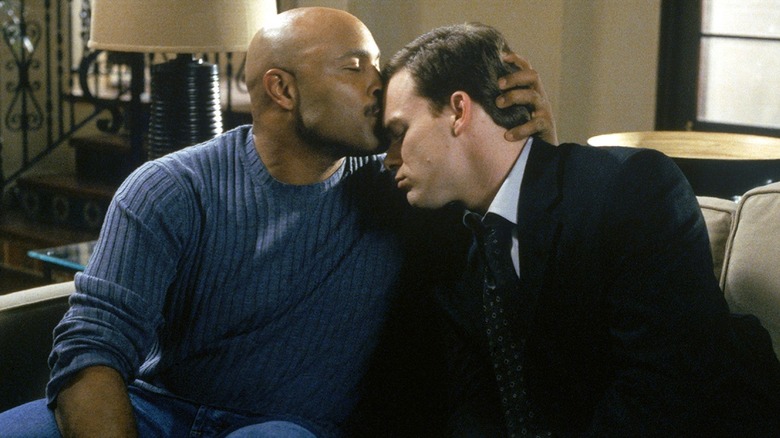 HBO
When I first watched "Six Feet Under," I didn't know I was gay. David's onscreen homosexuality did not instantly catch my attention. It made me uncomfortable. Rewatching the series as an out and proud gay person, I fell in love with David's struggles to accept who he was. David's arc is so exciting because he was coming out when being queer wasn't illegal (which it was in America until 2003), but it still wasn't wholly accepted.
Throughout the run of "Six Feet Under," David comes out, engages in high-risk behavior, settles down, and becomes a dad. David's journey was revolutionary in its simplicity. He was never trying to be the first overtly gay man on television or represent the first gay character to have a happy marriage. David was living out a queer existence in a way that was both educational and inspiring to the viewers. An outlier episode where David becomes subjected to an evening of terror is one of the series' most harrowing ones. However, it's a testament to David's resiliency, and he earns a higher spot on this list for his complexity and moving journey.
If you or a loved one has experienced a hate crime, contact the VictimConnect Hotline by phone at 1-855-4-VICTIM or by chat for more information or assistance in locating services to help. If you or a loved one are in immediate danger, call 911.
4. Brenda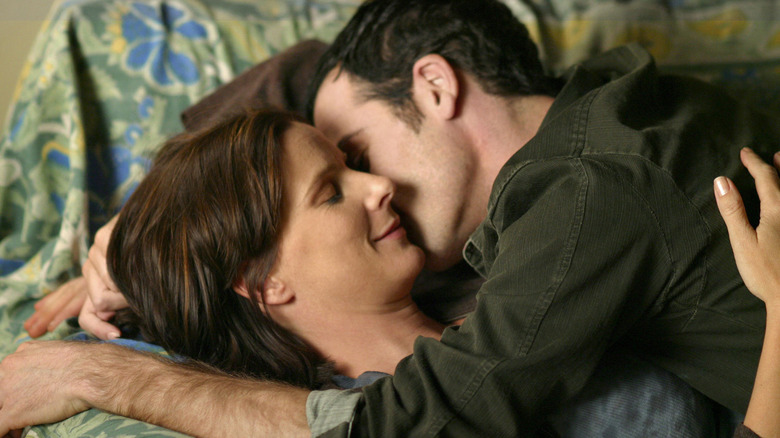 HBO
Whether having sex in an airport bathroom or writing a steamy novel about her dalliances, Brenda is a one-woman sexual tornado. At times, her dangerous behavior is alluring. Other moments — especially when she loses everything — it's tragic. It's compelling watching her rebuild her life and find a new purpose as a mental health counselor. As an outsider to the Fisher clan, Brenda often represents a wrecking ball. Her upbringing was not so tight-laced: Her parents were, if anything, too open about sexuality. These differences make her an immediate foe to matriarch Ruth, a slow-burn feud that simmers throughout the show's run. Her and Ruth's conflict is partially why the final episodes' stakes are so high.
Brenda is one of the first characters I watched on television who made realistic mistakes. As Brenda's life implodes at the end of season 2, it doesn't feel like the plot of a television show. When Nate learns about the affairs, their breakup could have felt like any fight scene on a primetime soap opera. But it didn't. It felt raw and unsettling. Brenda is comfortable with her truth: She doesn't believe she's an easy person to love. Watching her evolve in the series, I wished her final moments were not spent with Billy — even if that's what she wanted after all.
3. Claire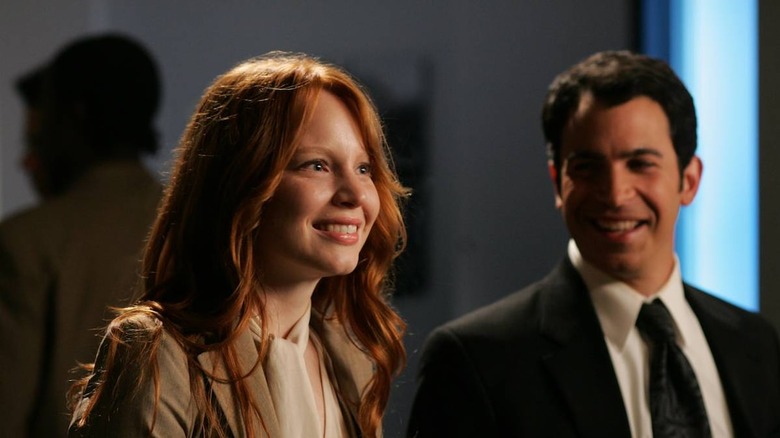 HBO
From the moment she swiped a foot, Claire Fisher (Lauren Ambrose) stole our hearts. Her bratty adolescence was often intolerable to sit through — even as it was highly relatable. (Although I've never stolen any body parts to get back at a lover!) However, the youngest Fisher is often left out of events. She questions if Ruth likes her as much as she does her brothers. Based on the fairly large age differences between her and her brothers, it's possible Claire wasn't a planned pregnancy. 
Claire's desire to be wanted manifests in different ways — elevated drug use or dating Billy. Claire is an artist, even before she learns what kind of artist she wants to become. Her character arc is fascinating. She spends most of the series finding her footing, which had me wondering what would happen to her in the final season.
After her successful art exhibition in season 4, Claire hits a series of rock bottoms — like when she crashed that beautiful green hearse. But she refocuses her life. What I love about her final storyline is how real it feels. She gets a job offer in NYC that falls through, but she still leaves home anyway. Other shows might tie a bow on a character's arc and give her a promotion, but Claire loses and still decides to try again. She might not be as resilient as David, but she is the bravest Fisher and that rises her up the ranks on this list.
If you or anyone you know needs help with addiction issues, help is available. Visit the Substance Abuse and Mental Health Services Administration website or contact SAMHSA's National Helpline at 1-800-662-HELP (4357).
2. Keith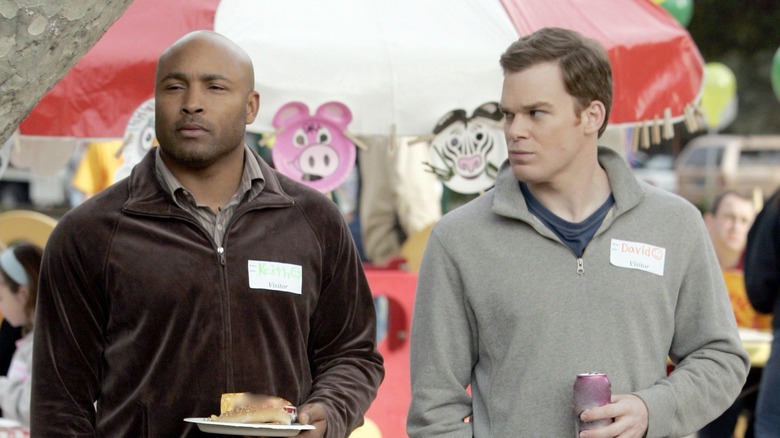 HBO
Oh, Keith (Mathew St. Patrick). He puts up with a lot. When we first meet this hunky LA police officer, he's happy-ish in his relationship with the still-closeted David. That gives him bonus points from the jump. Few people as available and well-grounded as Keith would be okay dating someone who wasn't only closeted to his immediate family but also ashamed about his sexuality. They face problems almost from the jump: David won't stand up to bullies in public, nor prioritize Keith, and wants to be a deacon at a less progressive place of worship. Keith always faces an uphill battle with David, which makes it so believable when he breaks up with him midway through season 1.
When they inevitably get back together, it is not sunshine and roses for Keith. He has his share of problems: his sister has a substance abuse problem, his parents are domineering, and a bad call at work forces him to resign from the force. That's before Keith navigates David's later-season trauma after the kidnapping. Keith never stops fighting for what he wants and who he loves, which makes him one of the best characters in the series. 
But the curse of Keith is that because he is so well-grounded and noble, he often gets lost in the shuffle of other popular characters. Well, I am here to spread more love for Keith! He wasn't born into the Fisher family, but he chose their world, and that might be the wildest thing anyone has ever done on "Six Feet Under."
If you or anyone you know needs help with addiction issues, help is available. Visit the Substance Abuse and Mental Health Services Administration website or contact SAMHSA's National Helpline at 1-800-662-HELP (4357).
1. Ruth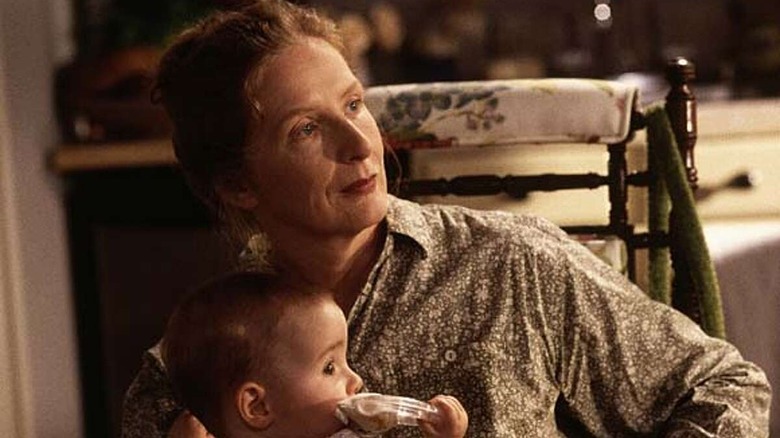 HBO
In the series finale, Claire thanks Ruth for giving her life. Ruth humbly replies, "You gave me life." Of all the Fishers, Ruth is the most sensitive and dynamic family member. Despite being the oldest, she is the most willing to grow over the show's five seasons. We first meet Ruth as a nagging housewife, preferring aprons to gowns, nibbles of carrots to sips of martinis, and a rigid way of life. When she learns her husband died, she throws a pot roast on the floor and wrecks her kitchen. Her anger and sadness resonate throughout the series. She is the most relatable Fisher. She navigates depression, loneliness, and the awkwardness of dating in your elder years. She does her best to make sense of a world in constant motion. Her response to learning David is gay is to read a book about coming out. She is resourceful, practical, and lovable — even though she lives what some might describe as a pathetic existence.
Played by the supremely talented Frances Conroy, Ruth is the Fisher I identified with most on my recent rewatch. Always weird and willing to expand her horizons, Ruth is the best character in "Six Feet Under." This list was hard to make with characters as beautifully weird, moving, and morbid, but she is the show's humble, beating heart.