Oliver Stone Cut A 'Rare' Deal With Warner Bros. To Keep JFK's Sprawling Runtime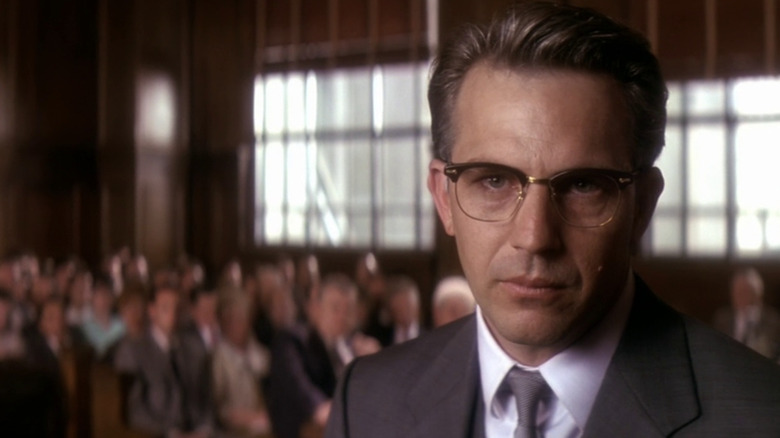 Warner Bros.
Oliver Stone's "JFK" centers on Jim Garrison (Kevin Costner), a New Orleans District Attorney who digs into the assassination of President John F. Kennedy, which he believes was perpetrated by a cabal that includes the CIA, FBI, and the Secret Service. That claim alone was bound to ignite a firestorm of controversy, but the director added even more fuel to the flames by blending archival footage of historical figures with his own reenactments, which led The Chicago Tribune to dismiss the film as "a propaganda piece." Thirty years after its release, the movie continues to be controversial, and journalists still feel compelled to debunk it.
Like most of Stone's films, the content of "JFK" pushed the envelope far beyond what some believed was appropriate or respectable, but it also challenged the 120-minute rule. According to Overthinking It, there's a long-standing myth in Hollywood that audiences' attention spans top out at two hours. That belief has caused studios to chop movies down to 120 minutes, even if the director believes the quality of the film is compromised by the cutting. With the exception of "Born on the Fourth of July," which has a runtime of 2 hours and 25 minutes, all of Stone's films prior to 1991 clocked in at or just below the industry standard. 
Warner Bros., however, gave Stone more leeway with "JFK." In an interview with Screenrant, Stone revealed that the studio originally agreed to a runtime of three hours for "JFK," but offered him a "rare" deal after the final cut and left the movie's runtime at 3 hours and 10 minutes. 
A controversial film, and not just for its runtime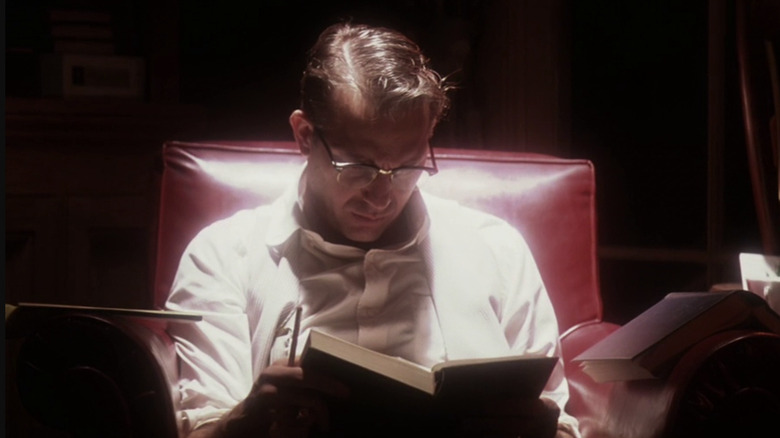 Warner Bros.
Stone never claimed that his presentation of events in "JFK" was accurate, but he hasn't moved away from JFK-related conspiracies over the decades. In an interview with the LA Times in 1991, he said he saw the film as an opportunity to "shape a counter-myth to the one the Warren Commission put out." Whether he accomplished that is up for debate, but Warner Bros. was more than willing to let him try.
The studio not only approved the three-hour epic but also allowed the final cut to run 10 minutes longer because, according to what Stone told Screenrant, "they saw the film and they felt it really worked." 
Looking back, however, Stone admits he might have gotten long-winded:
"In hindsight, I could have cut some stuff, I thought it was true. At that time, I was struggling to convince, so perhaps I went overboard and told too much information."
Stone and Warner Bros.' decision to break the 120-minute standard was ultimately overshadowed by the film's controversial content, with critics often only mentioning the runtime as further proof that Stone's film is a self-indulgent failure. 
The film's length didn't escape the notice of Spike Lee, however, who wanted to explore the life of another prominent historical figure.
How long is JFK again?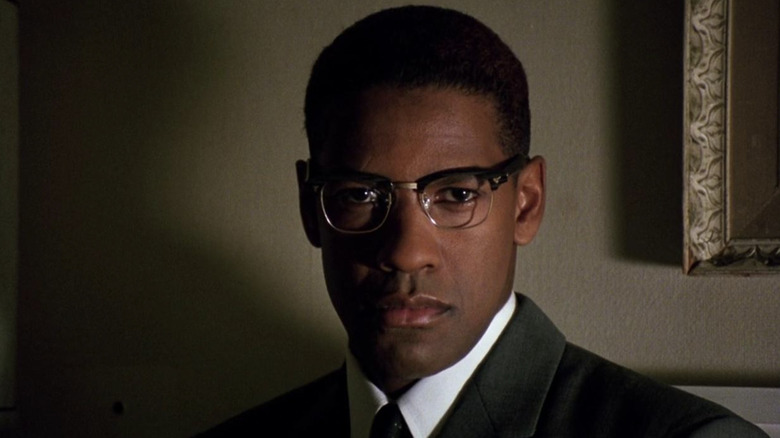 Warner Bros.
Four months after the release of "JFK," the media focused their attention on the next potentially controversial movie in the works at Warner Bros. — Spike Lee's "Malcolm X," starring Denzel Washington. Washington was already hyping audiences for the movie months before its release and publicly declared that it was "going to be the most controversial film of the decade."
Behind the scenes, Lee was fighting with the studio about the movie's length. In a 2022 interview with IndieWire, the director recalled the debate over the film's runtime:
"[Warner Bros.] didn't think it needed to be three hours. But I knew when we were shooting that Oliver Stone had 'JFK' coming out, and I asked Bob [Daly], 'How long is 'JFK'?' He said it was two hours. He didn't know that Oliver and I were friends, so I called Oliver and asked him, 'How long is 'JFK'?' He said, 'Spike, it's three hours, but don't tell 'em I said so!'"
Lee argued that his film deserved the same length as Stone's, but Warner Bros. refused and allowed the movie's insurers to cut the film's approved runtime to 2 hours and 15 minutes. Lee told IndieWire he was only able to push the film's length to where he wanted it once he received financial support from notable Hollywood players like Peggy Cooper Cafritz, Tracy Chapman, Janet Jackson, Oprah Winfrey, Prince, Magic Johnson, and Michael Jordan.
Critics were much more receptive to "Malcolm X" than "JFK." The film led Roger Ebert to proclaim that Lee is "one of best" and "most crucially important" directors in the United States. "JFK" may have set the stage and primed audiences for long, controversial films about historical figures, but Lee is the one who stole the show.