Hunter S. Thompson Was Hard To Handle During His Fear And Loathing In Las Vegas Cameo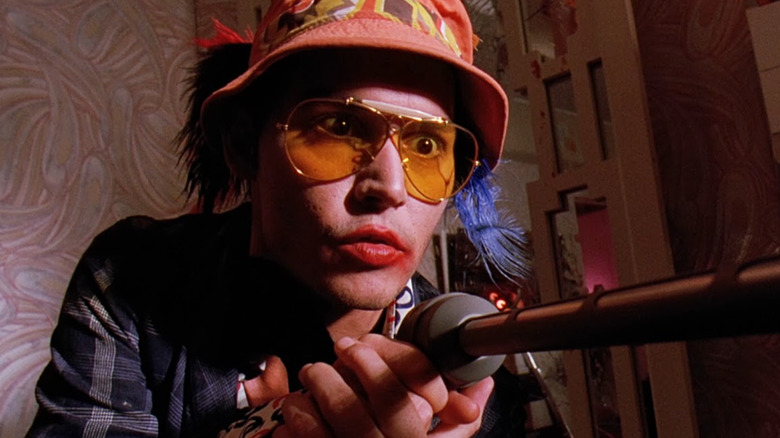 Universal Pictures
Watching Terry Gilliam's 1998 film "Fear and Loathing in Las Vegas," based on the novel by Hunter S. Thompson is, in 2022, a fraught experience. 
For one, a viewer must contend with their views of star Johnny Depp, recently exposed in a high-profile domestic abuse case. Additionally, director Terry Gilliam has, in recent years, said some notorious things in the press. In 2020, he called #MeToo a "witch-hunt," he once downplayed the crimes of Harvey Weinstein, and, all the way back in 2009, signed a petition pleading to exonerate Roman Polanski. This was all in addition to reports of Gilliam terrifying a young Sarah Polley on the set of "The Adventures of Baron Munchausen." Polley, however, has since given her blessing to enjoy the movie. 
Additionally, "Fear and Loathing in Las Vegas" is — by design — incredibly difficult to watch. It's a noisy, chaotic film with two protagonists who are constantly zonked out on any number of drugs. The world is a swirling, vomit-colorful miasma of horror seen from the eyes of Raoul Duke (Depp) and Dr. Gonzo (Benicio del Toro). While chemically altered, the two descend upon Las Vegas in what is a Dante-like sojourn into a chintzy, booze-soaked Hell. 
Like all of Gilliam's projects, "Loathing" was beset by multiple production problems, not least of which was an argument as to which screenplay would be used. The script is credited to Gilliam, Tony Grisoni, Alex Cox, and Tod Davies, but the one used for the film was only penned by the former two in ten days. The first version of the script by Cox (director of "Repo Man") and Davies (a Hunter S. Thompson scholar) was thrown out over creative differences, and Cox was fired prior to production. There was brief confusion as to the correct script. 
Working with Uncle Duke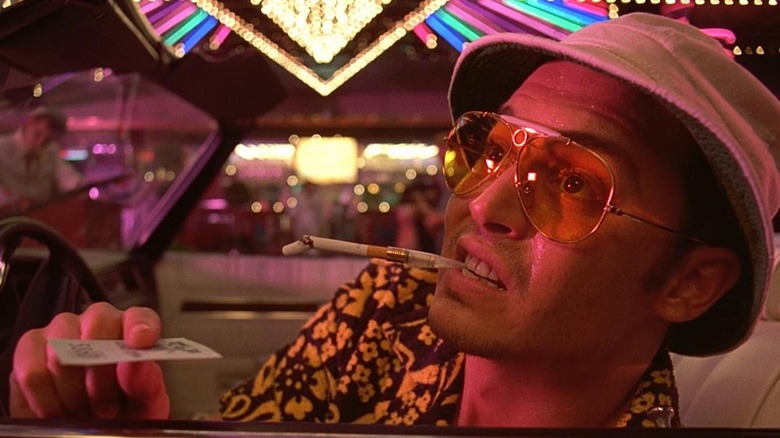 Universal Pictures
"Fear and Loathing in Las Vegas" involved a great number of recognizable actors in small parts. Christina Ricci appears as a young artist. Tobey Maguire plays a nervous hitchhiker. Christopher Meloni has a notable scene as a vengeful hotel clerk. Ellen Barkin has to endure Thompson's indignities as a diner waitress. Penn Jillette screams for a moment. Even Debbie Reynolds has a brief voice cameo as herself. 
In the film's most adorable cameo, author Hunter S. Thompson appeared as himself in a key flashback scene. Depp is wandering through a wild, acid-laced hippie party in 1965, listening to Jefferson Airplane and taking in the ambiance. "I recall in one place called the Matrix," he narrates. "There I was ..." he begins, but is interrupted. He immediately walks past Thompson, sitting at a table nearby. "Mother of God! There I am!" The famed counterculture journalist leans forward and eyeballs Johnny Depp carefully for a moment, then the scene continues. 
In a recent video interview for Entertainment Weekly, Gilliam talked about Thompson's cameo and how he, on top of everything else, made production difficult. Evidently, Thompson was given to fits of egomania and would throw food. It took a prurient bribe to get the author to cooperate. Gilliam said of the day Thompson was on set was: 
"Horrible. Because Hunter has to be the center of attention. And there we were — Harry Dean Stanton was there that day, and Hunter was throwing bread rolls around the set all the time. And finally we had to get him in for his scene. I put the best-looking of all the female extras on his table, and [whoosh], there he was."
Not flattering, but perhaps effective.
The many Dukes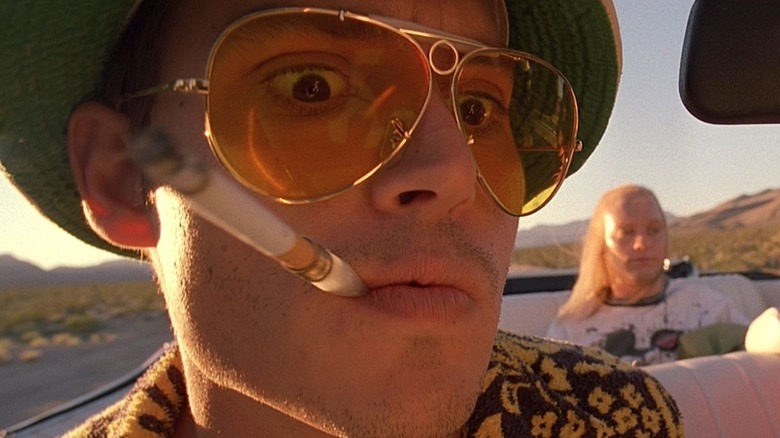 Universal Pictures
"Fear and Loathing in Las Vegas" is one of only two times that Thompson appeared on screen as an actor. In addition to "Loathing," Thompson also had two cameo appearances on the TV series "Nash Bridges" in 1996. He played a piano player. He did, however, appear as an interviewee in over 20 documentary films, commenting on his work or language in general.
Anecdotally: This author once had the privilege of talking to the filmmakers behind the 2005 documentary "F***," a comedic history of English's most notorious cuss word. It was released shortly after Thompson's death. Thompson appeared in that film to talk about the nature of cussing, but offered little insight, more often spitballing ideas about cuss words in general and never finding a thesis. The filmmakers said that the entire Thompson interview was very much the same, with the author rambling more than speaking. It seems that the man who pioneered gonzo journalism wasn't so eager to take direction. 
Thompson also regularly appeared in the comic strip "Doonesbury" as the amalgam character Uncle Duke, and Bill Murray played the author in the 1980 oddity "Where the Buffalo Roam." One might do well to read Thompson's work prior to seeing any of the films based on it. One might find a strange, embittered, disappointed idealism underneath.