The Most Difficult Scene Of Henry Cavill's Career Was That Mission: Impossible Helicopter Chase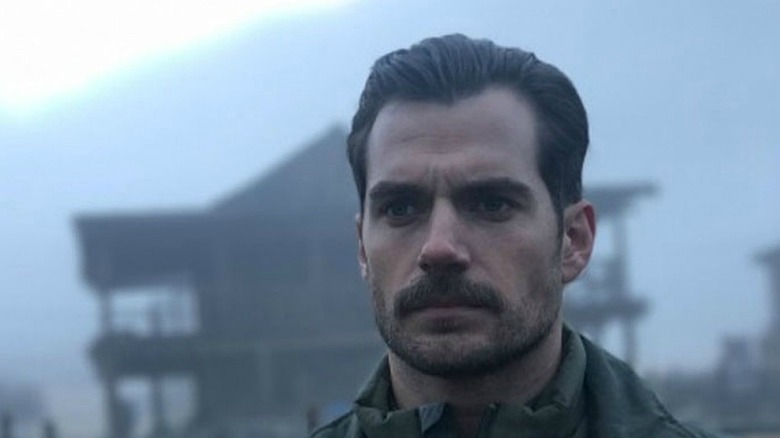 Paramount Pictures
Henry Cavill is an action star, no stranger to big blockbusters, having had roles in the DC Universe as Superman and his appearance in "Mission: Impossible — Fallout," the sixth entry in the popular franchise. Then there's "The Witcher," where swordfights are prevalent, which pushed Cavill to undergo strenuous training.
Cavill has filmed quite a few challenging scenes throughout his career — Superman required him to hang in mid-air, and Geralt needed him to learn how to handle a blade. But the most brutal scene of the actor's career was the helicopter chase in "Mission: Impossible — Fallout."
A difficult but rewarding scene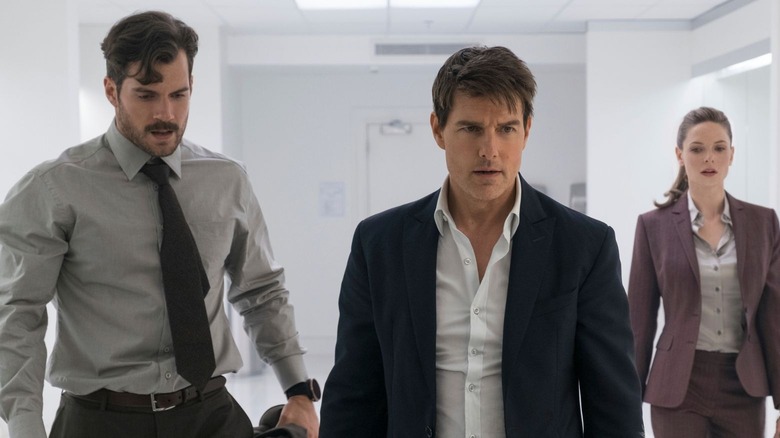 Paramount Pictures
Besides sporting a pretty-badass mustache (and performing an arm-cocking moment that destroyed moviegoers), Henry Cavill's appearance in "Mission: Impossible — Fallout" was neat. Cavill starred as the duplicitous character August Walker who turns out to be the film's main villain. During a press tour for "Enola Holmes 2," Cavill spoke with Collider about the most challenging scene of his career: the helicopter chase in the "Mission: Impossible" film that required him to film in freezing temperatures and fire a machine gun.
The film's final act pits "Mission: Impossible" veteran Tom Cruise's Ethan Hunt against Henry Cavill's August as he attempts to retrieve a detonator set to cause a nuclear explosion. What results is a thrilling, picturesque helicopter chase. The "Man of Steel" actor revealed that the scene was physically demanding and took nearly two weeks to film, describing it as one of the most thrilling yet challenging experiences of his career. Cavill was flying over the Southern Alps in winter and firing blanks from his machine gun while sticking his face out in the raging wind. He couldn't hear his crew over the sound of the wind and had to make do with keeping track of Cruise's helicopter. Judging from Cavill's words, it sounds incredibly harsh.
"It was so extremely cold, literally above the Southern Alps in winter, with the doors open on a helicopter. I'm sticking my face into the wind and firing blanks, with all sorts of stuff flying back at me, and just doing it over, and over, and over again," the actor shared.
'It was so worth it'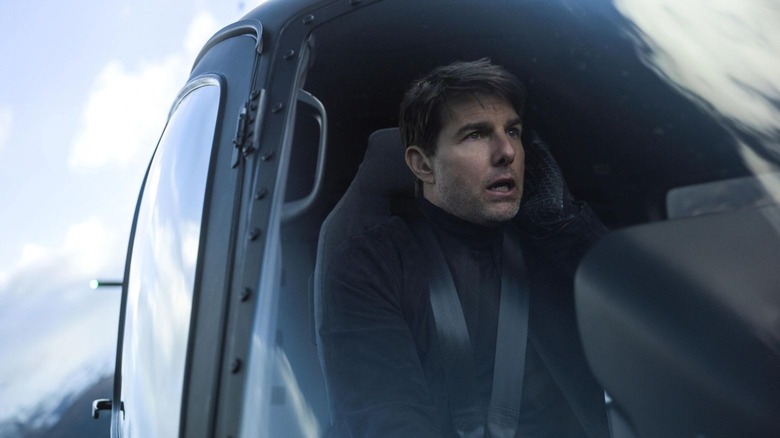 Paramount Pictures
Cavill added:
"[I was] completely deaf, just waiting for the pilot to scream something inaudible and do this [gesture], which meant we are rolling. So I had to then just keep on acting with my head out the window until I assumed that they had stopped shooting. So I was watching either Tom [Cruise] 's helicopter in front or behind, and watching the camera ship as well, to see when the camera ship pulled away and did its own thing. I was like, 'Okay, I think that means I can sit back in now.' I'll do that for 40 minutes, then land, and then sit by a little Red Rad heater, warm my hands up. Within a half an hour they're like, 'Right, we're refueled. Let's go again.' It was just having to suck it up and do that for at least two weeks. That was rough, but I absolutely loved the sequence, and it was so worth it."
In the finished scene, Cavill's character is seen hanging out the side of a helicopter as he evades being chased by Cruise's Ethan Hunt. The duo swerve past rocky mountains and try their level best to injure the other: and it is easily one of the film's best moments. "Mission: Impossible: is known for its death-defying stunts, often performed by Tom Cruise himself. The franchise's refusal to use CGI has often resulted in one too many over-the-top action chases — whether on a motorcycle or a helicopter, and this is one of the greatest of them all!