David Zucker Explains Why There Was No Improvising In The Naked Gun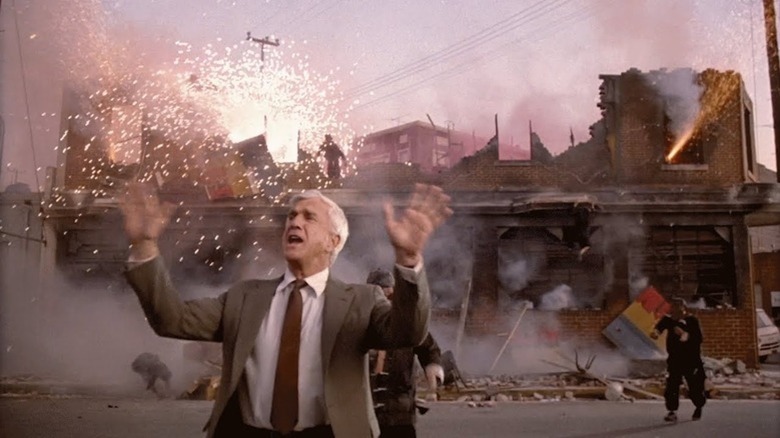 Paramount
When the now disbanded ZAZ trio of David Zucker, Jim Abrahams and Jerry Zucker were on their spoof game, they belonged to a very exclusive club that, to this day, includes only Mel Brooks, Carl Reiner and Monty Python. Their parody run of "Kentucky Fried Movie," "Airplane!," "Top Secret!" and "The Naked Gun: From the Files of Police Squad!" remains unmatched. And while they were likely too talented to miss the mark in their heyday, it's difficult to imagine them drilling the bullseye so emphatically without the deadpan genius of Leslie Nielsen.
When Nielsen was cast as the unflappable Dr. Rumack (we never got his first name, but we know it isn't Shirley) in "Airplane!," he was best known for his stolid performances in films like "Forbidden Planet," "The Swamp Fox" and "The Poseidon Adventure." He provided instant, deathly serious gravity to every scene he entered. He was no one's idea of a comedic dynamo, which is why he was perfect for the part of Rumack. ZAZ needed the most humorless actor on the planet to betray not a hint of irreverence when delivering the line "Yes, I had the lasagna."
Everyone is great in "Airplane!," but Nielsen was the clear breakout. His career was transformed overnight. Gag-a-second parodies were suddenly the big thing, and everyone wanted the man Roger Ebert would one day proclaim "the Olivier of spoofs." And yet what many of these filmmakers didn't realize was that Nielsen's brilliance wasn't one of in-the-moment invention, but rather a strict adherence to the script.
Surely you can be serious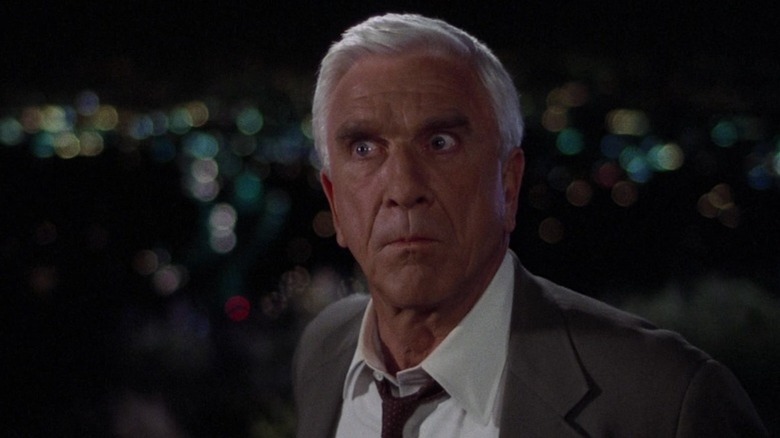 Paramount
Over the years, Nielsen's collaborators would reveal that he was an irrepressible prankster on the set. He carried around a fart machine, which he used to embarrass himself and/or unsuspecting bystanders. But when it came time to shoot a scene on a film like "The Naked Gun," Nielsen quit clowning around and took his comedy very seriously. As Jerry Zucker told Little White Lies' Simon Bland in 2018:
"There was no improvising on set. [Nielsen] knew where the joke was and knew better than to mess with the style, try to wink or be funny. He absolutely trusted me and never tried to gild the lily. We purposely used straight actors in all roles and the humour came from behind the camera. Jerry, Jim and I would fight over every word and if you look at the speeches in the script, there's nothing over six lines. There's a certain rhythm to them. When Leslie died, they quoted dozens and dozens of great lines and they were all written by [ZAZ collaborator] Pat Proft."
Who's the next Nielsen?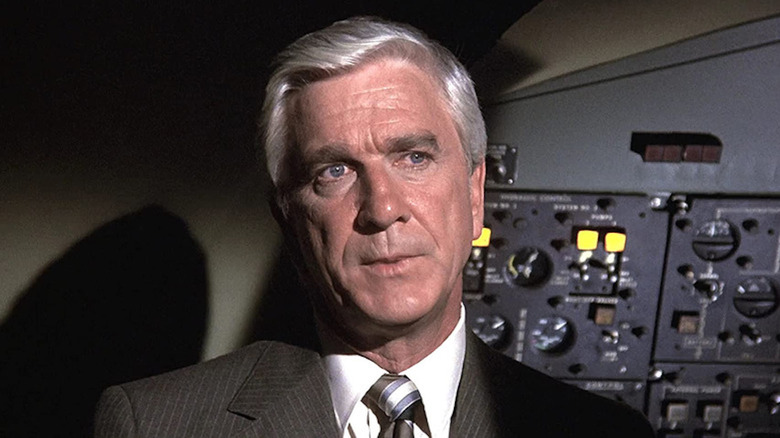 Paramount
To be fair, Nielsen did a good deal more mugging in the last two "Naked Gun" movies than he'd done previously for the Zuckers. In Proft-scripted films like "High School High," "Mr. Magoo" and "Wrongfully Accused," he leaned into the jokes rather than play them as straight drama. But these were broad, winking spoofs that demanded a less straitlaced approach. And while they're nowhere near as funny as Nielsen's '80s work with ZAZ, he adroitly delivered what the material asked of him.
42 years after the theatrical release of "Airplane!," gifted comedy filmmakers are still attempting to reach the spoof heights of prime ZAZ. Some have come very close (particularly the Lonely Island team with "Hot Rod," "MacGruber" and "Popstar: Never Stop Never Stopping"), but is there a serious actor out there today capable of using their particular set of dramatic skills in the service of an unrepentantly serious parody? It appears we're going to find out in the near future when Lonely Island's Akiva Schaffer revives "The Naked Gun" franchise with Liam Neeson as Detective Lieutenant Frank Drebin.