How They Turned Michael B. Jordan Into Black Panther's Killmonger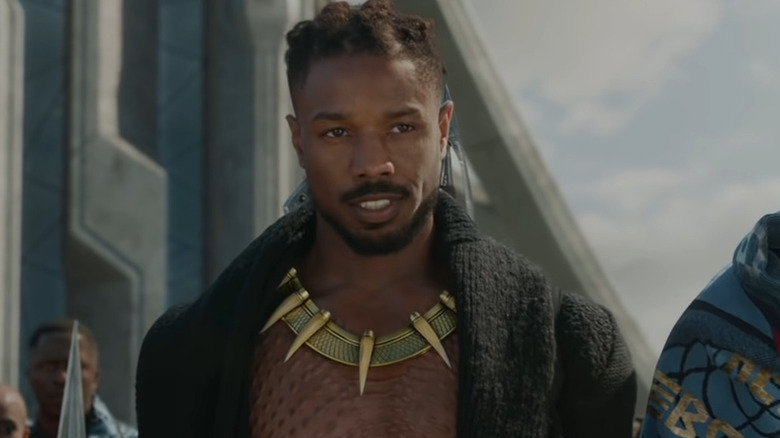 Marvel Studios
"Black Panther" character Erik Stevens, aka N'Jadaka, aka Killmonger, is one of the best villains, not just in the Marvel Cinematic Universe, but in all of comic book movie history. Played by Michael B. Jordan, he's a warrior, a son of Wakanda, a Navy SEAL, and a brutal killer, as you can tell by the scarification he has on his body; one mark for every person he's killed. His motives are corrupted by his history, but oh wow, do you sympathize with him at the end. 
Well, you mostly sympathize because when we say he's a brutal killer, that's an understatement. There were almost 3,000 prosthetic dots applied to Michael B. Jordan's body, meaning he's taken down a whole lot of people while in the Navy, as well as the Joint Special Operations Command ghost unit. 
That is a lot of makeup work for a character who is doing plenty of fight choreography, including a battle in the water, as well as wearing costumes that could rub them off. Makeup artist and founder of Morphology FX Joel Harlow, who has worked on films like "Logan," "Pirates of the Caribbean: The Curse of the Black Pearl," and "Star Trek Beyond" came up with the techniques to get these things to stay on and talked about the challenges of the work in an Insider video, which gives us a bit of a look at the process. That wasn't his only task on the film, though. Harlow also created the looks for the lip disc for the tribal elder based on the Mursi tribe in Africa and Shuri's (Letitia Wright) jawbone accessories.
A villain covered in glue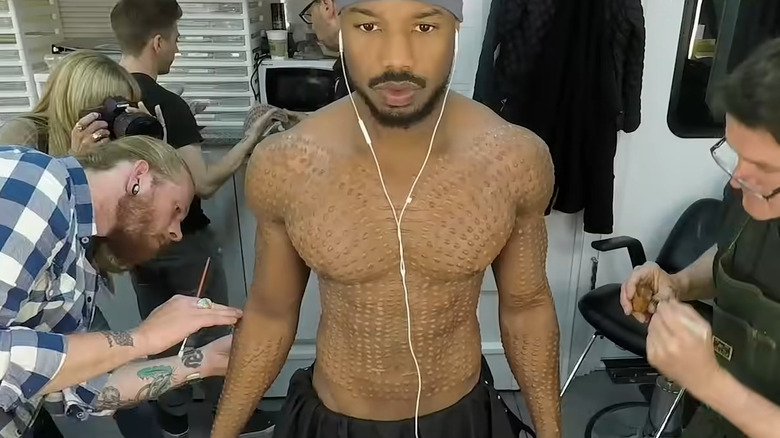 Joel Harlow
Harlow said that it was a challenge because "Michael is a big guy, he works out a lot, you know. That's a lot of area cover." It wasn't just getting these little dots on, though. It was all about keeping them on, particularly in the water sequence in the fight at Warrior Falls. "There's a lot of body contact," he said in the Insider video. "There's a lot of rubbing, and you know, water is the natural enemy of makeup anyway." 
The dots were created out of a glue-like material that Harlow spoke more about in an interview with The Verge. First, they had to do a life cast of Jordan's entire body in Los Angeles. Then they marked out the scarification points in red pencil. Saran Wrap was put over the top, and the marks were redrawn so they could be transferred to a flat board. Then they had to make them from "78 to 80 different silicone molds," with around 100 hash marks each. 
It was a crazy process that was done in a product called Mel Gel, which is thickened glue, sculpting and casting them. The molds were clear, so they could see where they were putting these things. They had to press each of the molds onto the skin, then peel off the silicone, leaving the marks. Harlow said that Jordan had to show up about two to three hours before they started shooting every day to get through this process. 
How do you take it all off, once you're covered in glue dots?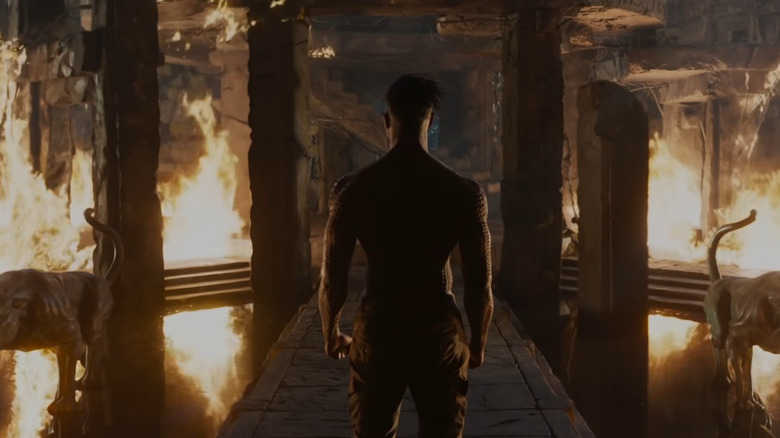 Marvel Studios
According to The Verge interview, they tried a whole bunch of different techniques so they could find the quickest ones, from using a silicone stencil at one point and a Vacuform stencil at another. He said, "It kept evolving over the course of shooting because you're always striving to make things better, and faster, and more production-friendly." Jordan had to sit still as four people pressed these things onto him all morning. 
It was also a lot of maintenance during the shoot, with clothing rubbing the dots and causing damage and the water scenes making it harder to keep them stuck to Jordan's skin. 
One thing about prosthetics, though, is that they're not just hard to put on. Sometimes they can be difficult to take off at the end of a shooting day. Jordan was covered in glue, after all. Harlow explained in the same Verge interview that they had to put Jordan in a sauna for a couple of hours at the end of the day "with a few guys and a lot of oil remover, to take them back off." That's some serious commitment to a role, putting this all on and taking it off every single day that he was on set. Sure, there were days when he was wearing costumes that didn't show every part of his body, so they didn't have to do all of them, but it's still a crazy amount of work. 
No matter how difficult it was, though, Harlow's prosthetics look amazing in the final product. 
"Black Panther" is currently streaming on Disney+, and "Black Panther: Wakanda Forever" will hit theaters on November 11, 2022.