As A Child, Drew Barrymore Thought E.T. Was Real, And Steven Spielberg Kept It That Way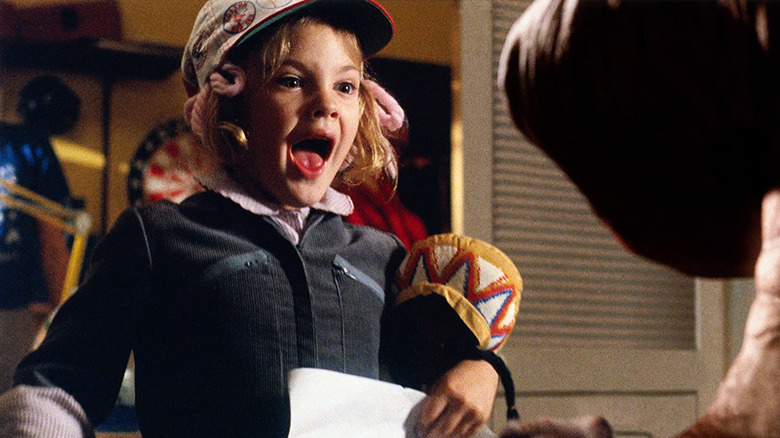 Universal Pictures
Few directors thrive at working with children quite like Steven Spielberg. From "E.T. the Extra-Terrestrial" and "Empire of the Sun" to "A.I. Artificial Intelligence" and "The BFG," that Spielberg lad's movies are littered with terrific performances from kid actors. In the cases of "E.T." and "Empire of the Sun," a number of those same youths would grow up to become celebrated adult thespians in their own right.
So it was with Drew Barrymore, who came to fame playing Elliott's (Henry Thomas) excitable younger sister Gertie in "E.T." Part of what makes Spielberg's classic 1982 sci-fi movie so moving is the way Barrymore and those around her convince you that E.T. is himself a living, breathing visitor from another planet. It's not just the cast's expressions of awe, shock, and wonder (i.e. "The Spielberg Face") that gives their interactions with him their emotional power. You also believe he's as real to the actors themselves as he is to their characters on screen.
When it came to Barrymore, who was only six years old when "E.T." began production in 1981, she wasn't exactly pretending. During a special 40-year anniversary reunion interview on "The Drew Barrymore Show," Barrymore sat down with Thomas and the duo's "E.T." co-stars Robert MacNaughton and Dee Wallace to talk about the movie. "Now I believed E.T. was real. I really, really loved him," Barrymore remembered, adding that she would "take lunch to him" in-between shooting her scenes. Not wanting to shatter the illusion for her, Spielberg took steps to ensure E.T. would actually respond to her when she did this.
E.T. make small talk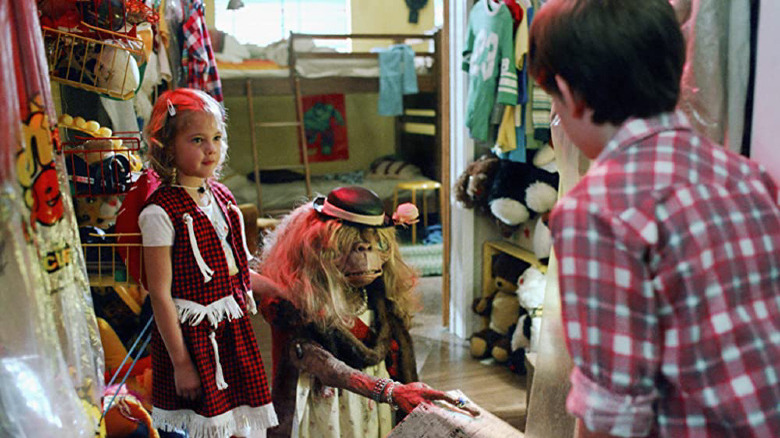 Universal Pictures
Spielberg was far from the first person on the movie's set to realize Barrymore thought E.T. was honest-to-goodness alive. "The first thing I remember is that we were on stage and it was quite cold on the stage," Thomas recalled to Barrymore. "And you asked the wardrobe lady if you could have a scarf for E.T.'s neck. You wrapped the scarf around his neck." Wallace, who co-stars in "E.T." as Elliott and Gertie's mother Mary, had a related anecdote to share:
"We found you over there just talking away to E.T. And so we let Steven know. And so Steven, from that time on, appointed two guys to keep E.T. alive. So, whenever you came over to talk to him, he could react to you."
While Barrymore was the only actor young enough to believe E.T. was alive for real ("I had a very wild imagination," she noted), her co-stars still found the E.T. animatronic to be quite convincing. MacNaughton, who plays Elliott and Gertie's older brother Michael, admitted he was skeptical at first. It didn't help that he had already filmed the climactic sequence where Elliott, Michael, and their friends flee the authorities on their bicycles before seeing the working E.T. model.
"The scenes on the bike were filmed first, so the only thing I saw was this sort of fake-looking dummy in a basket all wrapped up," he recounted, adding that his "heart sank" after that. Spielberg, MacNaughton explained, had held off on showing him the E.T. animatronic before filming the scene where Michael sees the character for the first time in the movie. Judging by the expression of disbelief on his face, it's possible MacNaughton (like Barrymore) may have also allowed himself to believe in the magic, if only for a moment.