Alfonso Cuarón Relied On Clive Owen's 'BS' Sense While He Was Writing Children Of Men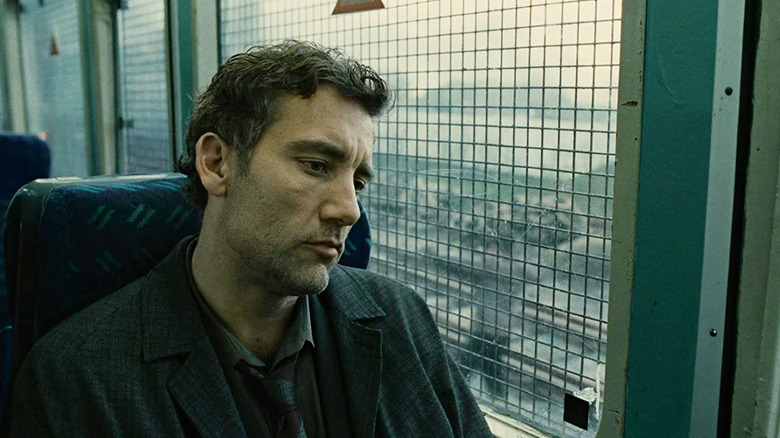 Universal Pictures
It's a cliché to claim overnight success takes years, but that doesn't make it untrue. 
Take Clive Owen. After getting his start working on BBC and Channel 4 TV productions in the late 1980s, he suddenly found himself in high demand by the mid-2000s. Be it Antoine Fuqua's realism-driven take on the Arthurian legends with "King Arthur," Mike Nichols' big screen version of Patrick Marber's erotic play "Closer," Robert Rodriguez's visually trail-blazing neo-noir comic book movie "Sin City," or Spike Lee's '70s throwback heist thriller "Inside Man," it felt like Owen was being cast in anything and everything under the sun.
There's a good reason for that. Owen seems just as comfortable playing strong, silent types as he does insecure, entitled, affluent figures or hard-edged antiheroes with a habit of inner monologuing. It's the same versatility that allows him to easily slip into the role of Theo Faron, the lead in Alfonso Cuarón's hauntingly prescient 2006 sci-fi thriller "Children of Men."
Adapted from P. D. James' 1992 novel "The Children of Men," Cuarón's film takes place in the near future of 2027. Two decades after humans inexplicably lost the ability to procreate, the world has been thrown into chaos by wars and pandemics. Theo, a former human rights activist, is now a disillusioned member of the UK government, which itself has descended into a full-fledged police state that incarcerates and kills any refugees who enter the country illegally. 
Cuarón's movie hits unnervingly close to home in 2022, even more than it did as a direct response to the September 11th, 2001 terrorist attacks and their aftermath. As it turns out, you can partly thank the film's persisting sense of verisimiltude for what Cuarón dubbed Owen's nose for BS during the writing process.
'He has such a great smell for bulls***'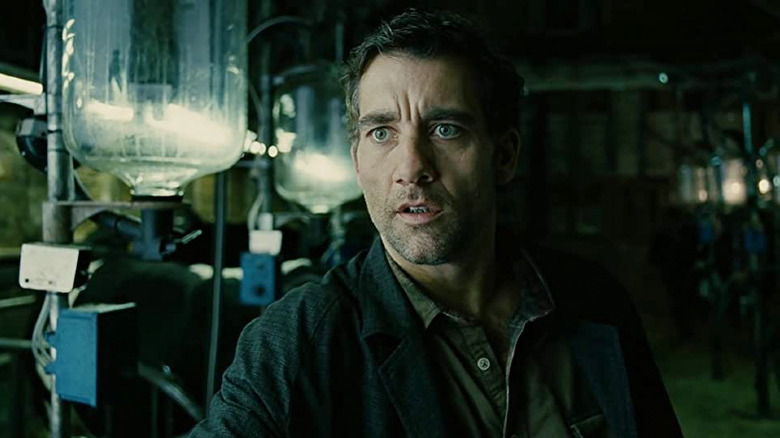 Universal Pictures
Upon completing his acclaimed 2001 road trip drama "Y tu mamá también," Cuarón began writing his iteration of the "Children of Men" script with Timothy J. Sexton ("The Liberator"). In a January 2017 interview with Vulture to mark the film recently turning 10 years old, Cuarón noted that his trusted director of photography Emmanuel Lubezki (whom he referred to by his nickname, "Chivo") was also very involved in crafting the script from an early stage. Their goal, Cuarón explained, was to ensure the movie's social commentary would come through loud and clear visually, just as it had on "Y tu mamá también."
Owen, Cuarón added, was similarly essential to the film's creative process, starting in pre-production. Cuarón elaborated:
"Man, we would just sit and riff with Clive. He has such a great smell for bulls***. Very important also is he understands the kind of feeling, of making what we're making. The rhythm of the scenes was on his shoulders because everything was pivoting around him. He's the pivot of the scene, so he arrives and stuff happens, so in many ways he was an amazing filmmaker. At the end of a long shot he says, 'You know, I think we can speed it up.' You know? You're not going to be doing that in the editing room, you need to do it in this scene. The whole film was a triad with Chivo, Clive, and me."
Despite its initial box office failure, "Children of Men" was well-reviewed right out the gate and still remains one of its director's finest outings. That Owen has only continued to thrive professionally since its release comes as no surprise, given the vital roles he played both on and off-screen.