Why David Hyde Pierce Refused To Be Credited For His Role In Hellboy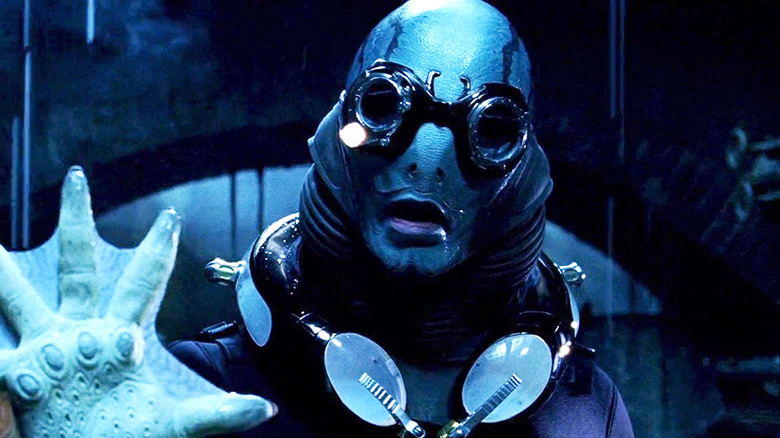 Sony Pictures Releasing
Guillermo del Toro's "Hellboy" is indicative of where the filmmaker was at in his career when he made it. Released in 2004, it was the first movie del Toro directed after the financial success of "Blade II" in 2002 but only his third Hollywood project after that film and his 1997 box office flop "Mimic." Because of this, he had yet to gain the creative control he would later come to wield the first time he brought the agents of the Bureau for Paranormal Research and Defense to the big screen.
Perhaps that's why "Hellboy" doesn't feel like an undiluted del Toro joint in the vein of its sequel, 2008's "Hellboy II: The Golden Army." Make no mistake, it's an imaginative, director-driven superhero movie, mixing quirky horror with del Toro's soulful monsters and fun nods to the fantasy films of Ray Harryhausen. But at the same time, del Toro's weirdness seems buttoned down. There's nothing that quite matches the gross, flesh-eating, defecating tooth fairies or the bizarre customers of the Troll Market in "The Golden Army." Nor is the movie helped by the presence of novice BPRD agent John Myers (Rupert Evans), a milquetoast surrogate for viewers not familiar with "Hellboy" comic book creator Mike Mignola's universe of eldritch creatures and off-beat comedy.
One of the surest signs that studio executives were wary of letting del Toro fully off the leash is Abe Sapien, the mild-mannered amphibious BPRD scientist and Barry Manilow aficionado. Abe is physically portrayed by Doug Jones, a longtime collaborator of del Toro's going back to "Mimic" and an expert in the field of emoting under masses of prosthetics and makeup. In "Hellboy," however, he's voiced by an uncredited David Hyde Pierce as the result of a failed bid to inject more star power into the movie.
Getting butts in seats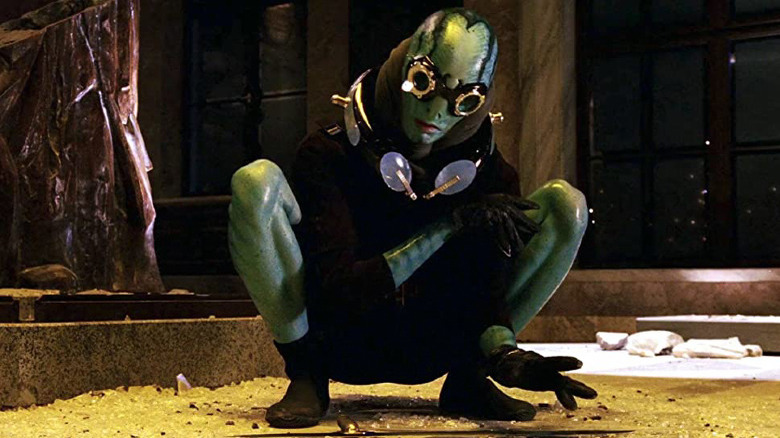 Sony Pictures Releasing
Jones recounted the series of events that led to Pierce's hiring while being interviewed by Comic Book Resources in July 2008. It was explained to him early on that Abe could end up being voiced by "a celebrity bigger-name voiceover person" to better sell the film. The fact they would have to be covered head to foot to play Abe on-set every day made it unlikely an A-list actor would ever commit to doing more than that for this type of supporting role, Jones reasoned. Still, he made it clear he would like to remain in the running to voice the character in the finished movie:
"Of course, me, as an actor, when you play a part, you play a part, and that includes all of it. So when I heard this up front, I said, 'I would rather you not do that, I would love to just play the character like anyone else would play a character.' So my name was thrown into the hat, I made the possibility known that I could be a voice choice. That was as good as it was going to get for this particular job."
During filming, Jones said he was directed to sound like a cross between Pierce's "Frasier" character, Niles Crane, and HAL from "2001: A Space Odyssey." It was del Toro who later informed him Pierce would voice Abe in the final movie. When Jones asked if there was an issue with his voice acting, del Toro assured him there wasn't. Piece's casting was solely about the film's studio, Sony, "thinking [about] getting butts in seats. That's a part of the moviemaking business that I'm not a part of, and I don't know anything about," Jones added. "So they made that decision for their own reasons."
The importance of being Pierce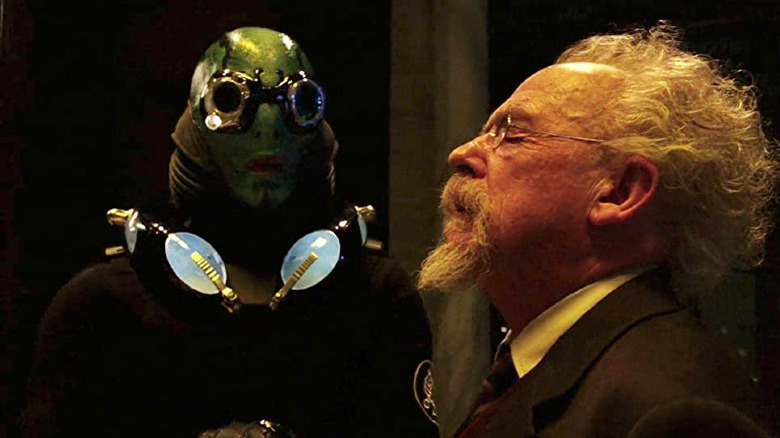 Sony Pictures Releasing
When he came in to record his vocals, Pierce was confused why he was even there. He felt Jones "did his job, as he was hired to do, and did it beautifully," as Jones was later told. As a result, Sony's scheme back-fired: Pierce did his best to imitate Jones' original voice acting, then refused to take credit for the film or make the press rounds. When asked why, Pierce told people, "Out of respect to Doug Jones."
Commenting on this, Jones said Pierce is "unlike anyone else" he's ever met in Hollywood. "It's a very ego-driven city we're in, and for someone to act like that was exceptional," Jones observed, stating it was "not expected." He added, "I've never met him, yet when I do, he's getting a kiss right there because I really appreciate what he did for me." If said meeting has taken place in the 14 years since this interview was conducted, material evidence has, sadly, yet to surface online.
This wasn't the last time Jones benefitted from Pierce's classy behavior. Pierce also "politely declined" to voice Abe in the animated films "Hellboy: Sword of Storms" and Hellboy: Blood and Iron," which led to Jones being hired instead. Jones would go on to both voice Abe and play him physically in "The Golden Army," just like del Toro had promised him would happen back when he told Jones about Pierce's hiring in the first place. Jones added that he "just did the exact same performance vocally" in the sequel, stating he's "very grateful that it's come full circle like that because it was a monkey on my back for a few years."
The outcome speaks for itself. "Hellboy" is monstrous fun, but "The Golden Army?" That's the purer del Toro experience.