Dwayne Johnson's Acting Career Could Have Included A Stint As Johnny Bravo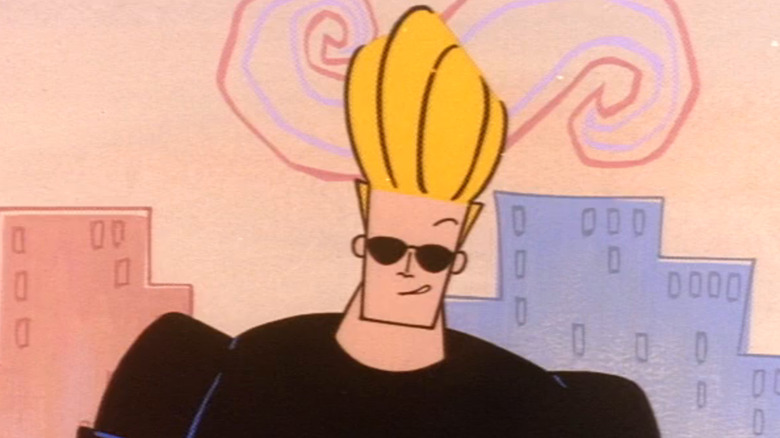 Cartoon Network
In 2002, Dwayne "The Rock" Johnson was finishing up his time with the newly renamed World Wrestling Entertainment. After electrifying audiences over the course of his short but extremely memorable career in the ring, Johnson was already dipping his toes into the film industry, with appearances in "The Mummy Returns" and "The Scorpion King." With his out-of-this-world physique and magnetic charisma, even non-wrestling fans could see this guy was destined for stardom.
With Johnson's star rapidly rising, it makes sense that film producers were jockeying to get him on board with their projects. Everybody wanted to grab a hold of the rocket before it exited the atmosphere. A group of executives at Warner Brothers were very interested in the services of Johnson, even buying the film rights to a very unexpected piece of intellectual property in an attempt to earn his services.
In a 2002 Variety piece, it was revealed that after a conversation between Johnson and producers Neal Moritz and Marty Adelstein, they found themselves buying the film rights to the Cartoon Network show "Johnny Bravo" as a property for The Rock. According to Adelstein:
"When the Rock mentioned to Neal (Moritz) and myself he was a big fan of 'Johnny Bravo' and thought it was a great idea for a movie, we thought it was a natural fit and potentially a great role for him to play, so we went aggressively after the property."
Bravo to The Rock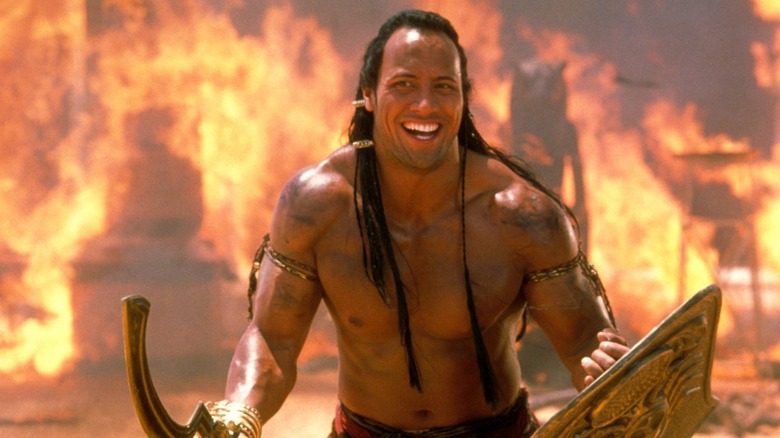 Universal Pictures
"Johnny Bravo" was a cartoon that ran on Cartoon Network from 1997 to 2004. It centered around the titular hunk Johnny Bravo, whose love of the ladies was exceeded only by his love of himself. Because of his vain and selfish attitude, Bravo would regularly be insulted and embarrassed by the women he set out to woo. It's a fun character, and one that I'm sure Dwayne Johnson could have portrayed well. But it's also not a character widely remembered by modern audiences. 
It's a testament to The Rock's obvious star power that his mere acknowledgement of his liking "Johnny Bravo" led to producers immediately purchasing the rights for a film that would never be made. Remember, this was before Johnson was a bonafide star, headlining movies and completely changing the hierarchy of power in the DC Extended Universe. Despite him being unproved as a box office draw at the time, they were willing to bet big on the career of The Rock, buying the rights to cartoon character on the off-chance that they could get him to star in a movie adaptation.
Johnny Bravo wasn't the most bizarre role Johnson was offered during the early days of his career, with Tim Burton even considering him for the role of Willy Wonka. We may never have gotten the Dwayne Johnson "Johnny Bravo" movie, but it's very funny that it could've happened.