Pretty Red Dress Review: An Uplifting, Insightful Study Of Masculinity [London Film Festival]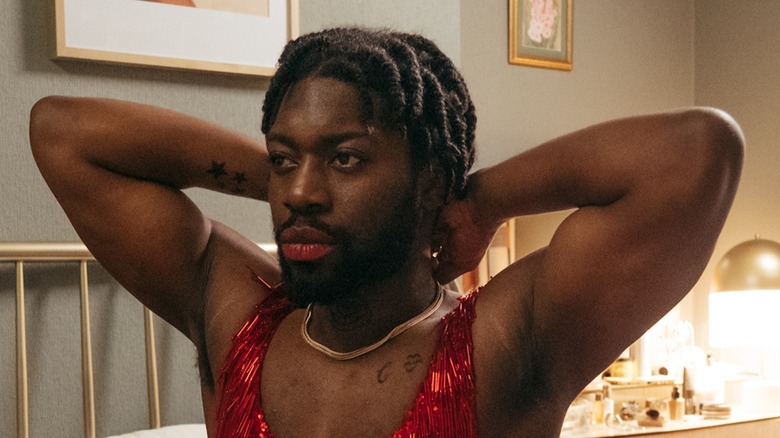 Protagonist Pictures
Music is a big part of "Pretty Red Dress," the debut feature from writer-director Dionne Edwards. It's essential to its characters as well. The film opens with an electric musical performance that channels the best of the 1960s before settling into itself. Music is central to Candice (Alexandra Burke), as she dreams of being a star in London — since she has been blessed with immense musical talent, her dreams may just become reality. She's got the opportunity of a lifetime thanks to her agent, who's got her an audition to play Tina Turner in an upcoming West End (the UK's equivalent to Broadway) musical. A few key scenes focus on the brilliance of Candice's voice, and she does a number of auditions to the songs of Tina Turner.
The dreams Candice has been fighting for her whole life may be coming to fruition, but her personal life has some significant challenges. Her partner Travis (Natey Jones) is fresh out of prison, and their daughter Kenisha (Temiola Olatunbosun) is a teenager with a knack for getting in trouble at school. She also works full-time at a grocery store to keep the family afloat. That's an awful lot of pressure for one person, and thankfully Travis coming home gives Candice the chance to share her burden.
For her audition, Candice needs the perfect dress. She finds it, but it's prohibitively expensive. That spurns Travis to get a dishwasher job at his successful brother's restaurant. Their relationship is fraught with tension, as his brother always seems a bit too interested in Candice for Travis' comfort — but for his love, he'll do it. He surprises her with the dress, which gives Candice the confidence to attack her first audition with gusto. Travis is thrilled, but something within him is calling out. He simply can't resist the call of that pretty red dress, and when Candice and Kenisha are out, it gives Travis the opportunity to try the dress on for himself. "Don't be a pussy boy" he tells himself, trying to resist his own desire, but it's not enough.
It's a lovely moment when Travis puts the dress on. It feels like Travis is taking his life into his own hands, manifesting his own desires despite what anyone else may think. In the privacy of his bedroom, he's able to do something that clearly means a lot to him, and it's shot earnestly and with the same restless rhythm that permeates the entire film. It seems like this outfit has caused quite the breakthrough for Travis, and putting on the dress has given him a confident spring in his step.
Of course, reality comes crashing down quickly, as Candice, and soon after Kenisha, both walk on him. Candice is quick to panic — what in the world is going on? There's plenty of confusion, regret, and shame that is beautifully conveyed by these three gifted performers. Herein lies the main conflict of "Pretty Red Dress" — this is a family at its tipping point, and Travis' newfound exploration may threaten to topple everything they've been building towards.
That's not all that's going on in "Pretty Red Dress. Travis, Candice, and Kenisha all have a lot on their plates, balancing interpersonal relationships and family lives while figuring out their own ambitions. And speaking of ambition, "Pretty Red Dress" has a lot of it, and a lot of energy, matched by a camera that refuses to sit still. It's all exciting and works to elevate a family drama with a twist, but the film is stifled a bit from its own ambition. It takes a long time to get where it's going, and I found myself imagining just how excellent the film would be if it left a good 15 minutes on the cutting room floor. Nothing in the film feels especially superfluous, but there are a lot of different elements and storylines looking for attention, and the film struggles to make them all feel equally intriguing. Still, the way Edward's film handles Travis' gender expression is refreshing and impactful.
Stars in the making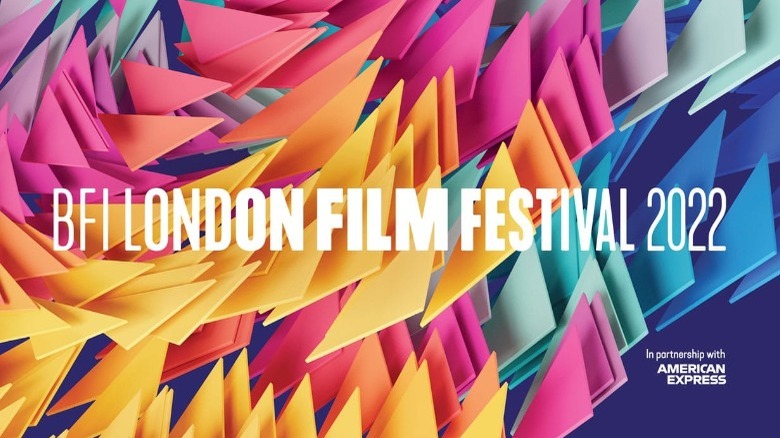 British Film Institute
It would be easy for a film like "Pretty Red Dress" to just say that Travis enjoys putting on his partner's clothing because he's gay — how could a straight man possibly explore such a thing? Thankfully, Edwards' debut isn't interested in easy answers, and Travis isn't gay. Travis is crazy about Candice, and he'd do anything for her. He just happens to like wearing women's clothing. As his daughter Kenisha points out, he's just a little bit off-key. The fact that his daughter seems to understand the issue with more sensitivity and compassion than anybody else speaks a great deal about how newer generations are more comfortable and understanding of gender expression, which is heartening to see. This is a film that refuses to put its characters in simple boxes, wherein lies the core of the film — boxes are made to be broken down, not to contain us. Life is so much more fulfilling when you live openly and honestly.
A lot of the joy of "Pretty Red Dress" comes from the wonderful richness of its performers. As Travis, Natey Jones gives absolutely everything to his character. It's a beautiful, sensitive, and controlled performance that contains multitudes. It's a study of masculinity, particularly black masculinity, and the way gender, culture, and society work together to place people in rigid roles, and how difficult it can be to break out of said restraints. Travis can be ferocious, sweet, sensitive, and equal measures. Watching him slowly come to terms with what makes him different is like watching fireworks go off. It's the kind of performance that makes a star.
Alexandra Burke is also a wonder. For the uninitiated, she's a major star in the United Kingdom, winning X Factor and going on to create extremely successful music, as well as a thriving theatre career. It's exhilarating to see her in her first film role, and she radiates charisma. Her musical gifts are tremendous — her rendition of "River Deep, Mountain High" will send chills down your spine — but she's also an effective dramatic actor. Candice has a lot of charm, but she's no angel, and it's something Burke plays with nicely. She's dominated the UK, and after this performance, taking over the world isn't out of the question.
While "Pretty Red Dress" might be a bit too ambitious and it spends too much time delivering its message, this is a thoughtful, charming study of masculinity and gender expression, anchored by some brilliant performances. Its great musical energy keeps the pacing strong, and it's an exciting new take on the family drama.
/Film Rating: 7 out of 10
Pretty Red Dress had its World Premiere at the BFI London Film Festival 2022