Quentin Tarantino's Scriptwriting Method Was Born In Acting Class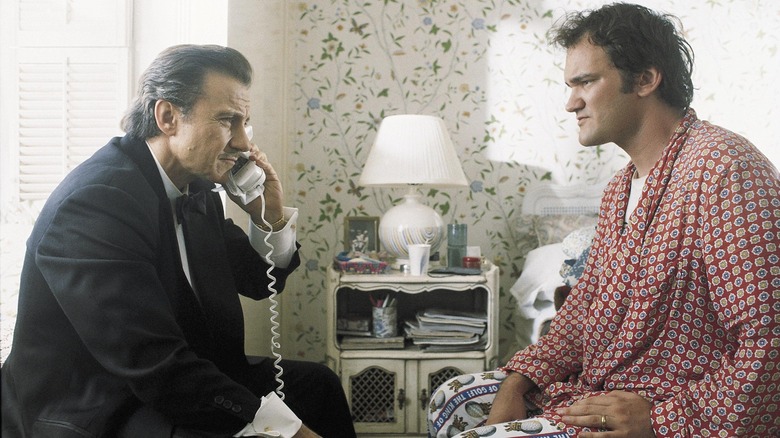 Miramax Films
He may be a brilliant director, but Quentin Tarantino was never known for being a very good student. Rather than thriving in an academic environment, Tarantino demonstrated an early passion and acumen for filmmaking, beginning with seeing adult-oriented films like "Carnal Knowledge" (1971) and "Deliverance" (1972) with his step father at the age of nine.
By age 14, he had completed his first script "Captain Peachfuzz and the Anchovy Bandit" based on the 1977 film "Smokey and the Bandit," which follows two bootleggers transporting beer from Texas to Georgia. Tarantino was a fairly dedicated but sometimes picky reader, who clearly latched onto stories about incompetent criminals because he has famously confessed to stealing a copy of Elmore Leonard's novel "The Switch" about two ex-cons mishandling a kidnapping. His mother grounded him for the offense but still allowed him out of the house to attend Torrance Community Theater, where he performed in his first Shakespeare production — "Romeo and Juliet." By 15, Tarantino had dropped out of his high school in the South Bay of LA.
As he was more interested in studying performing arts than improving his formal writing skills, Tarantino thought he may be hanging up his pen for good when he enrolled in acting lessons. But incidentally, the decision would end up bringing him closer to his distinguished career as a writer and director than it would to becoming an actor.
Film junkie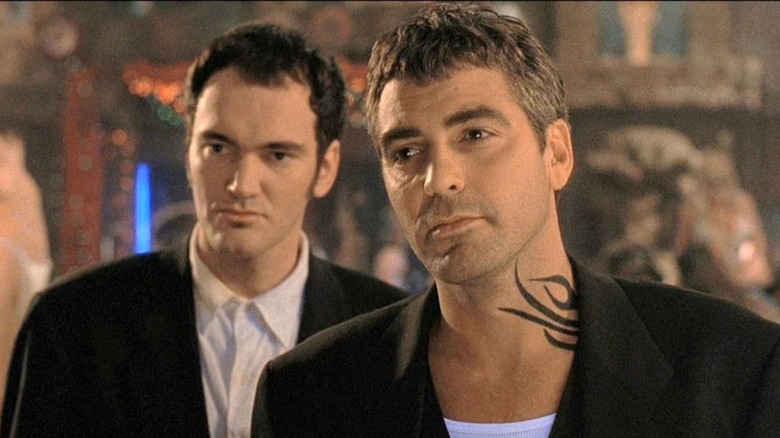 Miramax Films
In acting school, Tarantino could not leave his obsession with cinema at the door. While the rest of the class was reenacting a reading from "Hamlet," Tarantino would bring in scripts of his favorite movie scenes, which he had memorized by heart and written out by hand. What really honed his writing chops, however, were the small revisions he would make to the scripts after transcribing each scene and assessing its effectiveness:
"If I thought it needed anything...I'd add it."
It began as a hobby with the practical purpose of giving his acting class some scenarios to perform. As he reproduced more and more scenes, however, Tarantino began to realize that his skills were advancing. He only noticed how far he had come when he (in true Tarantino form) wrote a monologue about a fountain into a sequence from Paddy Chayefsky's nearly-unreleased romantic film from 1955, "Marty."
Tarantino was performing the script with his roommate, Ronnie, who had read Chayefsky's draft from the original film, and he commented, "I actually think this process, it's kind of making me not bad at dialogue writing. I think I'm getting better and better." When Ronnie responded, "What are you talking about? You're better than Paddy Chayefsky," Tarantino, who was flattered even if Ronnie may have been exaggerating, admitted:
"I started thinking to myself, 'Well, maybe I should take this writing thing a little more seriously.'"
The Tarantino method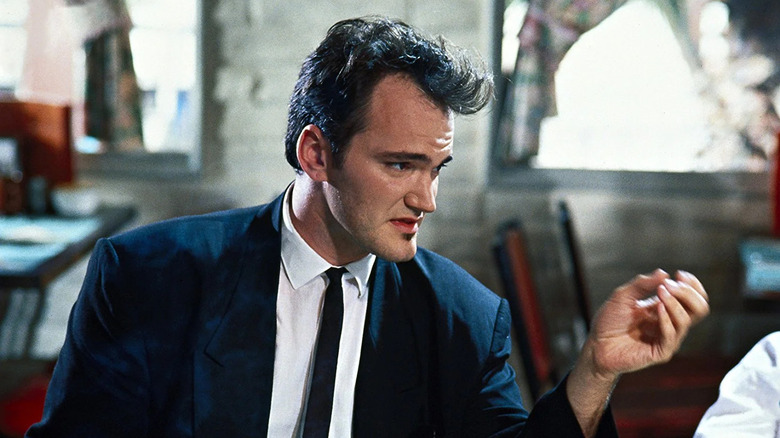 Miramax Films
Had Tarantino never dropped out of school to pursue acting, he may never have graced us with his work. The alchemy of Tarantino's interest in pulpy crime stories and the demand for him to produce a steady flow of practice scripts, combined to result in Tarantino's strong command of smart and spirited dialogue.
Tarantino's skill for writing would become the key that unlocked the rest of his career. Without his experiences in acting school, Tarantino may not have been able to pound out the script for "Reservoir Dogs" in three and a half weeks that would convince producer Lawrence Bender to invest in the film. Nor would he have been able to raise his profile in Hollywood by optioning scripts for "True Romance" and his disavowed "Natural Born Killers."
Today, Tarantino, who has still never learned to type, is a writing machine. In addition to becoming a novelist, as we covered last year, with the release of his literary adaptation of "Once Upon a Time in Hollywood," Tarantino continues to write on a daily basis. In contrast to the more sporadic approach he took as a young writer, when he would scribble morning, afternoon, and night, wherever he could find a place to work, Tarantino's regiment now begins at 10:30 A.M. and continues until he's ready to cool off in the pool and to review what he's produced. Unlike DiCaprio's character, Rick Dalton, in "Once Upon A Time in Hollywood," Tarantino wants to set the record straight about his poolside writing process:
"I don't sit in the floaty chair...I sit in the water up to my neck."